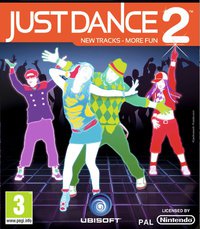 Just Dance 2 is the much awaited new dance game for the Nintendo Wii and seeing as the first game is still in the game charts at No.12 the sequel has a lot to live up to.
The Just Dance series does away with the dance mats of the early naughties and requires only a Wii remote, purchase some friends and some space in front of your TV. The concept is simple, while holding a Nintendo Wii remote in your hand you mirror the character's dance moves on the screen and you score points according to your accuracy. It is easy to get into, for the casual dancer it's a lot of fun but for the real dance enthusiasts wonderfully addictive.
There are several new features including a warm up which is highly recommended before starting the game. There is also normal solo play, Battle Free For All (1-4 players), Team Battle (4-8 players) and Sweat which is a fitness regime with three levels mild, tough and intense where you can watch how many calories you have worked off.
Just Dance 2 is great for playing in duos or big groups especially at parties and it's aimed at everyone- young, old, male or female although some songs are better suited to the latter. The game is just as bright as before if not brighter with neon colours in some places but they have done a great job keeping the presentation simple.
The game offers a tremendously eclectic mix of music, with 45 songs on the disc. The tracklist includes artists such as Mika, Avril Lavigne, Rihanna, Beastie Boys, Bonnie M, Junior Senior, Vampire weekend and Outkast. A great new feature in Just Dance 2 is a download store where you can buy new tracks for 300 Wii points each. Players who check out the store can download Katy Perry's 'Firework'  for free, which get's a thumbs up from me.
Each song has an energy rating, which indicates the levels of difficulty and speed. As a dancer myself I found the some of the choreography a bit simplistic, which is great for beginners and helps the novice player learn basic movements, while other tracks were more challenging. So Just Dance 2 caters for everyone. Some of the choreography was very creative bringing a range of styles such as Hip-hop, Street Dance, Bollywood and Commercial. Standout moves were The Running Man in MC Hammer's 'Can't Touch' and the Monster Mash which is so cool it can't be explained. Just check it out!
Overall whether you're an experienced dancer or a novice and you're looking for a great party game, then this game doesn't disappoint.
Positively, the most vital element that is mature while buying drugs from the Web is to make a right choice. To order remedies online from a respectable web-site is safe. Let's talk about numerous possibilities. If you're concerned about erectile soundness problem, you have to learn about "levitra 10mg" and "levitra cost per pill". Did somebody tell you about "cheapest generic levitra"? Don't forget, consider "undefined". Young men with sexual dysfunctions need vocational help. The treatment plan depends greatly on the precise cause of the sexual problem. Along with their good effects, most medicaments, even so, can cause unwanted aftereffects although commonly not everyone experiences them. Online sex physician services are the only safe option if you are going to buy remedies, like Viagra, online.