I have got quite a few clothes in the last two weeks. I also got two late christmas pressie's that I bought a while ago but thought I would include.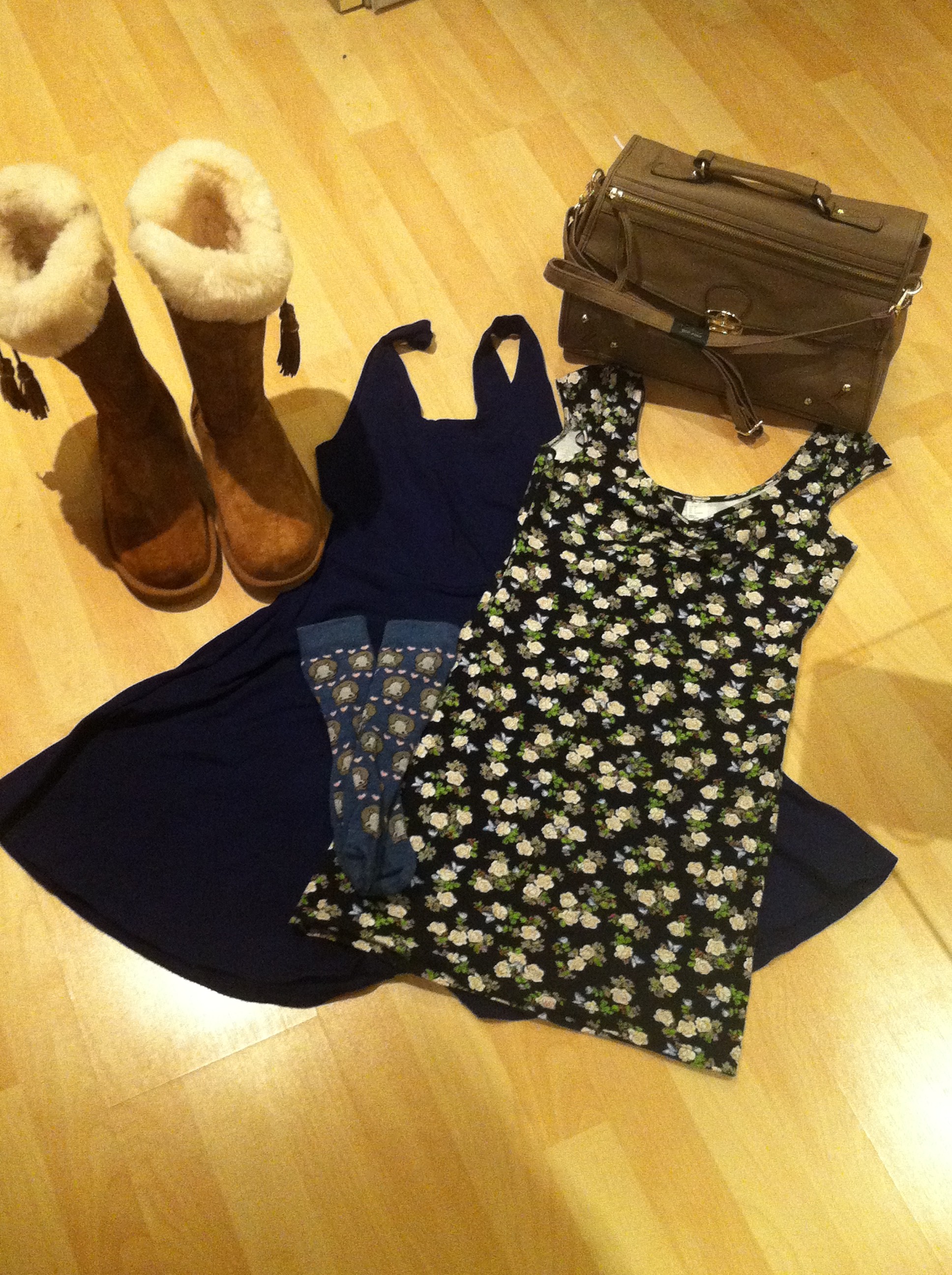 Here are some items that I have bought recently.
My christmas pressie from my dad and nan was a pair of Chesnut Plumdale UGG boots. I have wanted a pair of UGG boots for many many years, erectile and I have finally got a pair. They were in the sale at Soletrade. I absolutely love them but I have to say that as soon as I bought them, the weather started to get brighter and warmer so I haven't even warn them yet. What a disappointment.
I also bought a bag from New Look which is a beige over the body brief case style. It was £14.99 and I love the colour although  they do have a few other colours such as black, and red/orange colour. Go check them out now because they still have them in store.
The first is the amazing socks. They are from Topshop and are £3.50 (or 3 pairs of socks for £7.) They are covered in rhinos and small hearts in rows. I saw these socks on Tanya Burr's YouTube site this week and figured that looked cute, and I needed some new socks. They are still in stock so get on down to your nearest Topshop.
The next item is the long top underneath the socks. It was from H & M and was £9.99. I love the top, it is covered in groups of white roses with little blue butterflies. The top is quite tight and it slightly off the shoulder when it is worn. It is very cute though and it comes in a few different designs and is still in stock.
The final item in the picture is a sleeveless flippy dress from Topshop. It was £15 and in ink, a gorgeous purple/blue colour. They come in loads of different colours and they are called wicked names, Buffalo blood red, washed rose, black. There are also pattered versions too which are slightly more expensive at £26. They look gorgeous with a cardigan of any kind with boots and lots of jewellry. Topshop aren't the only ones doing floppy dresses too, Dorothy Perkins, Republic and New Look all have versions. Go check them out, and let me know what your favourites are. I'd love to hear from you.
Positively, the most vital element that is mature while buying drugs from the Web is to make a right choice. To order remedies online from a respectable web-site is safe. Let's talk about numerous possibilities. If you're concerned about erectile health problem, you have to learn about "levitra 10mg" and "levitra cost per pill". Did somebody tell you about "cheapest generic levitra"? Don't forget, consider "undefined". Young men with sexual dysfunctions need professional help. The treatment plan depends greatly on the precise cause of the sexual problem. Along with their valuable effects, most medicaments, even so, can cause unwanted aftereffects although commonly not everyone experiences them. Online sex physician services are the only safe variation if you are going to buy remedies, like Viagra, online.