<![CDATA[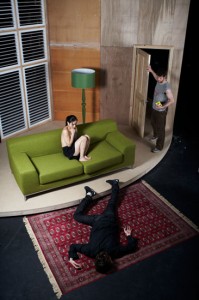 After the success of '
7734
' last year, Israeli-born choreographer, director and performer 
Jasmin Vardimon
 brought her company back to Jerwood Dance House in Ipswich on Saturday evening to perform 
Justitia
. Jasmin Vardimon's performances  have always been based upon interesting, groundbreaking subjects which tug at your heart strings.
Justitia 
is no exception. Named after the Latin word for 'Lady Justice', this 2009 creation takes the audience on a journey that pits us as judge, jury and executioner in the case of 'Seth Vs Mimi'.
Justitia 
grabs the audience's attention from the start with movement from the typist at her desk on the smoke-filled revolving stage. The strong narrative was intriguing from the start and the performance began with the story of how Mimi met her husband Charlie.  A delicate and beautiful duet by the two included a Kazakh rug which eventually became Mimi's wedding dress. The masculine but humorous fight dance of Seth and Charlie flying around the stage performing jumps over a sofa had audience members roaring with laughter but glued to the exciting action that Vardimon had created, with help from the eclectic mix of music ranging from the haunting sounds of Yoko Ono to the electronic beats of Aphex Twin. The action then jumps forward to Charlie going out to buy beer to further fuel the shenanigans. When he returns home, he discovers Seth lying dead on the floor with the only witness and suspect, Mimi. The performance then abruptly switches tone as Vardimon makes you question whether Mimi might have done the unthinkable. Mimi's defence lawyer then takes you through the different sets, perspectives and scenarios that might have occurred. Each is more harrowing than the last, and eventually after a maze of intertwining tales, the performance finally unveils 'the truth'. This narrative expresses that one crazy adverse moment in time can lead to a lifetime of regret and guilt, and there were a few red and shocked faces for those of the audience members that weren't expecting the nudity and scenes of a sexual nature. Each individual performer was uniquely excellent. With dramatic knee movements, hip-hop freezes, breakdancing and energetic contemporary physical theatre, Justitia was both physically and mentally demanding on the audience and the performers. This was truly a performance that I didn't want to end.