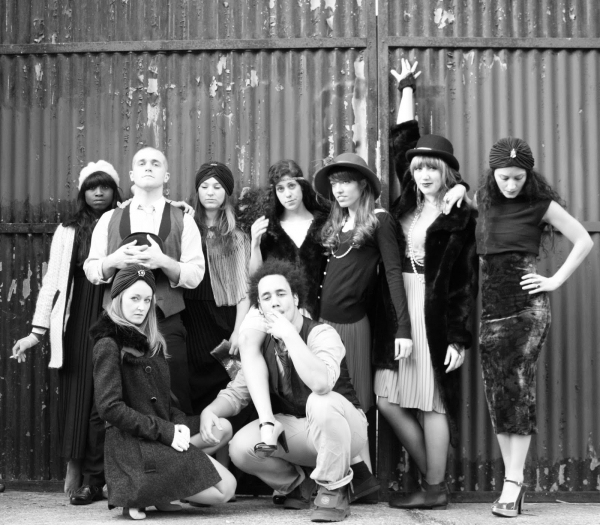 From the moment that I arrived in the the 4th floor studio rooms, doctor it felt like I had stepped back in time and walked straight into a 1920's bohemian uprising. Actors and actresses met me at the door and were stationed on each level of the stairs until I reached the main venue. Once inside I noticed the amazing artwork by Merlyn Griffiths and 10 Artists/10 Pubs adorned upon the walls. There was a stall selling 1920s memorabilia and many actors dressed in 1920s Sophie Harris outfits mingling with audience members and introducing themselves and telling us to "Make ourselves comfy". Within seconds I had decided that this was going to be no ordinary performance.
I have wanted to see this company for a long time, discount mainly because the company's Resolution! performances in 2010 with 'Love My Bones' and 2011 with 'Love Kills' received outstanding reviews. I knew I was in for a treat.
With a main room and a bar both decorated in a bohemian set design by Tom Spindler and Rachel Gittins, page I made myself at home. Soon after, members of the audience were ushered into the main room by the actresses and the bohemian festivities began.
The night saw up-and-coming bands Indigo Earth, Adore and Horrorshow collaborate with Rhiannon Faith's De Keersmaeker and Bausch-inspired choreography; each band took us closer and closer to mischief and anarchy.
The most stand-out moments of the performance included a beautifully-executed and choreographed solo to the haunting tune Wise Man by Indigo Earth, so beautiful it sent shivers down my spine and put a smile on my face; also, an energetic and intricate contact duet to the rock songs of Horrorshow which dazzled the audience with intricate and death-defying lifts.
At times the performance lost momentum due to the breaks in the dancing which left us enjoying the live music a little too often, but the content and the atmosphere brought us back to the bohemian fun once the dancing had resumed.
I felt a small taint of sadness when this performance ended as I knew that we had just witnessed something special. It's only later I found out that this performance had been put together on only 20 hours of rehearsal.
You should keep an eye on Rhiannon Faith:Dancingtheatre as I am hoping for big things from this company. They certainly deserve it.
Positively, the most vital element that is considered while buying drugs from the Web is to make a right choice. To order remedies online from a respectable web-site is safe. Let's talk about numerous possibilities. If you're concerned about erectile health problem, you have to learn about "levitra 10mg" and "levitra cost per pill". Did somebody tell you about "cheapest generic levitra"? Don't forget, view "undefined". Young men with sexual dysfunctions need vocational help. The treatment plan depends greatly on the precise cause of the sexual problem. Along with their valuable effects, most medicaments, even so, can cause unwanted aftereffects although commonly not everyone experiences them. Online sex therapist services are the only safe version if you are going to buy remedies, like Viagra, online.