<![CDATA[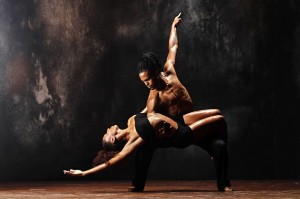 While the rain hammered down on a grey and dismal evening in London, the Peacock Theatre came alive with the fresh beats of the Ballet With Attitude. 
Ballet Revolución
 took the audience back to the roots and traditions of Cuban dance with a celebration of dance and soon had everyone dancing in their seats with wide smiles on their face for the two hours they performed. Ballet Revolución is comprised of young versatile talent that has emerged from the two most prestigious Cuban Conservatories. Cleverly choreographed by the multi-talented duo
 Aaron Cash
 and Roclan Gonzalez Chavez, it showcases an impressive plethora of dance styles and techniques such as hiphop, street, breakdancing, contemporary, ballet and Cuban traditional dance to name but a few. From the minute the curtain went up, the atmosphere was electric. There was an eclectic mixture of live music played by the talented musicians including Luis Palacios Galvez, a genius on congas. The music ranged from Ricky Martin's 
Livin' la vida loca
, Beyonce's 
Single Ladies
, Usher's 
DJ got us falling in love again
, Gotan Project and much more. Every movement was a highlight, from the intricate high jumps, back flips and death-defying lifts to the comedy sections which filled the auditorium with laughter and fun and the pure passion for the movement and music oozing from the dancers. The biggest highlight for many was the chair dance with two couples which was almost like watching the two styles of contemporary and ballet up against each other: a routine which started with two identical duets, which then continued and illustrated the differences and similarities of movement in the styles used. Ballet Revolución is definitely a performance to remember, with amazing dancing, singing and tunes. Listen to the audiences with their standing ovations: book tickets now and see this outstanding show.