<![CDATA[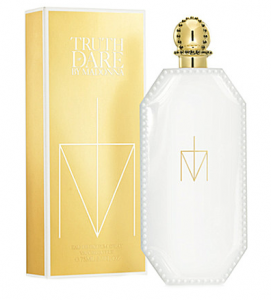 I nipped into Debenhams today and I saw this perfume. It is the new Madonna Truth or Dare Perfume and I personally love it. You have probably seen the adverts on TV in the last few weeks, well thats a little fruity to say the least if you know what I mean. ( I read today that this advert has been deemed to racy to view by ABC, I just saw it on TV yesterday, anyway) Now this fragrance has really had mixed reviews but this  fragrance has a unique contemporary twist of narcotic florals, balanced with addictive notes of wood and musk. It has under tones of  vanilla and caramelised amber which sets this fragrance from the rest. It really is gorgeous, lasts a long time and every time I have had cheeky spray in Debenhams, I get complements. "I have always been obsessed by fragrance and for years wanted to create something personal that was an expression of me, but that other people could relate to as well. Something classical and timeless and yet modern. My oldest memory of my mother is her perfume. I carry it with me everywhere. She always smelled like gardenias and tuberose, an intoxicating mixture [that was] feminine and mysterious. I wanted to re-create this scent, but with something fresh and new about it as well. Something honest and yet daring — hence the name Truth or Dare", said Madonna We know that Madonna loves a bit of contraversy and this new perfume is no exception. Now I can't really figure out whether this is real or not but apparently an artist in Sydney that is suing Madonna as he feels she ripped off his copyrighted logo. We'll see how that goes.
 This fragrance is actually priced really well with prices starting at £20. You can buy Truth or Dare at any Debenhams, Boots or perfume store.
Let me know what you think, I'd love to know. Happy shopping!