<![CDATA[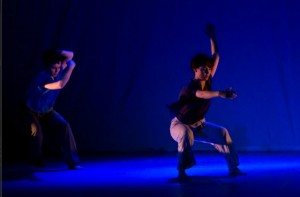 In the gorgeous underground surroundings of the The Hub at the Roundhouse, the lights came up on two dancers sitting with their knees up before tipping into a fetal position and slowly moving in a clockwork motion.
CODA Dance
 was formed in 2010 by London-based choreographer 
Nikki Watson
, a graduate of Roehampton University. Since their formation they have performed at Platform AD and Resolution! at The Place.
You Remind Me of Someone I Once Knew 
is the fourth piece from CODA Dance and tells the story of a daughter dealing her mother's diagnosis of multiple sclerosis. The linear performance depicts the stages of grief: for example denial, anger and bargaining, from different characters' perspectives. The CODA dancers 
Kimberly Collins
 and 
Georgia-Leigh Godfrey
 presented a caring and moving portrayal of their characters. Standout moments included the use of different directions, the contact work in the duets, and the combination of fast moments followed by intimate moments. A really lovely scene involved one dancer tracing the footsteps of the other while she was moving on the floor. Perhaps in telling us the theme of the story prior to the performance performance, I expected a clearer narrative to unfold, and I found myself looking for the five stages of grief. There were sections of the piece which could have been explored more but this could have been down to it only being 15 minutes long. In conclusion, the dancers have a very strong connection and the choreography is beautiful: CODA Dance is definitely a company to watch!