It was my birthday last week so I thought I would share the presents I received.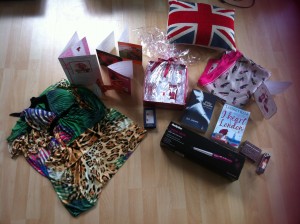 So here is my haul.
Can you see my favourite card too. It is a cat with a little tiny card in its mouth. A-maz-ing!
My family and friends must know me really well because I received everything that I have been wanting for an age. Woot!
Cushion
This year is pretty important for the UK and so I have really wanted a Union Jack cushion. I've not found one that I like but I bought my dad one of these for his birthday and my boyfriend must have noticed that I loved it. Woot!
Hair curler.
I have wanted some curling tongs for ages. My boyfriend did some research and bought me these beauties. Babyliss hair curler and I love it. I haven't had the time to use it but I can't wait to see how my hair turns out with it. I even bought some elvive firm hold hair spray. woopa!
Books
I am a bit of a book worm when I have the time to read and I have been wanting to get two books for ages.
My mum bought me Lindsay Kelk, cheapest I heart London. It is part of the I heart series as you can probably can tell and is the last in the instalment and I can't wait to finish it.
My boyfriend bought me 50 Shades of Grey. This book is creating a bit of a stir on line and everyone has been raving about it so I thought I would see what the fuss is all about.
Squee for books!
Dress!
I have a real love for maxi dresses so I love that I got a gorgeous tropical/leapard print maxi dress from my mum. Woop!
Necklace
I received a gorgeous necklace with three red butterflies from my boyfriends mum. Yay for necklaces!
Scarf!
My boyfriend bought me a birdie print scarf from Accessorize. It matches the bag that my boyfriend bought me not so long ago, it is so lovely and I love it too.
Guinot skin care set! 
My boyfriends sister gave me a Guinot skin care set. I am quite intrigued by this set and can't wait to use it. It includes One step cleansing water, soothing eye care cream, body firming cream, vitalising face cream ,exfoliating cream and an energising lifting mask.
I also recieved money and various vouchers so I'm sure you will see the products I buy with these at some point.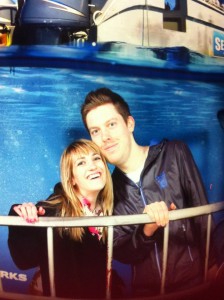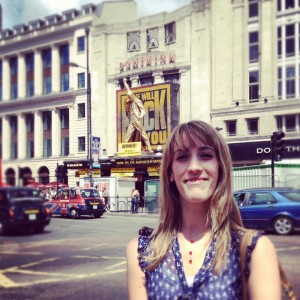 Days out in London.
On my birthday I went shopping with my boyfriend at Oxford Street,  had lunch at a lovely cafe then we made our way to London Aquarium for the afternoon. Then a week later I was treated to a West End matinee performance of 'We Will Rock You' which was A-MAZ-ING and a tasty meal at Italian restaurant. Im a very lucky girl.

All in all, a great birthday. Thank you for my pressies. I love them all.

Positively, the most vital element that is mature while buying drugs from the Web is to make a right choice. To order remedies online from a respectable web-site is safe. Let's talk about numerous possibilities. If you're concerned about erectile heartiness problem, you have to learn about "levitra 10mg" and "levitra cost per pill". Did somebody tell you about "cheapest generic levitra"? Don't forget, view "undefined". Young men with sexual dysfunctions need occupational help. The treatment plan depends greatly on the precise cause of the sexual problem. Along with their valuable effects, most medicaments, even so, can cause unwanted aftereffects although commonly not everyone experiences them. Online sex therapist services are the only safe variation if you are going to buy remedies, like Viagra, online.