<![CDATA[Christmas is coming and just in case you need some help deciding what to get for a loved one here are a collection of my favourite at the moment.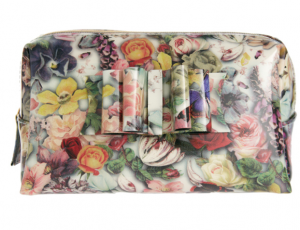 I really love Ted Baker especially because of the bow that the designer is known for. It is so cute. This particular wash bag is no exception with the unique floral design at £22 , Ted Baker is gorgeous and affordable. Just what you need to have in your bag when you are going away for the weekend or abroad.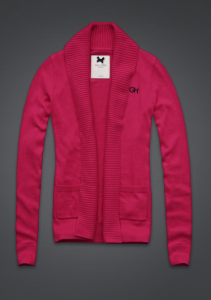 Gilly Hicks is a sudden and now a firm favourite for me so I thought that I would share this unusual fantastically bright Jumper Cardi. In the current sale on line this Diamond Bay Jumper is £18.90. Great for christmas and so warm. Go get it.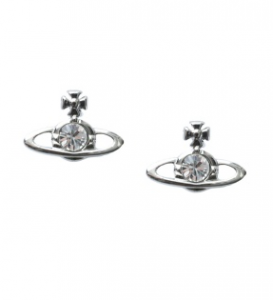 Vivienne Westwood is a lovely brand for jewellery. It can be quite pricey but if you are looking for a staple piece that will stay in your favourites go to the website. These earings  Nano Solitaire Earrings £45 are gorgeous. A little tip if you want to get these a bit cheaper is to wait for the sales after christmas if you can wait that long as there is always one on this site and but the jewellery goes quickly. 🙂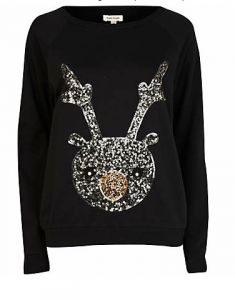 I walked into my local River Island this week and saw this beauty. It was love at first site with this fun but christmas tack Black Reindeer Jumper. It is £25 which is a bit pricey for whatit is but it is warm and so lovely for christmas so I can over look that, can you?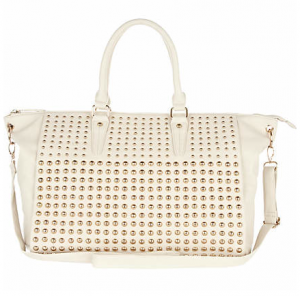 This Cream stud Haldall is £55 from River Island. On the River Island website, it states that this bag is 'This seasons most chic accessory'. I totally agree and I  love love love and any trendy girl will love this bag.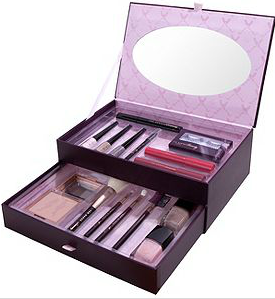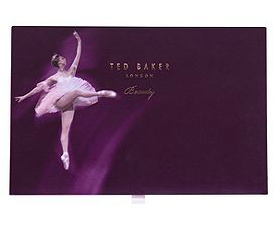 Boots have some lovely possible pressies at the moment. I am quite pleasantly surprised. The main set that has caught my eye is this set . A jewellery box filled with a beauty kit of nail varnishes, brushes, pressed powder, mascara, eye shadows, eye pencils and Ted Bakers version of the Chubby Stick. Such a gorgeous collection and the products are really worth the money. This set is very pricey but there is so much for the amount you are getting. at £40 but at the moment it is £19 at Boots as the Pressie of the week. I don't think there are many days left though so get down there soon. 🙂 Such a good pressie for the girls and top of my list. I hope these few tips helpd with the fun task of pressie hunting. Happy Christmas shopping folks!