<![CDATA[The BAFTAs were last night and I had to watch it all while chilling out on the sofa. There were some major films that won, Les Mis thank goodness have you seen it? and Argo, the film directed and staring Ben Affleck the clever guy. There were some amazing dresses, too many to ignore so here is my pic of the best ones.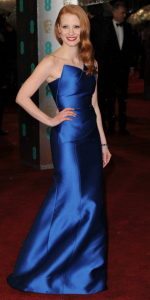 Jessica Chastain looks sophisticated in this beautiful blue satin Roland Mouret dress. The colour is amazing,it really suits her hair and skin tone and the red lipstick finishes off this look.

I think Anne Hathaway is rocking this black Burberry dress and Anya Hindmarsh clutch and most defiantly that Les Mis pixie haircut. I also loved her reaction and her speech for when she won Best Supporting Actress for Les Mis. Duly deserved and I'm very happy for her.
I completely fell in love with this Christian Dior gown worn by The Hunger Games young  star Jennifer Lawrence. This dress shows off her figure and the simplistic hair, perfect make up  and Chopard jewellery let the dress become the gem.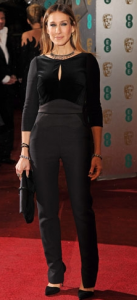 This simple yet elegant Elie Saab jumpsuit is a fitting alternative to the floor skimming gowns that every award ceremony is adorned with. Sarah Jessica Parker wears this very different and understated combination well, has immaculate styling with the black simple suede Sean-Michel Cazabat shoes and smouldering eye make up.

Can't say I am a fan of this vibrant yellow Dior Haute Couture dress worn by Marion Cotillard. The colour is lovely but the cut, quite literally is a little uncut. The flash of leg leaves me trying to work out if it's supposed to be like that or whether she's had a mishap Jessica Lawrence style. What did you think of the BAFTAs, it's winners and its style stakes?