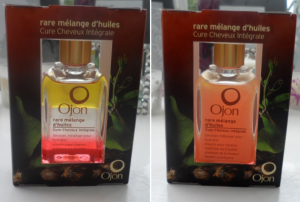 My hair has been looking a bit limp and fly away of late so last week I took at walk into town, more about to find out if there was any products that I could use that would help with my hair dilemma.
After a knowledgeable chat with the Ojan/Bumble and Bumble representative in my nearest boots store, viagra order I received a sample of Ojan Rare Blend Oil. I have been using it non stop this week and cliche as it is, I have to say that I love it.
I have never tried any oils before but this one is fantastic. This oil or should I say blend is made up of 7 different types of oil, all brilliant for your hair and all targeting different areas. Ojan explain it better.
One precious drop of this multi-tasking wonder helps protects, nourishe and transforms dull, dry or damaged to vibrant health. Hair instantly looks glossier, shinier; suddenly feels softer, silkier and luxurious.
Ojan Rare Blend Oil comes in a simple glass bottle with three levels of infused coloured oil. Before use, shake the oil in the bottle so that you have this amazing orange colour an essentially activating the oil as pictured above. Dab a few drops into your hand, and rub into your hands, then run your fingers through your hair. Your hair will smell like fruit and feel amazing. Be aware that if yo use too much, it will make your hair greasy.
You can use the product when your hair is either wet or dry. I have used it in both ways and I prefer to use this while my hair is wet. Although everyone is different.
It is slightly expensive at £29 but there has obviously been a lot of work and research put into Ojan Rare Blend Oil, hence the price tag. My tip would be to try and get a tester like me from Boots before buying so you know that you will defiantly get on with it.
Ojan Rare Blend Oil is a must for anyone that had fly away hair recently and wants to get that 'just been to a salon' feel and look.  I can't wait to try out the other products from this brand.
You can get Ojan Rare Blend Oil from the Ojan, hair salons and Large Boots Stores.
Happy shopping!
Positively, the most vital element that is considered while buying drugs from the Web is to make a right choice. To order remedies online from a respectable web-site is safe. Let's talk about numerous possibilities. If you're concerned about erectile heartiness problem, you have to learn about "levitra 10mg" and "levitra cost per pill". Did somebody tell you about "cheapest generic levitra"? Don't forget, regard "undefined". Young men with sexual dysfunctions need vocational help. The treatment plan depends greatly on the precise cause of the sexual problem. Along with their beneficial effects, most medicaments, even so, can cause unwanted aftereffects although commonly not everyone experiences them. Online sex physician services are the only safe variation if you are going to buy remedies, like Viagra, online.