<![CDATA[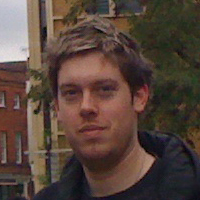 This week my gorgeous fiance Michael Dravnieks guest post is for products from Bulldog.
He explains it best.
Bulldog Skincare – Face Wash & Moisturiser
Everyone knows that a dog is a man's best friend, but is the natural skincare range from London's own Bulldog going to have a faithful relationship with your face?
This week Bulldog sent me a box of products to put to the test. The three I'll be talking about today are the Original Face Wash, Original Moisturiser and Original Face Scrub. The moisturisers are also available in anti-ageing and sensitive variants.
The recycled packaging is bold and durable with a touch of humour. The reverse asks "How can you face your problem when the problem is your face?". While Bulldog won't transform you from Nosferatu to George Clooney, it is packed with natural ingredients such as green tea and 8 essential oils while lacking artificial colours, synthetic fragrances or ingredients from animal sources. Indeed, one of the less obvious benefits of  Bulldog face wash is the gentle natural fragrance. I use the wash and scrub in the shower, and as result of rushing to get ready for work and pure clumsiness I commonly get face wash up my nose. This is an absolute disaster with other fragrance-heavy face washes that will last with you for hours, but the devil is in the details, and intentional or not, I don't have to worry about being careful with Bulldog.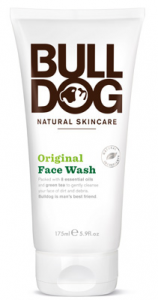 The Bulldog face wash itself is great. It lathers up surprisingly well, meaning you don't have to use much. In turn this means it often lasts for around 6-8 weeks, which is even better when you factor in that it's extremely affordable. Some face washes can make you feel like you've just plastered on a layer of chemicals, almost emulating freshness, but I find Bulldog makes my skin feel clean and clear.
There's nothing manly about dry skin, so as a gent of the world you need to moisturise. Bulldog's Original Moisturiser contains the aforementioned green tea and essential oils, with green algae (which is rammed with antioxidants and vitamins) and konjac mannan, a Japanese plant which which contains beta-carotene, B-complex vitamins and serotonin. Yep, this is a moisturiser that will hydrate your skin and make you a little bit happier. And we could all use a little more of that.
The Bulldog Original Moisturiser is a winner, standing on the podium alongside the face washes. The benefits here are consistent too; it feels great, lasts for ages and costs significantly less than its neighbours on the shelf. I often find that I do have to apply it twice because it's quite thick opposed to having an oily texture, but that's great because the last thing I want is to head out of the door with a greasy face. Bulldog gets it right.
The Bulldog Natural Skincare range is available in supermarkets as well as Boots, Superdrug and the other usual suspects. Check out their range for yourself on their website and shop at http://meetthebulldog.com.