<![CDATA[We're in for a treat today. My Fiance is back with another guest post about male products. Happy ready and shopping! The expression of manliness is an art. For years men have taken to the great outdoors, hunted animals for food, cut down trees and conquered mountains, cracking open a beer upon its peak as a symbolic triumph of testosterone. In 2013, we live in an era of skinny jeans, frappuccinos and man bags, a wave of metrosexuality threatening to wash away all that was strong, brave and unashamedly hairy about the male species. One brand stands strong in the face of this wind of change, combining the modern man's need for cosmetics with the heritage of masculinity.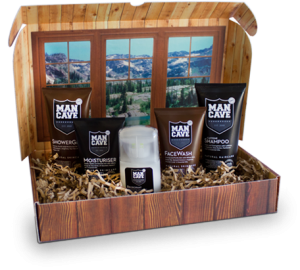 Established in 2010, ManCave set out to provide men with a regime of products developed and formulated to be simple yet high quality, natural and affordable. They are certified under the Humane Cosmetics Standard and make thorough use of natural ingredients. Their full range is made up of the following products
Moisturiser
Face wash
Caffeine shampoo
Shower gel
Natural deodorant
Let's dive in and take a look at each one.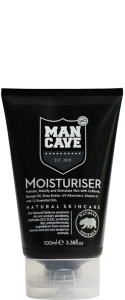 The ManCave moisturiser is designed to protect and enhance your skin. It hydrates your face using borage oil and shea butter and gives your skin a boost with a hint of caffeine. ManCave moisturiser also contains heathy doses of vitamin E, UV absorbers and 12 essential oils. It has a nice buttery feel and won't leave your skin feeling oily or greasy, which is perfect. There's also a fantastically subtle scent of wood or pine, just enough to add a fresh feeling without being overpowering. Now, you wouldn't put polish on a dirty car, and the same applies to your skin. You're going to need remove yesterday's debris before you moisturise, so grab some face wash and get to it.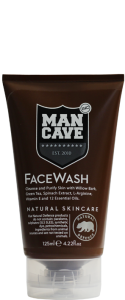 A bottle of ManCave face wash contains some advanced face cleaning technology, thanks to its eclectic list of ingredients such as willow bark, green tea and spinach extract. This unique combination is rich in anti-oxidants and has anti-septic and anti-inflammatory properties. I use this face wash in the shower each day and found it gave my face a real hydrating boost in the morning. You don't need to use much, meaning a bottle lasts for at least a month which is great.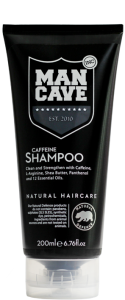 Your hair is a frame for your face. Such is the importance of your hair that a simple change of styling or a new cut can change your entire appearance. ManCave shampoo helps you keep your hair the way it is by naturally cleaning and protecting. One of the standout ingredients is caffeine, which stimulates the roots of your hair and get you going in the morning. The shampoo also contains natural ingredients like shea butter, 12 essential oils and L-arginine. I found that the shampoo gave my hair a big refresh if it was feeling a little dry or limp from use of products. It really gives you a soft malleable feeling without being fluffy, which is great if you use wax in your hair. It's worth noting however that if you have sensitive skin then this is not a frequent use shampoo, using it in consecutive days irritated my scalp a little. So make sure you cycle between ManCave and a light shampoo every few days to get the best results.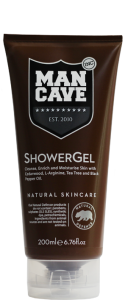 The ManCave shower gel is the jewel in their crown. First of all it has a fantastic natural woodland smell, most likely thanks to the the natural ingredients cedarwood, tea tree oil and black pepper oil. It hydrates and cleans your skin and reinvigorates your senses. The bottle lasts for a good few weeks, as it lathers up really well meaning again you don't need to use much.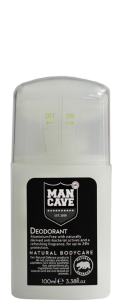 The last ManCave product in their range is an interesting choice – a roll on deodorant. Rather than develop a anti-perspirant spray, which they believe wrongly prevents sweating, they have created a formula which removes the bacteria so that your body can perform naturally. It's natural to sweat, but we don't want others to have to smell it. It's an interesting theory, one which I found really works. The deodorant stick contains silver citrate, a naturally derived anti-bacterial active, which removes odour and replaces it with a fresh forest fragrance leaving you fresh all day. It's also free from aluminium, a pore blocking agent linked with potentially detrimental conditions. The stick also contains aloe vera and again 12 essential oils. I found using a deodorant roll on opposed to an anti-perspirant spray a little bit strange at first, but after a few days I got on great with it. It doesn't leave you with a dry sticky feeling under the arms, it feels much more natural and smells fantastic. I did have to top up a little in the afternoon some days, so drop it in your bag when you head out the door. ManCave products are exclusive to Sainsbury's in the UK and available online via their excellent website
http://mancaveinc.com.
The products are affordable and last for weeks, so grab yourself a slice of the last bastion of masculinity.