<![CDATA[The  Body Shop are celebrating 21 years of the iconic range of body butters. It began with Mango with its fruity scent that is good enough to make you want to eat it. Rumour has it The Body Shop sell a Body Butter every 2 seconds somewhere in the world. That's quite an achievement.
There are more than 20 scents in the collection now, that means there is a scent that will be perfect for everyone. My favourites are most certainly the raspberry, strawberry and the  new limited edition brazil nut. What are your favourites?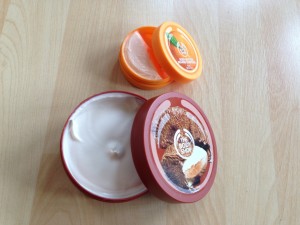 The new formulation of the brazil nut body butter is so gorgeous and it smells amazing. It gives 24 hours of hydration and is great for really dry skin. I was given a little tip when I went into the Chelmsford shop recently, that if you put this brazil nut body butter on your legs when you shave them it will help with ingrowing hairs. I've tried it and it definitely works. The smaller body butters are £5. Some of the larger body butters are in the sale at the moment for £5 which are down from £13. What a bargain!