<![CDATA[Yesterday I went to an event in Westfield outside Shopping centre in Stratford, London.  Malibu Rum  created Malibutique, a pop up boutique armed with a little help from Asos, Tony and Guy and Nails Inc.

Inside are five different areas in the Over 18's boutique that are aimed for the ultimate experience. The first area is where you get to choose a cocktail from the four designed especially for malibutique. There is choice of Mali-Woo-Woo, Mali-Blu, Mali-Colada and Ginger-Bu.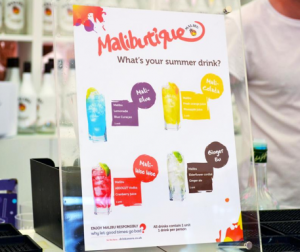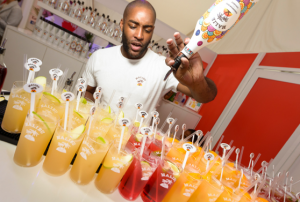 The second area gives you the opportunity to learn how to make these delicious cocktails with mixologists (thats cocktail maker for you and me) on hand for expertise. There were also super tasty cocktail recipes to take home which would make a great addition a summer BBQ.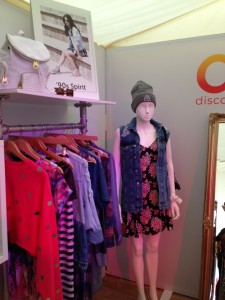 The third area is filled with clothes from Asos. Four different looks that were created to correlated to the four malibutique cocktails and all gorgeous looks. Asos stylists were on hand to help with advice, there is also an iPad game and a 20% discount on offer. My favourite look was this 90's Spirit. I loved the striped maxi skirt, the pattern on the stripes added a slight softness which makes it perfect for the present scorchio weather.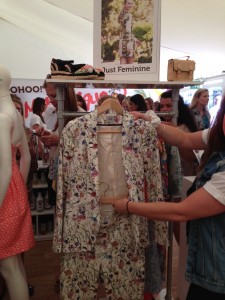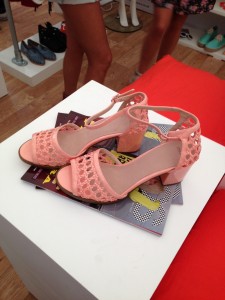 My second favourite look was the Just feminine collection. I loved this Asos trouser suit combo, so summery and perfect for working in an office, and the sandals are so cute. The  neon orange and white dress that you can just spy on the manikin was super gorgeous too.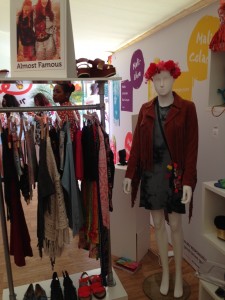 The Almost Famous section was jam packed with denim, light fabrics and flower braides, perfect  for festivals at this time of year. The wooden look platform sandals on the shelf are a pair to look out for on line. Perfect to dress down for the day and to dress up for the evening and super comfortable.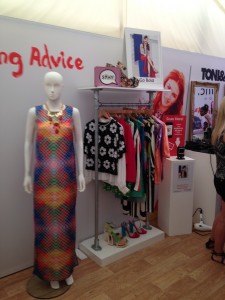 This Go Bold was full of amazing colours, and the platform sandals were to die for. I swear  I came away with a wish list the size of my arm. 🙂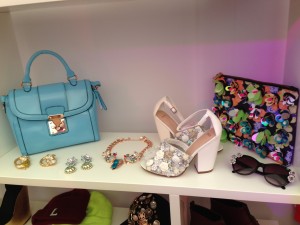 Loved this bag, and the shoes are so Chanel. They are gorgeous and I was told they were perfect for a wedding. Too bad there aren't any coming up 😉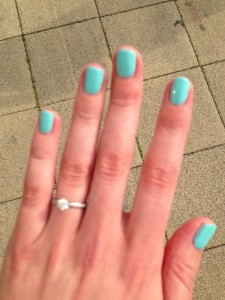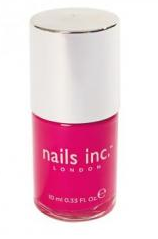 Nails Inc were on hand in the forth area doing mini-manicures. There were four nail polishes to choose from, again correlating with the cocktails, a bright pink named Mali Woo Woo made especially for the event which participants had the chance to win, a denim look nail varnish called Bermondsey Denim, a beige leather look polish called Soho Mews and my favourite which I have on in the picture Royal Bertanical Gardens. This colour is almost a Tiffany Blue and it's just gorgeous espcially with 2 coats.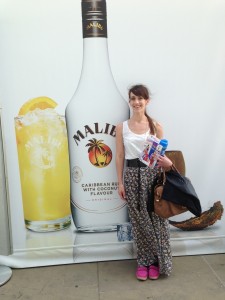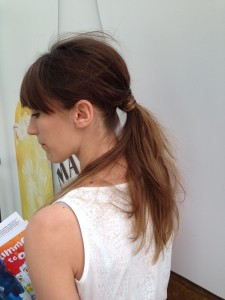 The last area of Malibutique was dedicated to Toni and Guy hair dressers. A real beauty treat for me as it was something completely different. Again they had created four looks to complement the cocktails and there was a real choice of looks that would make any girl feel special and look amazing. I went for an up do as I normally have my hair down straight or curly and the other looks were precisely that. My loosly tonged ponytail with backcombed volume at the crown up-do looked amazing. The hair dresser gave me a step by step guide on how to do it myself, including accessories, why he had used the products he used and what products I could use myself. Result! Malibutique is open until sunday 14th July in Westfield, Stratford. Malibutique then travels to Birmingham Bullring between 25th and 28th July and then to Manchester, Exchange Square between 23rd and 26th August. It's free to enter and all treatments are complementary. Get in contact at facebook.com/MalibuRum or #malibutique on twitter. In the words of Malibu themselves, don't miss out! *Photograph credits: Nailsinc.com, heatworld.com, qetelastic.com, temporary-secretary.blogspot.com and my own.