<![CDATA[Hello George Alexander Louis, welcome to the world.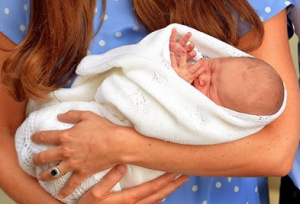 So this week has been a little crazy for the Royal family. Congrats to the Duke and Duchess of Cambridge as Kate gave birth to a beautiful baby boy who is now the third in line to the British throne and William and Kate have just announced the name. Say hello to George Alexander Louis, a great name fit for a king in waiting and I have to say I guessed correctly, just wish I had put some money on it. D'oh!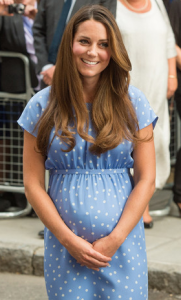 Kate looked amazing last night in her Jenny Packham blue polka-dot dress last night, beaming in fact and looking very proud that she was showing off her new little family to the world's media. The Jenny Packham dress looks uncannily like Lady Diana's green 1980's polka-dot maternity dress in print and was made by the designer specifically for the occasion.  Do you think she had one made in pink too? Apparently the dress is not for sale to the public but according to news reports today blue and white pocka-dot clothes shot straight out of the shops last night. Well blue and white is very in this season.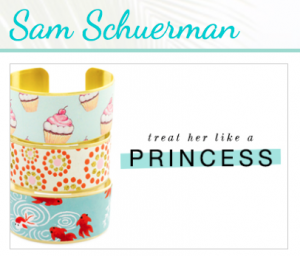 So the prince is here and the retail world is going a bit crazy in offering their congratulations too. With sales and competitions galore, here are just a few of my favourites. Sam Schuerman, a blogger and vlogger has her own jewellery shop and she has a collection fit for a princesses across the country. Maybe she didn't get the memo over in USA. Lol!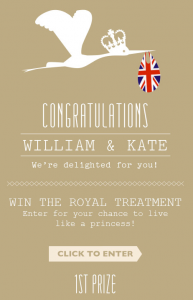 More excitingly, Oasis have a competition to win royal treatment with three different prizes all fit for princes and princesses. Prizes ranging from a stay in a gorgeous country house with champagne, a meal, breakfast and vouchers, to a Champagne afternoon tea and vouchers. Amazing!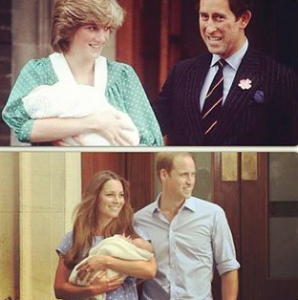 So I will leave you with my favourite picture of the last few days. This picture of Lady Diana, Prince Charles and the young Prince William. It's crazy to think that the baby in Lady Diana's arms is standing in the same spot 30 years on with his new family looking so relaxed and happy. So lovely! Happy shopping!