<![CDATA[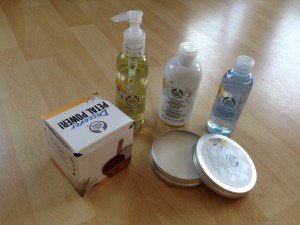 Exciting News! The Body Shop is releasing a Camomile Range this week in the UK. What does this mean, I hear you cry.  Well, Camomile has anti-inflamatory properties and so helps soothe and calm irritated skin. This makes it a perfect ingredient for adding to products like make up removers and cleansers. As you may know The Body Shop have had the camomile gentle make-up remover out for many years, with great results all round. I have been waiting and wondering if they would release Camomile range for a while now and now they have done it. Great huh! And the best bit about this range is that The Body Shop also source the Camomile oil right from our very own doorstep,  from a family run co-orprative farm in Norfolk.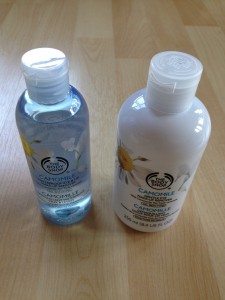 The Gentle Eye Make-up Remover is the same as before, a oil free formula particularly  great for sensitive eyes. It has been repackaged in line with the new range which is great. Why muck with something that works huh! It is going to be priced at £3 -£8 which is a great price. The new additions include this the new Waterproof Eye Make-up Remover, this has a dual-phase formula which mixes into a super solution when you shake it. Pop some of the solution on to two cotton pad, place one on each eye then wipe the cotton pad gently over the rest of the eye. The make up just disappears and it works particularly well on lip stains, cheek stains and waterproof mascara. It smells fresh and not overpowering and great for contact-lens wearers. The Waterproof Eye Make-up Remover is priced at £8 which is also a bargain.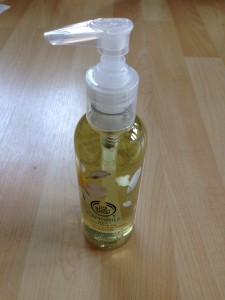 I have wanted to try cleansing oils for a long time as they seem to be very popular.  They are one expensive product though with Shu Uemura, and Clarins cleansing oils prices beginning at £29.50.  In step The Body Shop. This Community Fair Trade Camomile silky cleansing oil is just £10, features a blend of eight oils that do exactly what the bottle says it does in that it ' leaves skin silky smooth'.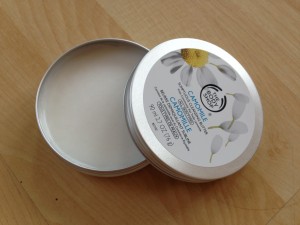 This Camomile Sumptuous Cleansing Butter is the star product of this range and I have loved using this. I have been really intrigued by cleansing balms/ butters ever since I watched the famous skincare guru and blogger Caroline Hirons on Pixiwoo's weekly Body Talk. This video is well worth the watch, and it has made me want to try the cleansing balms to see what the fuss is about and to see whether it would do anything amazing for my skin. Cleansing butters and balms as well as oils seem to be quite expensive though so it is great to finally try a version that is a little more affordable.Caroline maintains in the video that with a balm you have the opportunity to massage the product into the skin. (I'd be interested to know what Caroline Hirons thinks to this cleansing butter too) This also acts as an exfoliator too and helps get rid of the make up, the dead skin and the days grime. You can then use muslin cloth (which you can also get from this range for £2.50)  or flannel to take off wash off the excess. You will notice the difference straight away. The cleansing butter wont break the bank either as it is only £12. Perfect. The camomile range launches this month in England. Go check it out, you will love it.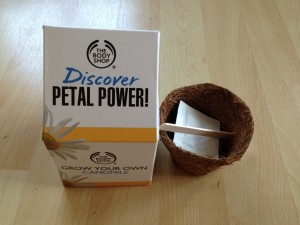 I was also sent a a Grow your Own Camomile Kit and I can't wait to try and grow something. If you would like to see the progress, let me know and I will post some pics and keep you up dated. I love ideas like this. Happy Shopping you lovely hearty people. *PR Sample