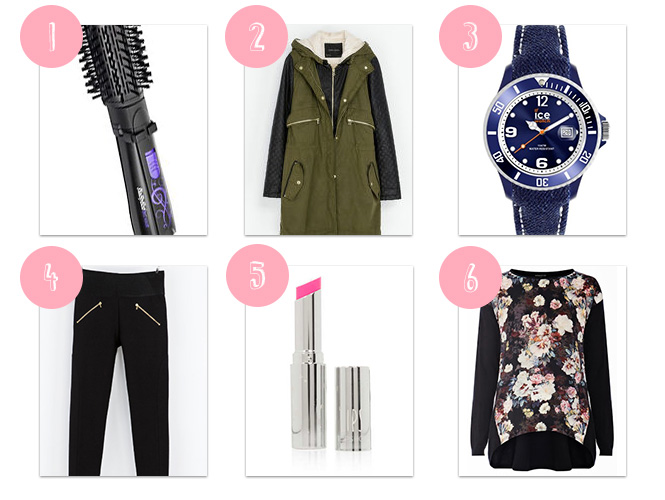 This is this fortnights Weekend wishlist. It's a round-up of some of the things on my buying hit list.
As some of you might know, thumb I have been growing my hair out for my wedding next year so that I have a better choice of hair dos. When I go to have a Cut and Blowdry, here (at Silhouette De Barry or most recently Lee Stafford salon, review coming soon) I always have an amazing blowdrys that leaves my hair mega soft, silky with lots of curl, bounce and body. This always makes me want to go out straight away and buy Big Hair by Babyliss. The Babyliss Big Hair makes your hair look amazing and just like you have come out of a salon. Its really easy to use as I have found out from various hair gurus,(I'm looking at you Ree of  blogs reallyree and hairdryerdiaries).  It's a great price at £44.99 from Boots/Superdrug. Go check it out.
I was recently watching one of my favourite you tubers Fleur De Force and saw that while she was on her honeymoon recently she picked up this gorgeous Zara Parka Jacket with leather look arms. I totally fell in love with it but then saw that it is £109, which I didn't like so much but good warm jackets are normally expensive and this looks like a  lovely warm one. With a  fleece lining, zip and poppers and hood, it seems like this will be brilliant  winter jacket.  The gorgeous olive green colour,the padded leather look arms and waist draw string will keep you bang on this seasons trend. At the moment  this jacket doesn't seem to be on the Zara website anymore, but I found it on ebay,  it might well be in the shops still though so keep an eye out when you are in store.

I'm loving watches at the moment and this Ice Denim Watch has become my newest obsession on the net.A denim watch. whoop!  The watch denim comes in two different colours, the smaller one is £115 and the larger version in both the lighter and darker denim is the £125. The colours are great and the watch is practical as well as it has the date included on it too. Practical and fashionable. Bonus!
Fashion  gurus always go on about JCrew Pixi pants . They are pretty cool american thick legging type trouser that are relatively cheap. The only pixi pants that are available in England so far are really expensive with the tax etc and cost something like £80+, eeek!  I recently read that these leggings from Zara are only £19.99 are pretty similar to pixi pants in style, look and they even have extra detailing on them with the zips. They are so gorgeous, i totally need some in my life and I will totally live in these over winter.
I had to include some make up in here somewhere.  I was in Topshop a few days ago and I came across these lovely sheer lipsticks. They are almost like tinted lipbalms because they are so sheer and leave your lips feeling so soft and silky. They come in two gorgeous colours, a bright sheer pink called Lolly and a coral called Swirl. Don't be scared of the brightness, go and try them out. They are so addictive and both are just £8. Bonus!
My final thing on this Weekend Wish List is this lovely Warehouse Night Floral Front Jumper for £42. It's of course getting colder and so jumpers are welcomed into our wardrobes. This jumper is super cool with the dropped hem which is on so trend, and the silk front  will add colour and texture to your winter wardrobe. There are lots of different designs too so go check them out.
Hope you enjoyed my weekend wish list. If you would like to tell me what would go in your weekend wish list, leave a comment  or your blog link below.I read every single comment and I always reply.
Happy Shopping!
Positively, the most vital element that is considered while buying drugs from the Web is to make a right choice. To order remedies online from a respectable web-site is safe. Let's talk about numerous possibilities. If you're concerned about erectile soundness problem, you have to learn about "levitra 10mg" and "levitra cost per pill". Did somebody tell you about "cheapest generic levitra"? Don't forget, regard "undefined". Young men with sexual dysfunctions need vocational help. The treatment plan depends greatly on the precise cause of the sexual problem. Along with their good effects, most medicaments, even so, can cause unwanted aftereffects although commonly not everyone experiences them. Online sex therapist services are the only safe variation if you are going to buy remedies, like Viagra, online.