<![CDATA[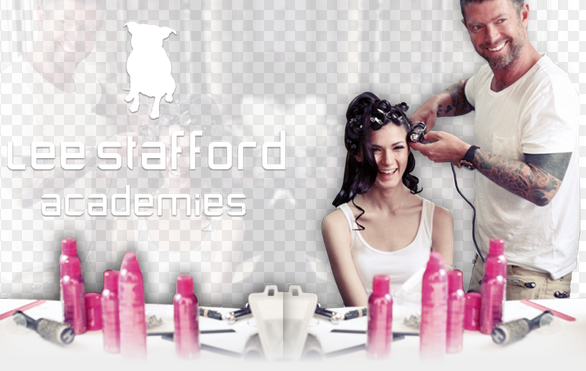 I have known of celebrity hairdresser Lee Stafford for a few years now. Ever since he was thrust into the limelight on his own reality TV show Celebrity Scissorhands in 2006, he has been on my hair-dar. Now, Celebrity Scissorhands was a brilliant show that recruited (minor) celebrities to learn hair-dressing from the man himself. They were then let loose on other (better known) stars invited to have hair cuts and treatments. It made for great viewing and I loved watching his hairdressing techniques and teaching style. Lee Stafford has since brought out hair products which I have been using for a while. I have loved using them and have included them in many reviews, so when I had the opportunity to go and visit the Lee Stafford salon in Chelmsford I jumped at the chance. The salon is tucked in a corner of Chelmsford near the train station and it has just celebrated it's first birthday. The salon includes an academy that has joined forces with Chelmsford College, teaching  new up and coming hair enthusiasts Lee Staffords own revolutionary hair techniques. Upstairs is a gorgeous spa with a wide range of  beauty treatments and facilities.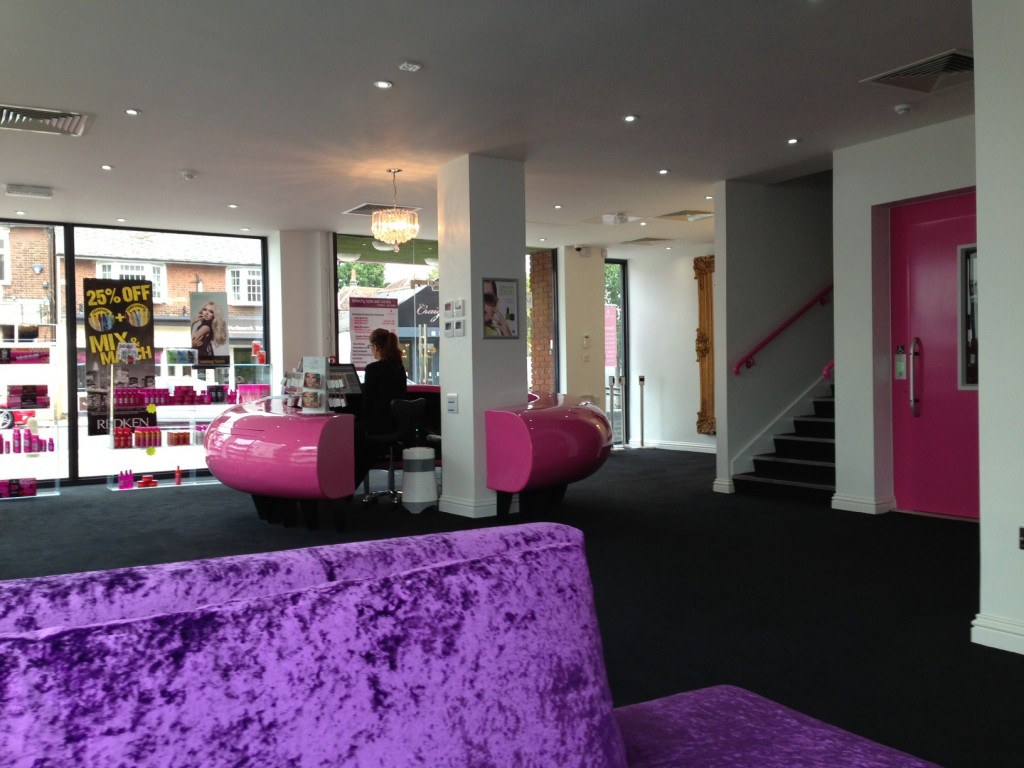 As soon as I walked through the door, I was greeted by a pink space age looking desk that filled the greeting area and set the scene for the rest of the contemporary looking salon. The receptionist behind it took my coat and ushered me towards the bright purple velvet corner sofa, where I could wait for my stylist and take a sneak peak at the salon.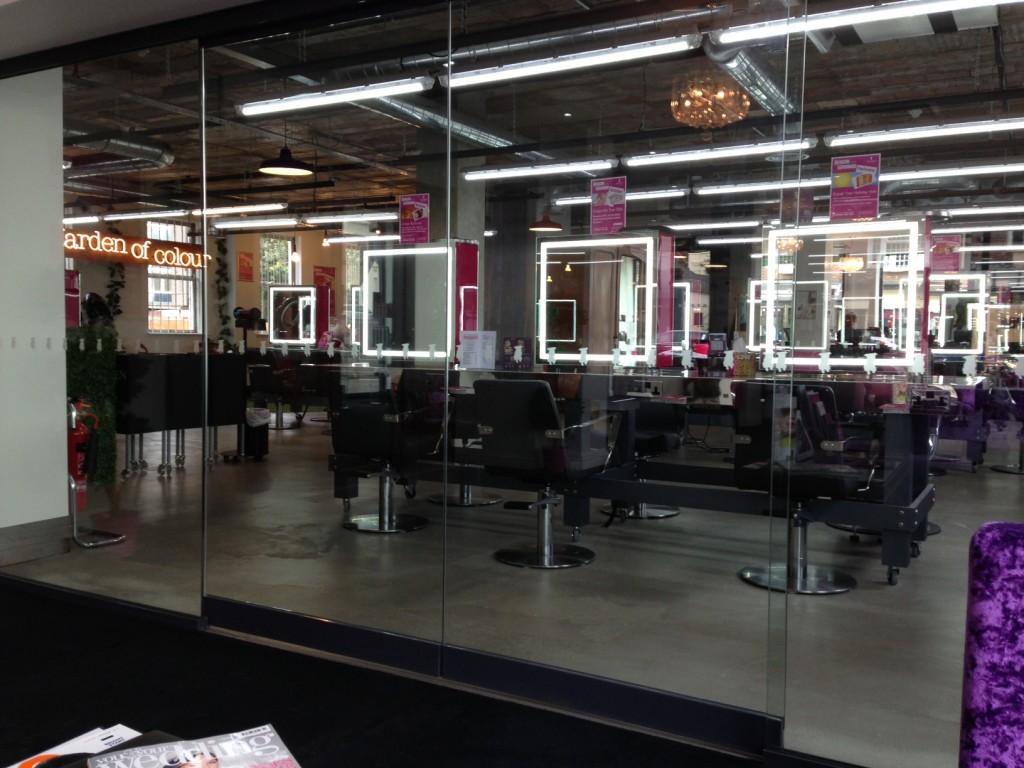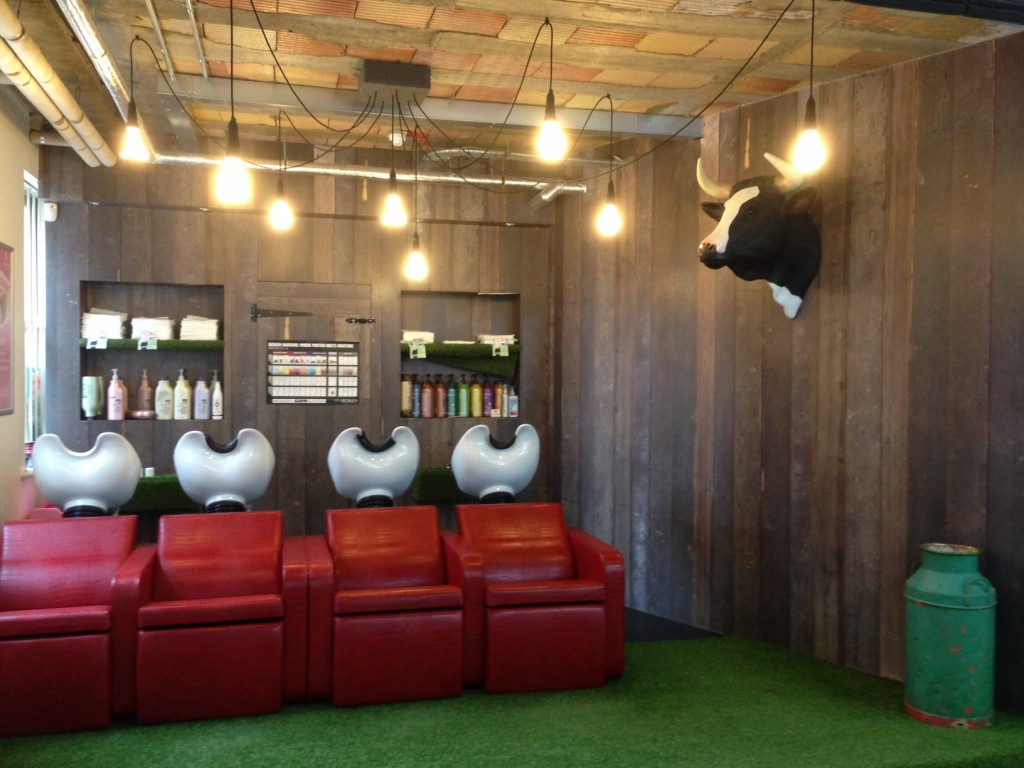 I was taken through to the main salon area were there's an industrial look with exposed lighting and tiles. The fuscia pink theme is carried through the whole salon with accessories that adorn the area. My favourite section was the Garden of Colour, better known as the  hair washing/colouring station, where I had my hair washed and treated. Here, there was fake grass on the floor, a cow head on the wall and the most amazing red comfy seats.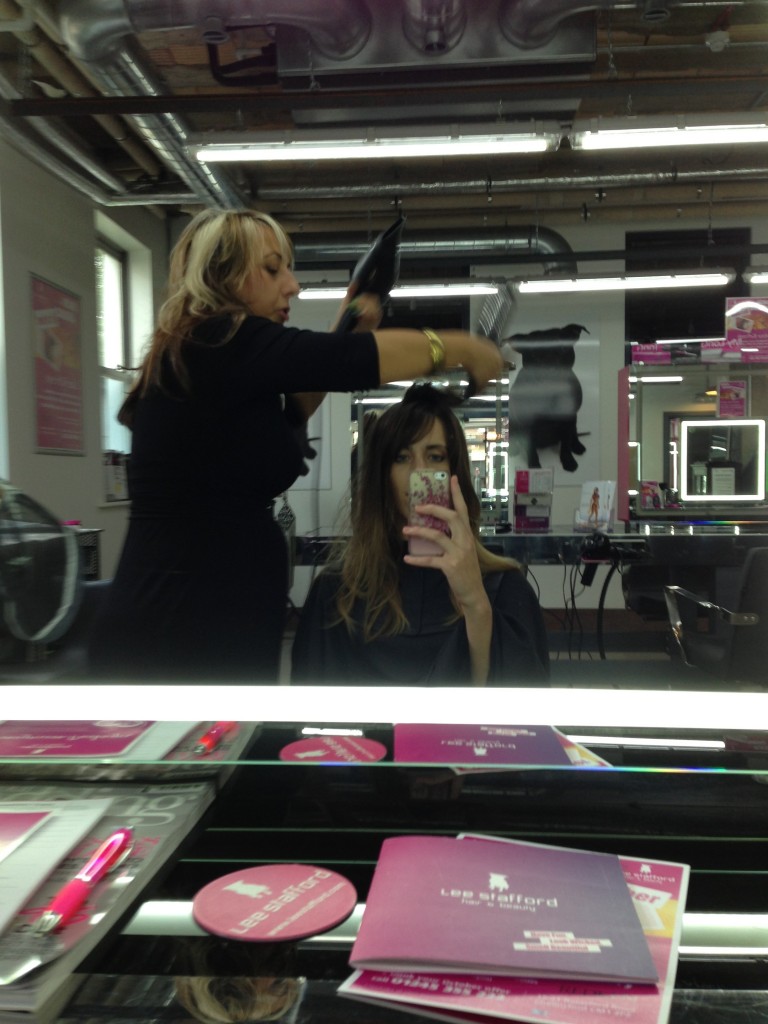 I was moved through to the main hair station where it was time to meet my stylist. I had a trim,  as I am growing out my hair for my wedding next year, and the most amazing volumising blow dry. I was informed of the best products for my hair type and I purchased some new products that I adore.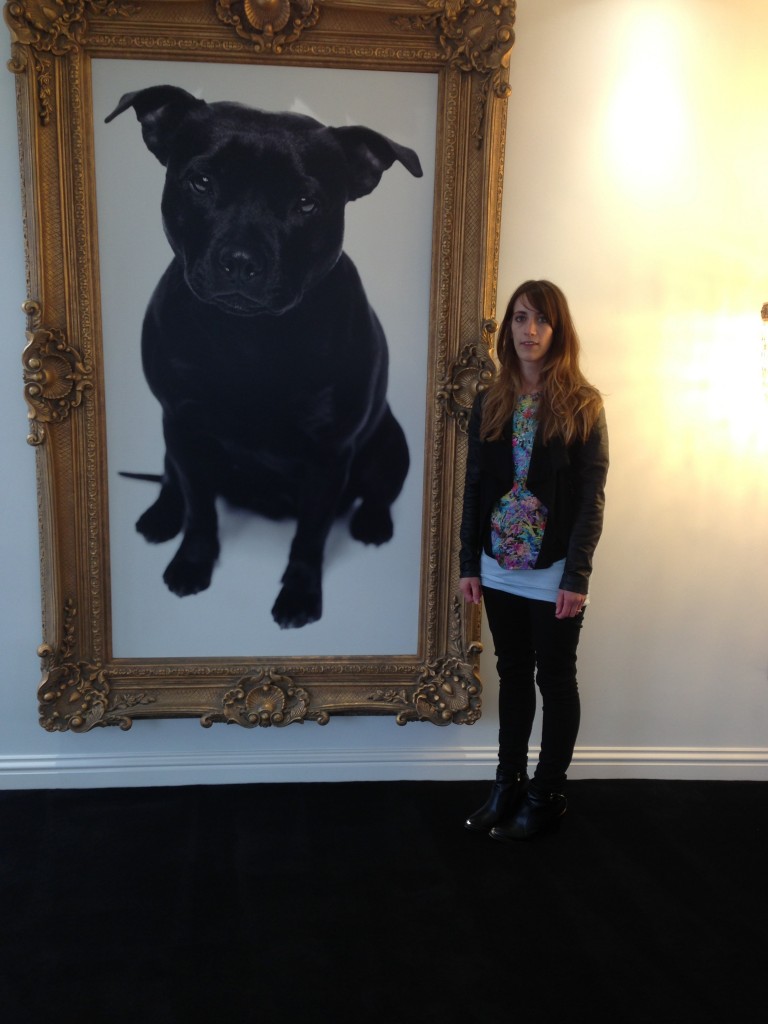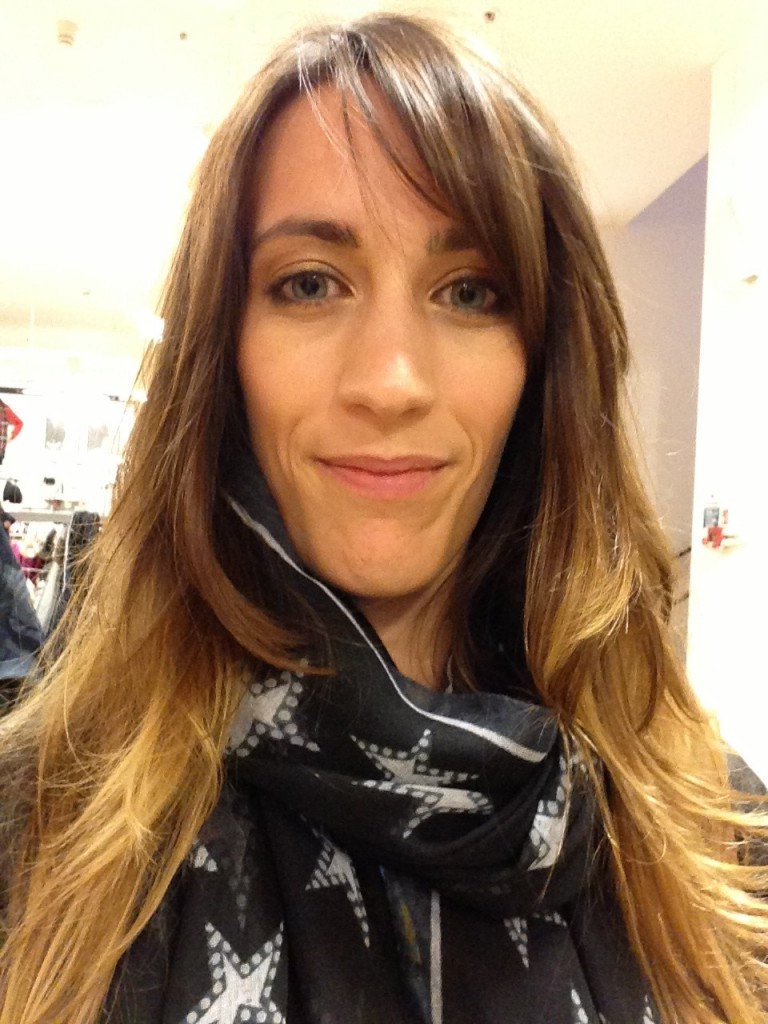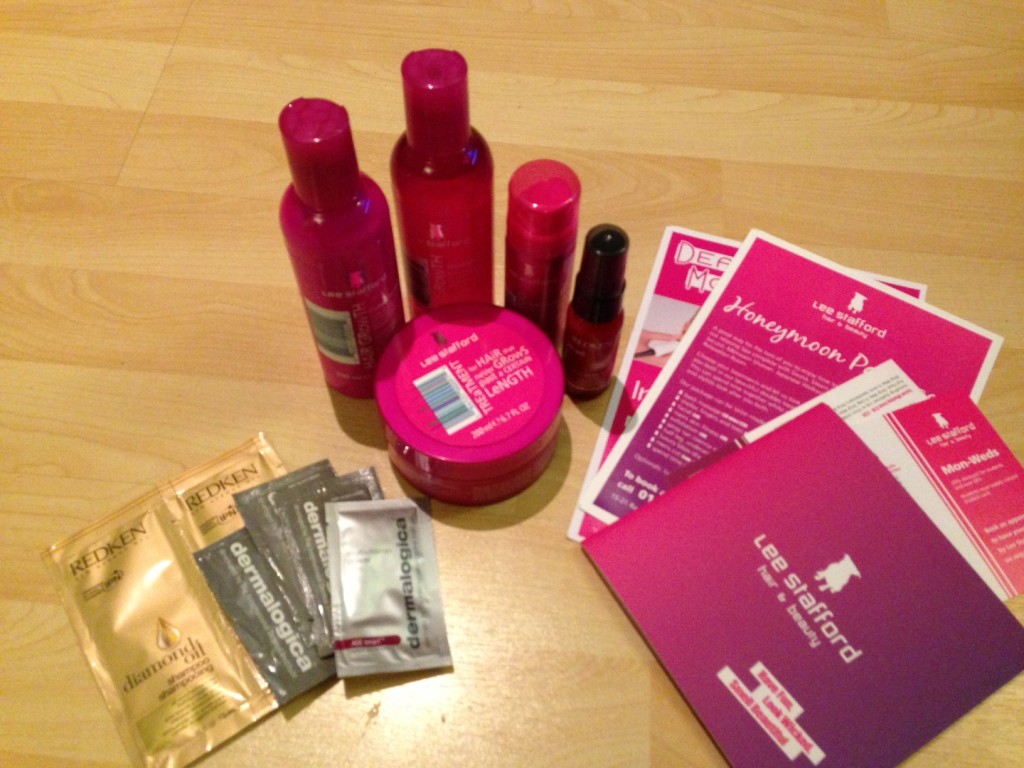 I left looking and feeing like a princess. Perfect for a night out. A truly great experience of a profesional salon. The staff are lovely, the prices are reasonable  and I can't wait to go back in the future. Will you be popping along to the Lee Stafford salon in Chelmsford? Happy shopping! * pr sample