<![CDATA[The weather is miserable and this harsh wind can often creates sore and dry skin. I know it does with me, I suffer terribly with dry skin especially on my hands in the winter. For this reason I thought I would include a post about my 5 favourite hand creams that you can buy on a budget.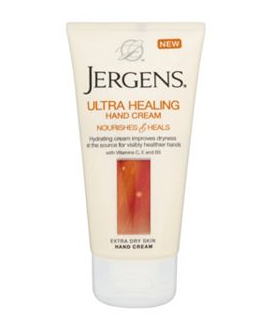 Jergens Ultra Healing Hand Cream Nourishes & Heals. I actually got my first tube of this product free with a magazine in the summer. Only a 25ml tube but it lasted for ages. I loved it so much that I bought quite a few of the bigger tubes of it and at the time it was on offer in Boots which was such a bonus. This was quite a few months ago( not sure if there is still an offer on them now but it's worth checking) and so I have been using this hand cream for a while now.  It really seems to help my hands feel nurished and heals them quickly when they are really dry. Jergens has a medium but creamy consistency and it soaks into your hands well. It leaves a bit of a greasy residue but this soon dries in too. You can buy this at your nearest Boots or Superdrug for around £3.33.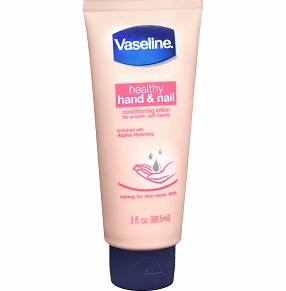 Vasaline Healthy Hand and Nail Conditioning Cream. When at work I am always borrowing this from my work colleague.  Vasaline Healthy Hand and Nail Conditioning Cream is a gem and I really love it. In fact I  loved it so much I went straight to Boots and bought some for myself  recently. This product has a really thin runny consistency so you'll need a lot of poduct for it to be worked into both hands.  However, it  soaks in well and doesn't leave a greasy residue. It has a really subtle nutral scent. It is also great for my nails too as I've noticed that they look and feel so much stronger.  They have also grown a lot since starting to use this hand cream. The bigger bottle is slightly better value for money but the annoying thing is that I can't undo the smaller bottle lid to fill up the smaller bottle. You can find this hand cream in any superstore or Chemist for around £3.75 for a smaller 50ml, or £7.50 for the larger 100ml bottle.
Neutrogena Hand Cream Norwegian Formula , Concentrated Formula. This is a true beauty classic. I have been using this hand cream for years and it's a trusty favourite that I always come back to. This hand cream is perfect for people that are prone to getting eczema. It is very concentrated so a little goes a long way.  Sore hands are soothed by this hand cream and it seems to have a sudden and lasting effect.It is unperfumed although some people would say that it might even smell slightly chemical like. I have known the men in my life to request to use this too, so it must be good. My top tip is that it is a good one to put on before bed (maybe even with thin cotton gloves if you like) as your hands will have longer to absorb the hand cream and they will love you for it in the morning. You can buy this for around £3.25 at any chemist or Supermarket.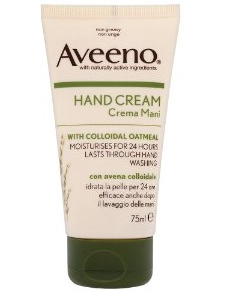 Aveeno Hand Cream This hand cream is another one that I love to come back to. Again it is perfect for people that are prone to Eczema and other skin issues and doctors often prescribe this hand cream because it is so good at calming the hands and treating the dryness. It smells of oatmeal so If you love this smell, this hand cream is the one for you.It doesn't leave a residue behind which is a bonus for me. It apparently lasts for 24hrs and forms a protective glove when you are washing up. I'm not sure how much I believe this, I always end up putting more hand cream on after washing up but it is certainly a great hand cream. It is available at any suprmarket and chemist. It's Was £5.42 but its in the sale at Boots for £3.72 at the moment.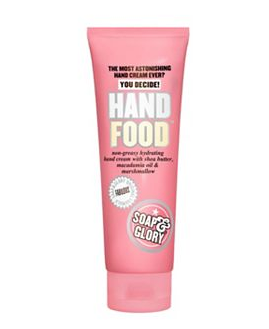 Soap and Glory's  Hand Food. I was given a large standing set of this recently for the bathroom and I really love it and it reminded my just how good this hand cream is. The Hand Food has quite a thick consistancy but not as thick as the Neutogena hand cream. It is slightly perfumed but it's not over powering. It is highly hydrating but I love this stuff so much I can't stop putting it on. Not sure if thats a good or a bad thing. 🙂 Boots have lovely sets of Hand and Foot Food along with the cotton gloves and socks for wearing over night as in my top tip earlier. These sets are great for christmas or just for yourself after the prices have gone down in the New Year sales to treat yourself.Small travel tube is £4.99 or the large is £8.99 from boots or Amazon. You can also get the christmas sets and they start from £11. You can never have enough hand cream in my opinion though, I'm always on the lookout for a new one. What's your favourite budget hand cream? Are they different from the above? Do leave me a comment as I reply to every message. Happy shopping!