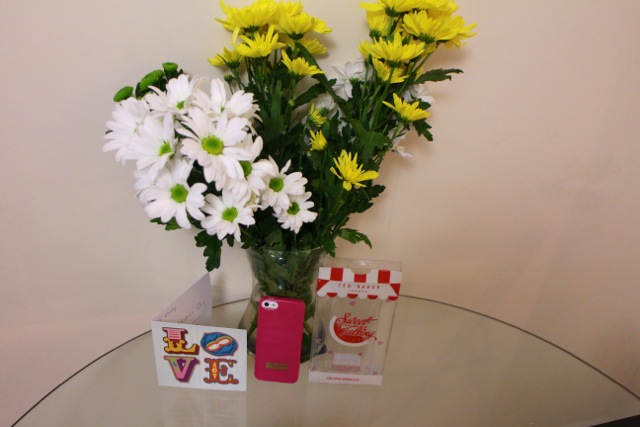 Valentine's Day was pretty awesome this year, website the last one before we're Mr and Mrs. MR EH bought me a beautiful pink Ted Baker phone case that amazingly  smells like watermelon, look and some beautiful flowers that are some of my favourites. He knows me so well.  I made him dinner and some vegan Blueberry Almond Crumble Muffins and so I thought I would share the recipe with you.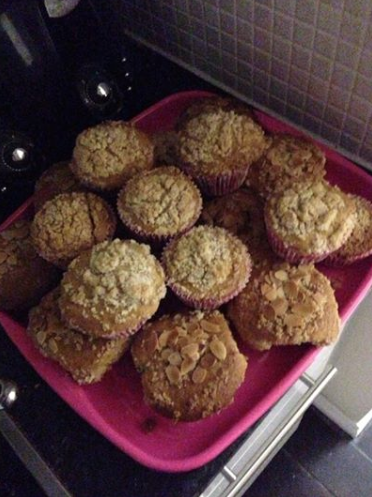 This recipe make 12 really large or 18-20 medium muffins.
For the Crumble
100g (Scant 1 cup) plain flour ( although you can use self-raising if you don't have any plain flour)
50g (1/4 cup) brown or demerara sugar
50g (3 tbsp +1tsp) dairy-free margarine ( You could use vitilite)
For the Sponge
500g (4 cups) Self-raising flour
60g (1/2 cup) ground almonds
1tsp bicarbonate of soda
1 tsp baking powder
250g (1 1/4 cups) caster sugar
500ml (scant 2 cups)  soya or rice milk
320ml (1 1/3 cups) light rapeseed or other flavourless oil ( I used Walnut oil)
2 tsp Vanilla extract
1/2 tsp almond extract or flavouring
100g (about 60) whole blueberries
a handful of almonds
Many of the shop bought crumble mixes are vegan. Prepare according to the pack instructions.
Pre-heat the oven to 180c/350 F/gas 4 and line your muffin trays with cases.
To prepare if you are not buying the crumble, healing mix the flour, sugar and margarine together in a bowl using a  spoon or with your hands until you have a lumpy crumble. Set this to one side.
In a large bowl ( and having done this you do need a large bowl) mix together the flour, ground almonds, bicarbonate of soda, baking powder and the caster sugar. Then add the milk, oil, vanilla and almond extracts and using a metal spoon quickly mix everything together for about 10 seconds until the ingredients are combined. Don't mix the batter too much, it should still be a bit lumpy. Spoon the batter evenly into the muffin cases previously placed into the muffin tray. (You might need two spoons to do this bit) Drop at least 5 blueberries into each muffin with the help of the opposite end of a small spoon. ( My fiancé wanted more blueberries so add as many as you want) The blueberries don't leak and make purple sponge this way (always a plus) but adding the blueberries to the wet mixture is just as yummy and the blueberries sink to the bottom of the batter.
Sprinkle each muffin with some of your lovely crumble before popping them into the oven (giving them space to rise- I know from experience) for 20-25 minutes. For that added extra X- factor, pop the muffins out at about 18-20 minutes and sprinkle the flaked almonds over them and return to the oven for the allotted time. When they come out the almonds will be toasted-mmm perfect. Cool them in their muffin trays on the rack for 10 minutes, and then take them out and pop them on the rack individually to cool completely.
These beauties will down a treat with everyone I promise you.
This vegan recipe was from Ms Cupcake, The naughtiest Vegan Cakes in Town. I have tried several recipes from this book and they all turn out amazingly. There might be another cake post or two in the next few days as there is a cheeky birthday coming up this week so keep your eyes pealed for more amazing recipes from this book.
Let me know if you make some as I would love to see and hear about your baking journeys in the comments below.
Happy Baking!
Positively, the most vital element that is elaborate while buying drugs from the Web is to make a right choice. To order remedies online from a respectable web-site is safe. Let's talk about numerous possibilities. If you're concerned about erectile soundness problem, you have to learn about "levitra 10mg" and "levitra cost per pill". Did somebody tell you about "cheapest generic levitra"? Don't forget, consider "undefined". Young men with sexual dysfunctions need vocational help. The treatment plan depends greatly on the precise cause of the sexual problem. Along with their valuable effects, most medicaments, even so, can cause unwanted aftereffects although commonly not everyone experiences them. Online sex therapist services are the only safe option if you are going to buy remedies, like Viagra, online.