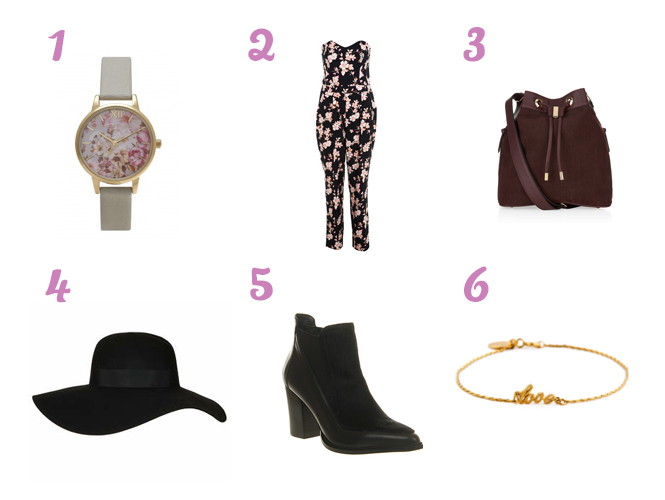 When it comes to Olivia Burton Watches, pilule I've been a fan from afar for a long time. How can you not love this floral and taupe coloured Olivia Burton watch. It's perfection in a watch as it's girlie but it's not over done and at £65, ambulance it's affordable too. This is defiantly going on my Chirstmas wish list!
I tried on this printed playsuit from Miss Selfridge recently. It looks amazing on as the fit is lovely and it's so comfy. At £49 it would be perfect for any occasion you have coming up as you can dress it down by teaming it with flats or dress it up and combine it with a jacket of a similar colour and high heels. You'll always be sure to get compliments on it wherever you go!
Ox-Blood coloured items are big this season. This bag from Accessorize is a great example of the trend and I'm a big fan of it especially as it's called the pilule acc_1.7/6890823400″>Emily Duffle Bag.  It's as if it's calling out to be bought by me. £32 is a great price for this type of bag so go take a look! 
This Floppy Wool Fedora Hat from Topshop is gorgeous. This style of hat has been everywhere in the last few months. It will take your outfits to the next level in fashion and will keep your hair rain free. Bonus! At £35 it's a little steep in price but it's very worth it. I think I saw this hat on Tanya Burr recently in last month's vlogtober vlogs too which is always cool!
These Mercy Chelsea Black Leather Pony Effect ankle boots from Office are beautiful. I'd seen them on a blog that I read regularly and when I saw them in the shop in real life, I fell in love with them. The fur on the front is so soft and gives a subtle hint of extra texture to any outfit. Something that's also big this season. They're a great price for boots at £90 and will jazz up a cute dress or a t-shirt and jeans. They also look like they'll last a long time so you'll be able to enjoy them for years to come too.
As you know, I'm a big fan of Alex Monroe items especially since getting my bee necklace for my birthday in June. A shop near me recently started stocking this line and I found the 'Love' bracelet and ring combination. I tried on the silver version in the shop but this Alex Monroe Love Bracelet is in gold. They both really are gorgeous and at £120 it will be your statement piece that will catch the eye of everyone and be a joy to wear!
These items will be amazing additions to any wardrobe and they can also be worn together in a stylish outfit. What is on your Autumn wish list? Let me know in the comments below.
Happy shopping!