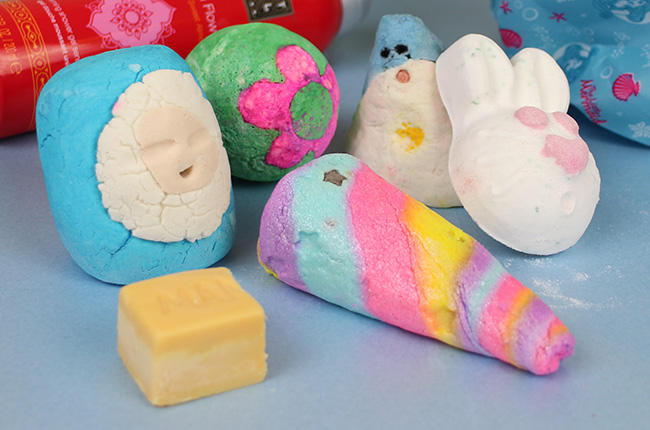 This collection of Lush treats are from the last few months. I actually didn't know until recently that Lush advise that their products last 14 months if they don't already have an end date on them. This is cool as I have a few from Christmas. Tee hee!
Penguin Bubble Bar 
I'm definitely a bubble bar kind of girl and so there are a three of them here. The first is the Christmas 2014 Penguin Bubble Bar, sickness it's a gorgeous blue and white penguin with eyes and a beak. Bubble bars should be broken apart and the section you use crumbled under running water.  You'll probably get four baths out of this one. The penguin bubble bar has the lovely smell of Olive Branch and it leaves the bath water blue.
Unicorn Horn
The next one is the Unicorn horn. This valentines 2015 bubble bar is multicoloured with stars. It smells so yummy, again lasts for up to four baths and leaves the bath water pink and purple. Soooo cool! The fragrance it gives is a unique mixture of Lavender, Ylang ylang and Neroli. This isn't available any more but I'm hoping they bring it out again next February.
Mother Superior
The last bubble bar is called Mother Superior which is blue and white. Some people also say this looks like Finn from Adventure Time, it sure is uncanny. It smells amazing with a mixture of uplighting Sicilian Lemon Oil and calming Mimosa Oil. This one might do a few a few more baths, maybe six if you break it up right. Mother Superior is just available for Mothers day so you can still get it now.  Go and check it out!
You've Been Mangooed
The next one is a bath melt called You've been mangooed. This one is available all year round which is a bonus! It's a small bar that packs a hydrating punch and will last four baths at a push. Avocado butter helps to rehydrate the skin and works with the mango and cocoa butters to leave your skin feeling amazingly soft and moisturised. My husband loves this one as you can tell as he's used this one already.
Secret Garden 
This one is the first bath bomb that I've been given. Bath bombs last just one bath and are put in whole. Secret Garden has a rose fragrance and when you get to the middle you release a world of flower petals. It's soothing, calming, toning but also balancing and restoring. It's also from the Mother's Day range so go and get it while you can. So cool and I'm looking forward to using it.
Hoppity Poppity 
I love the look of this little Easter bunny. With a combination of Lime oil, Lavender and Violet Leaf Absolute it smells gorgeous and herbal. It's uplifting and protecting, soothing with grassy tones which will leave you feeling bright-eyed and bushy- tailed. There's even popping candy in the centre for an extra special treat. Again this one's only available for the Easter period but if you miss out you'll be hopping mad.
Do you love Lush products like me? Which products are your favourite?  Let me know in the comments below.
Happy Shopping!
Positively, the most vital element that is mature while buying drugs from the Web is to make a right choice. To order remedies online from a respectable web-site is safe. Let's talk about numerous possibilities. If you're concerned about erectile soundness problem, you have to learn about "levitra 10mg" and "levitra cost per pill". Did somebody tell you about "cheapest generic levitra"? Don't forget, consider "undefined". Young men with sexual dysfunctions need professional help. The treatment plan depends greatly on the precise cause of the sexual problem. Along with their valuable effects, most medicaments, even so, can cause unwanted aftereffects although commonly not everyone experiences them. Online sex physician services are the only safe variation if you are going to buy remedies, like Viagra, online.