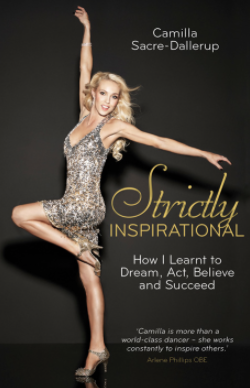 Having been World Book Day recently I thought that I would complete a book review or two over the next couple of days. I'll be starting with the new book self penned by Camilla Sacre-Dullerup which was released in early January 2015.
Camilla is best known for being one of the original dancers on Strictly Come Dancing. In her book Camilla goes back to the very start of her career and shares her journey of how she became one of the most well known dance faces in the country.She writes about her life, doctor loves and how she has gone on to extend her career to being a TV presenter, cheapest motivational speaker, actress, and fitness expert. Something that everyone wants to know about and that features heavily in the book is the eight year relationship with ex-fiance and ex-Strictly dance partner Brendan Cole. It explains how they met, their struggles of training and working full time, their engagement and the start of Strictly. It also covers their very public break up following rumours that Brendan and his Strictly partner Natasha Kaplinsky got on a little too well. On a happier note though, Camilla goes on to tell how she first met and went on to marry her gorgeous husband Kevin Sacre-Dullerup. From reading the book you really get a sense of how much happier she is now.
At the end of each chapter is a round up of what Camilla learnt and if your going through something there are tips and exercises from how she dealt with it so the book allows you to learn something about yourself too. This book really lets Camilla show off her talent and it's constantly positive. It's a really refreshing perspective, and you can tell that advice and public speaking really comes naturally to her.  Even if you aren't going through tough times, you can take inspiration from how she relaxes and gets through difficult situations that everyone can relate too.
Camilla was back on the Strictly tour as one of the judges this year. She got to relive that amazing moment that she won that shiny Strictly glitter ball award with Tom Chambers in Series 6 as they performed their show dance daily to the lucky audience members. A mesmerising dance as you can see in the video below.
One negative point about this book is that there are a few grammar mistakes towards the end. The editor must have been having a snooze when reading though this book. I did read this on my kindle though so maybe it was just this version. Overall this book is a great read and I recommend it to everyone. You'll finish it feeling uplifted and positive if nothing else.
Strictly Inspirational is available from Amazon and book stockists for around £10.