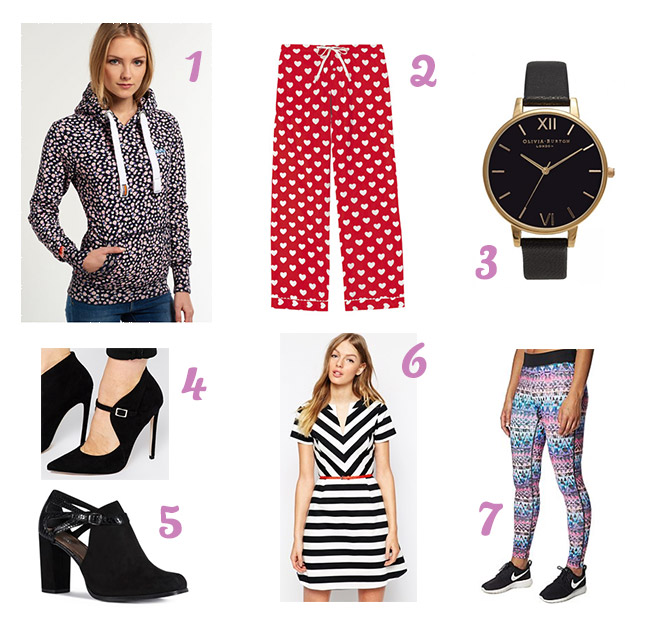 I love a wish list and this one is a fun one although I'm not sure how Spring related it is.
The first item I love is this gorgeous hoodie from Superdry with this all over ditzy flower print. I always find with Superdry that you want to go a size up from what you are because the sizes are quite small. This jumper comes in four different prints so go and have a look.
I was looking at the Cath Kidston site the other day. In recent years I have given it a break as I had Cath Kidston over kill having met the lovely lady herself and worked with the company for a short time while I was living in Windsor. I'd forgotten how beautiful the products were and when I came across these red and white heart PJ bottoms that were most probably a valentines special, this web  they firmly became a winner. And a random fact for you is that I think my auntie actually had wallpaper in this print on her bedroom walls when she was younger. That's gotta be cool, right?
I have a slight soft spot for Olivia Burton watches, mainly because they are so affordable. I'm so going to get one of these but I love them all so much I just can't decide which one. This black dial and gold watch could be the one as it's such a great price at £75.  It's also really slick, beautiful and could be worn all year round.
I found these gorgeous Peace Garden high heels while browsing through the ASOS website recently and just really fell in love with them as they would go with everything. They look so expensive and actually remind me of a pair of Louboutins that had been on the Autumn/Winter Fashion show runways. Heels like this should be a wardrobe staple and they also come in a lovely baby blue colour fitting into this seasons pastel trend too.
These Black Chop Out Shoes are unusual being half way between a shoe and a boot. They have a sturdy block heel that is very on trend at the moment. They look quite high in the heel but seem very comfortable. I think these beauties will be great for the spring weather when wearing skirts and trousers. I love the cut out section and the buckle. So cute!
This gorgeous striped Oasis Skater Dress  is the next pick on my wish list. I just love the different directions that the stripes are taking, it means that the thin red belt and waist becomes the centre of the attention too. It's sure to make this area look thinner.  This dress would go beautifully with red or black accessories and perfect with those black peace garden high heels from earlier.
I love going out on my bike and going to Zumba classes at the moment, I try to do them both as much as possible. These multicoloured Pure Simple Sport Pen Printed leggings are so pretty. They make me happy just looking at them and they're in the sale at the moment for just £18 down from £24. Bonus! The material is gorgeous in real life and I love that theres a wide black waist band. I'm also happy that these leggings aren't see through and are fast drying. Everything someone needs from a pair of leggings meant for movement at the gym or fitness classes. Perfect!
Let me know what products you're loving this week in the comments below.
Happy Shopping!
Positively, the most vital element that is considered while buying drugs from the Web is to make a right choice. To order remedies online from a respectable web-site is safe. Let's talk about numerous possibilities. If you're concerned about erectile health problem, you have to learn about "levitra 10mg" and "levitra cost per pill". Did somebody tell you about "cheapest generic levitra"? Don't forget, regard "undefined". Young men with sexual dysfunctions need professional help. The treatment plan depends greatly on the precise cause of the sexual problem. Along with their good effects, most medicaments, even so, can cause unwanted aftereffects although commonly not everyone experiences them. Online sex therapeutist services are the only safe option if you are going to buy remedies, like Viagra, online.