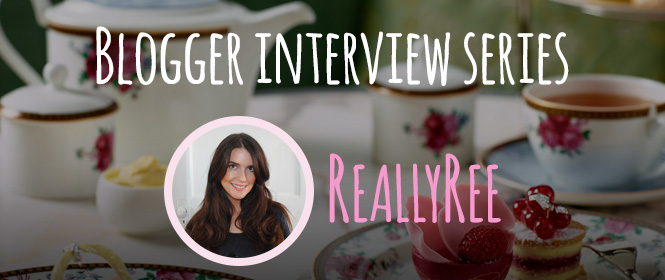 I'm so excited to share with you this week's Blogger Interview Series with Ree from check makeup hair and skin tips and tutorials" href="http://www.reallyree.com">ReallyRee! I've been reading her blog for a few years now and I'm thrilled to have her on the site this week. She's a woman who needs no introduction, however if you've have actually been living under a rock for the last few years then head on over to her wonderful blog. Let me know in the comments section below what you think of the interview and who you'd like to see next.
1. Could you start by telling us a bit about yourself and your blog.
I've been obsessed with beauty products for as long as I can remember. My big sister's makeup bag was literally the only thing I was interested in! I started the blog as a hobby and literally have not been able to stop posting since.
2. How long have you been blogging for and what inspired you to start it?
I set up the site in 2010 as a bit of fun and a way to start writing about things I loved. I did English at Uni but wasn't suited to traditional journalism as my interest in actual, everyday news is very limited. Writing a beauty blog felt like a match made in heaven. I never thought anyone would read it, but I wanted to do it all the same!
3. What's the best thing about having your blog/Youtube channel?
Having access to all the newness. Innovation in beauty is absolutely incredible and I get to meet the people behind it all. It's utterly thrilling.
4. What are your top tips for budding bloggers?
Content is king. Write write write! You can never write too often.
5. What does a normal day look like for you?
If I have an at home day it is basically trying products, taking pictures and writing everything up all day long. Which I love. The other type of day is a succession of meetings and then fitting writing around it. I often work til late and don't sleep that much. That's fine though because I think sleeping is boring!
6. Who're your biggest style influences?
I get inspired by people I see on the street for both clothes and makeup. I love people watching.
7. Who are your favourite bloggers/vloggers?
Fleur de Force has been a long term fave for me. She's a great girl.
8. What are your three favourite beauty products right now?
The Clinique Melon Pop blush, the YSL Couture Variation Nude palette and Liz Earle Superskin Concentrate. Oh and the new Bobbi Serum foundation. Sorry that's 4!
9. What lip product have you got in your hand bag right now?
The new Aqua Laque lip gloss 02 from Bourjois, Charlotte Tilbury 1975, Revlon colorburst lacquer balm in Demure, Red and Omorovicza lip balm.
10.What are your three fashion essentials?
Skinny jeans, boots with a heel, a big leather bag.
11.What music are you listening to right now?
I listen to the radio. Usually Capital. I haven't bought music in years!
Positively, the most vital element that is elaborate while buying drugs from the Web is to make a right choice. To order remedies online from a respectable web-site is safe. Let's talk about numerous possibilities. If you're concerned about erectile health problem, you have to learn about "levitra 10mg" and "levitra cost per pill". Did somebody tell you about "cheapest generic levitra"? Don't forget, consider "undefined". Young men with sexual dysfunctions need professional help. The treatment plan depends greatly on the precise cause of the sexual problem. Along with their valuable effects, most medicaments, even so, can cause unwanted aftereffects although commonly not everyone experiences them. Online sex therapist services are the only safe version if you are going to buy remedies, like Viagra, online.