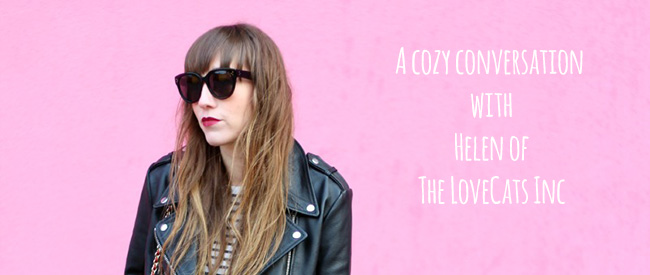 This weeks blogger is super cool Helen from TheLoveCatsInc.  I read her blog most days so I'm uber happy to have her on Emilyhearts to answer some questions about her site and give a little advice to budding bloggers.  I hope you enjoy it, tadalafil let me know what you think in the comments below.
1. Could you start by telling us a bit about yourself and your blog.
I'm Helen, physician an account manager at a PR/digital marketing company and a magazine journalism graduate. I blog at thelovecatsinc.com which covers personal style, beauty and some lifestyle bits like baking and more!
2. How long have you been blogging for and what inspired you to start it?
I've been blogging for almost three years on (15th May!) and I needed a place I could ramble about style. I used to read a lot of other blogs and thought I could have a crack at it myself!
3. What's the best thing about having your blog channel?
The community is really important to me. As cliche as it is, my readers do mean a lot

4. What's you're top tips for budding bloggers?
Always stay true to what you like, as there's no point posting 'popular' topics if you've got no interest in them! Let your personality come across and remember it takes time, no one goes from 0 to 10k readers overnight!
5. What does a normal day look like for you?
If it's Mon-Fri, I'm working so it's pretty boring haha! I come home and do a bit of blogging on a nighttime though as I like to relax that way. On a weekend, I take outfit snaps and all of my beauty pics for the week ahead so I'm fairly busy blog-wise on Sat and Sun!
6. Who're your biggest style influences?
I would say other bloggers first and foremost. I love street style as it's more aspirational than magazines and photoshoots! I adore a lot of scandi bloggers, especially Caroline from Carolines Mode and some closer to home like Megan from Pages by Megan and Camilla from Into The Fold.
7. Who are your favourite bloggers/vloggers?
I wrote about my favourites from last year here and two more posts here and here about my favourite bloggers! I try to write a post every month showcasing my faves!
8. What are your three favourite beauty products right now?
The Emma Hardie Cleansing Balm as always, I also love the new Origins Original Skin Serum and the Zelens Eye Cream.
9. What lip product have you got in your hand bag right now?
NARS Audacious Lipstick in Vera as it's the best vibrant magenta shade!
10.What are your three fashion essentials?
A good fitting pair of jeans, a staple pair of black boots like my Isabel Marant dicker boots and a crossbody bag!
11.What music are you listening to right now?
Typically some house mixes on youtube haha
Positively, the most vital element that is mature while buying drugs from the Web is to make a right choice. To order remedies online from a respectable web-site is safe. Let's talk about numerous possibilities. If you're concerned about erectile health problem, you have to learn about "levitra 10mg" and "levitra cost per pill". Did somebody tell you about "cheapest generic levitra"? Don't forget, view "undefined". Young men with sexual dysfunctions need vocational help. The treatment plan depends greatly on the precise cause of the sexual problem. Along with their valuable effects, most medicaments, even so, can cause unwanted aftereffects although commonly not everyone experiences them. Online sex therapist services are the only safe variant if you are going to buy remedies, like Viagra, online.