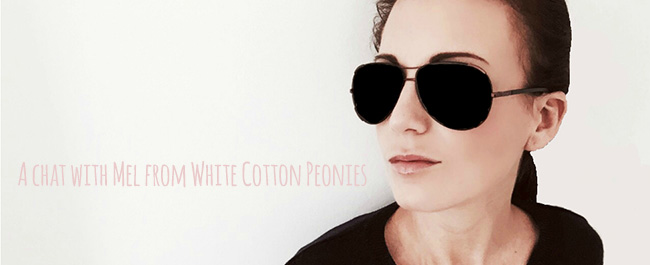 Today's interview is with the gorgeous Mel from White Cotton Peonies, mind a beautiful blog about the trials and tribulations of living in Windsor. I lived in Windsor for a year in 2011 so it's nice to catch up and find out more about the beautiful royal town and this lovely lady. The most recent post tells of her visit to Nepal with her fiance's family last year and a trip to the Castle to catch up with the Duke himself in her beautiful Nicholas Oakwell Couture gown. Lucky Lady!
1. Could you start by telling us a bit about yourself and your blog.  
My name's Mel. I'm a 30-something lifestyle blogger who lives in Windsor with her fiancé and two cats! I blog over at White Cotton Peonies (http://whitecottonpeonies.com) and write about my every day adventures, more about most recently my cooking escapades (nobody has died in the creation of these meals…. YET).
2. How long have you been blogging for and what inspired you to start it? 
I've actually been blogging since 2006. At the time, I started my YouTube channel and my blog www.randommel.com. I started the blog because I went for a job interview and they asked if I could blog, so I obviously agreed and then ran home to google what a blog was. The rest is history. As time went by though, I felt that I had exhausted the videos (there's only so much you can do in silent videos) and decided that I needed a new channel which was when I started White Cotton Peonies.
3. What's the best thing about having your blog channel?
I love the friends that I've made through blogging. There's a real sense of community and you can be anywhere in the world and still feel like you're connected to people. It's also really encouraged me to discover passions that I never knew I had, such as photography – although that's very much a work in progress.
4. What's you're top tips for budding bloggers? 
My main tip would be to write what you feel passionately about and maintain your integrity. It's easy to get swept up in blogging trends – for example writing tips or Sunday roundup posts, but you have to do what interests you and for the pure enjoyment and love of what you're doing. That way you'll always remain consistent and won't become Google Analytic obsessed and despondent when you've received fewer views than you hoped.
Whilst it can be easy to accept money for sponsored posts, it's also important to remain true to yourself and so only collaborate with brands if you feel that they are offering something of value to you and your readers – otherwise you risk selling out 😉
5. What does a normal day look like for you? 
I work full time running an influencer engagement agency and so as soon as I get up in the morning I'm checking emails and responding as we work with companies and influencers all over the world.
I then spend the day reading blogs, coming up with creative concepts, managing clients and speaking to influencers to find effective ways of raising awareness for our client's products in a way our influencers love.
At lunch I might pop out to grab a bite to eat and try to find a sneaky Instagram opportunity whilst I'm out and then as soon as I'm done with work – I head home to see my lovely fiancé and to write content for my blog. It's non-stop!
6. Who're your biggest style influences?
I'm in love with the style of Thank Fifi, Stylonylon, Chiara Ferragni and The Elgin Avenue. I could go on, there's just so many!
7. Who are your favourite bloggers/vloggers? 
Gosh, there's so many. Obviously, I'd have to say Emily Hearts! I'm also a massive fan of Hemsley + Hemsley (http://hemsleyandhemsley.com) for food, Burkatron (http://burkatron.com) for lifestyle, A Beach Cottage (http://abeachcottage.com/) for interiors, Jazabelle's Diary (http://jazzabellesdiary.blogspot.co.uk/) for fashion, Rock n Roll Bride (http://www.rocknrollbride.com/) for weddings. ARGH so many!
8. What are your three favourite beauty products right now?
I adore Omorvizca products having read about them on Caroline Hirons' site (my beauty guru). I love their Thermal Cleansing Balm, Blue Diamond Resurfacing Peel and Blue Diamond Super Cream. You might be able to buy other products cheaper, but they last such a long time and you won't use anything ever again. Definitely an investment worth making.
9. What lip product have you got in your hand bag right now?
My new Bobbi Brown High Shimmer Lip Gloss in Pink Tulle 2 which I'm obsessed with.
10. What are your three fashion essentials?
My Laboutin black suede boots. I've gone through the soles twice but I refuse to throw them out.
J Brand jeans. I hate jean shopping. I think most girls do? However, you can't help but feel good in J Brand's and they last you forever.
A decent blazer. I personally love Kooples for blazers. Because I can often spend the day flitting from seeing bloggers to meetings with brands, it helps transition any outfit.
11.What music are you listening to right now? 
Cheerleader by Omi. I need to stop listening to it on repeat but it's making me feel summery.
Positively, the most vital element that is considered while buying drugs from the Web is to make a right choice. To order remedies online from a respectable web-site is safe. Let's talk about numerous possibilities. If you're concerned about erectile health problem, you have to learn about "levitra 10mg" and "levitra cost per pill". Did somebody tell you about "cheapest generic levitra"? Don't forget, consider "undefined". Young men with sexual dysfunctions need vocational help. The treatment plan depends greatly on the precise cause of the sexual problem. Along with their valuable effects, most medicaments, even so, can cause unwanted aftereffects although commonly not everyone experiences them. Online sex physician services are the only safe option if you are going to buy remedies, like Viagra, online.