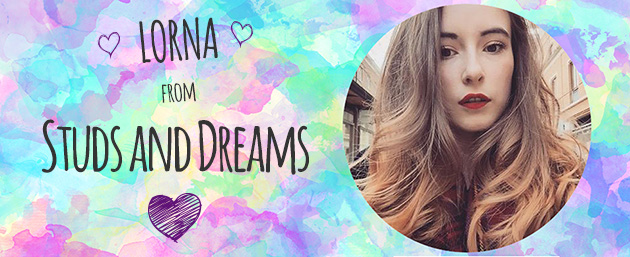 I'm so happy to introduce this weeks Blogger/Vlogger interview is with the lovely Lorna from Studs and Dreams. Lorna was one of the first bloggers I ever met at PR events in London . I love reading her blog and watching her Youtube channel so go have a gander, for sale but not before you've read this interview. Enjoy!
1. Could you start by telling us a bit about yourself and your blog.
I'm Lorna, ask I'm currently studying Photographic Arts at Westminster Uni, though I'm very nearly finished – only a few weeks, woo! And I'm also the Digital Brand Manager for the amazing app. BeautySpotter. which is just the best thing ever for beauty obsessives like me! I write my blog Studs and Dreams and make videos on my channel and basically just create content I'd love to watch and read myself. So it's a lot of beauty and a little fashion and lifestyle.
2. How long have you been blogging for and what inspired you to start it?
I will have been blogging for 3 years in July, crazy! I used to read blogs all of the time and was always left thinking I could do that and I really want to do it! I put it off for a long while wanting to make sure of the design and name and the kinds of things I wanted to write about but then just bit the bullet eventually and did it.
3. What's the best thing about having your blog channel?
Oooh, the best thing. There are so many! Probably the best thing is getting to meet so many lovely fellow bloggers. It's such a lovely community to be a part of and I will always appreciate that and of course, the events etc. are just a bonus!
4. What's you're top tips for budding bloggers? 
My top tip would have to be just write what you would want to read. I know everyone says it but it's really true. If you don't think you'd read that post you just drafted up, then don't hit the post button as it's likely not that many people would either. Keep at it and don't just get into it for the free things, it's so much harder and time consuming than you can imagine.
5. What does a normal day look like for you?
At the minute a normal day is very varied. With me coming to the end of uni it's all a bit up in the air and I could be working on a project or I could be working with BeautySpotter. Perhaps I'd be doing a bit of blogging or filming at home, heading into central London for a meeting or an event in the evening and dinner afterwards. It really depends, but I'm not going to lie, I'm making use of getting to choose when I start working. Hello lie ins!
6. Who're your biggest style influences?
My biggest style influence is of course the beautiful Alexa Chung. I feel like she's everyones, but that's because she's so god damn gorgeous and I definitely don't disagree. She's gorgeous and I'd like her entire wardrobe please.
7. Who are your favourite bloggers/vloggers?
Favourite bloggers and vloggers! Crikey it's so hard. I of course love some of the bigger ones like Essie Button, Amelia Liana and Sun Beams Jess (the list really would be endless if I listed them all) but some smaller lovelies worth the mention would definitely be Kassia Poh and Shu at shulikesclothes!
8. What are your three favourite beauty products right now?
Ooooh, only three? Can I pick more? I'd probably have to say the NARS Radiant Creamy Concealer, Inika Mineral Blush in Blooming Nude and the Rodial Contour Powder. So tough but I'm in love with all three! Total game changers.
9. What lip product have you got in your hand bag right now?
More like lip products… I've just had a peek and I had the Nuxe Rev De Miel Lip Balm, an EOS lip balm, a Carmex Lip Balm, one of the new Bourjois Aqua Laque Liquid Lipsticks, the NARS Audacious Lipstick in Charlotte and the Sephora Lip Cream Stain in 01. I know that's too many, but I'm the kinda gal that throws a lippie into the bag and never takes it out again, oops!
10.What are your three fashion essentials?
Three fashion essentials would have to be a pair of black high waisted jeans, a denim jacket (I'm obsessed with a tie dye one I found in a vintage shop) and a leather jacket. I couldn't be without all three!
11.What music are you listening to right now?
Ooh, music! Great question. I'm obsessed with Aquilo, Honne, Mumford and Sons, Death Cab for Cutie, Florence and the Machine and Arcade Fire at the minute! Again I could probably keep going but you'd be here reading for days and we don't want that.
Positively, the most vital element that is elaborate while buying drugs from the Web is to make a right choice. To order remedies online from a respectable web-site is safe. Let's talk about numerous possibilities. If you're concerned about erectile health problem, you have to learn about "levitra 10mg" and "levitra cost per pill". Did somebody tell you about "cheapest generic levitra"? Don't forget, view "undefined". Young men with sexual dysfunctions need occupational help. The treatment plan depends greatly on the precise cause of the sexual problem. Along with their valuable effects, most medicaments, even so, can cause unwanted aftereffects although commonly not everyone experiences them. Online sex physician services are the only safe edition if you are going to buy remedies, like Viagra, online.