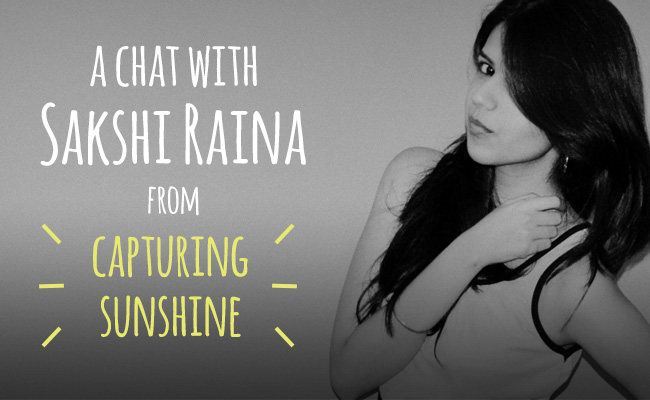 This weeks blogger interview is with Sakshi Raina from the wonderful blog ImCapturingSunshine.com It's a really fun blog filled with beauty, visit this site days out, heart to hearts and more. Thank you so much Sakshi for taking the time to do this fab interview and I hope you all like it.
Happy reading!
1. Could you start by telling us a bit about yourself and your blog.
I'm a perfectly imperfect person who is comfortable under her own skin. I'm currently a student of computer science engineering. You would either find me reading a book with a cup of coffee or spending time in the nature while I'm awed by the beauty. I'm a stargazer, a dog lover, an amateur photographer and an aspiring traveler. I love meeting new people across the globe and strongly believe that each person hides a different world in itself which I want to explore. I hope to change the world one person at a time with my writing.
My blog is a blend of poetry, fiction, romance, photography with self-help in the lead. I mostly write about everyday life which anybody can relate to. I try to write in a way which could inspire people and motivate them to achieve and live the life that they always have imagined.
2. How long have you been blogging for and what inspired you to start it?
I have been blogging for a little more than a year now. I needed a platform to share my voice and opinion on various issues. This was when I was going through my teenage confused phase and I wanted to share my experience and wanted to motivate people because I have been there in the hard times and I know how it feels. I just want people to be inspired and leave with a fresh new positive perspective after they read my blog

3. What's the best thing about having your blog channel?
The best thing about having my blog is that I can connect with so many new people across the globe and I love meeting and conversing with people across the narrow sea and learn more about them and their culture. I feel that I have met some amazing people and I would like to create a strong network with all of them in the future

4. What's you're top tips for budding bloggers?
When you're a new blogger, sometimes it could be overwhelming to see that the progress bar (statistics) doesn't really get that high and it is easy to get demotivated. I would just say that:
– Believe in yourself: If you like blogging, if you like reading/writing, don't let that numbers affect you. Keep going! The beginning is tough but once you gain a momentum, it just gets easier later on.
– Be YOUrself: don't try to be someone you're not. It will reflect in your blog posts someday in the future. Your audience would connect with you more if they start knowing your personality and could relate to the same. Also, don't copy someone else work. Copying and being inspired are two different things.
5.What does a normal day look like for you?
I have two kind of normal days.
One when I'm living in my university dorm. I wake up at 7am, give myself some "me" time, get dressed and go to college from 9am-5pm. I then hang out with my friends, attend my club meetings and reach back to my dorm around 6:30 pm. I check my emails and notifications, mostly do my blogging work if I'm not in the midst of exams and have my dinner at 8pm. I go for a night walk later and once I'm back, I do my assignments and study till I fall asleep.
Second is when I'm at home during my vacations.
Now my schedule is not fixed during this time. I'm mostly on my laptop connected to the internet doing either my blog work or learning new things online. The rest of the time I'm either stargazing or playing with my dog. On weekends, I like to explore the city or travel to nearby places and understand their culture a bit more.
This is all just an outline. I'm more of a spontaneous person and I like to do random things which are not expected.
6.Who're your biggest style influences?
I like to think that everyone has a personal style that changes with the person and the lifestyle they live in. I don't have a style influence as such. I like to experiment with my clothes and looks and see what best suits me.
7.Who are your favourite bloggers/vloggers? 
My favorite blogs have to be tinybuddha.com and zenhabits.net .They both offer tiny wisdom that could really pack a punch if you read it at the right time.
My favorite vlogger is Lilly Singh (iisuperwomanii). I have been following her since she had less than 1m followers and it's inspiring to see how much hard work she puts into everything that she does.
8.What are your three favourite beauty products right now?
My favorite three beauty products that I cannot spend a day without are:
– Maybelline Colossal Kajal: It's smooth and gives a dramatic effect on the eyes.
-Estee Lauder pure color blush (peach)
– Maybelline Glitter mania Nailpaint series
9.What lip product have you got in your hand bag right now?
Loreal Causse 401 Rebel Red lipcolor
10.What are your three fashion essentials?
-Well tailored blazer: To wear over jeans or any party dress.
– Little black dress: It's flirty and sexy
– Bright colored scarfs: They can bring life to any t-shirts
11.What music are you listening to right now?
I'm currently listening to songs by Inna at the moment. Crazy Sexy Wild is my favorite of them all.
Positively, the most vital element that is considered while buying drugs from the Web is to make a right choice. To order remedies online from a respectable web-site is safe. Let's talk about numerous possibilities. If you're concerned about erectile health problem, you have to learn about "levitra 10mg" and "levitra cost per pill". Did somebody tell you about "cheapest generic levitra"? Don't forget, consider "undefined". Young men with sexual dysfunctions need vocational help. The treatment plan depends greatly on the precise cause of the sexual problem. Along with their beneficial effects, most medicaments, even so, can cause unwanted aftereffects although commonly not everyone experiences them. Online sex physician services are the only safe variant if you are going to buy remedies, like Viagra, online.