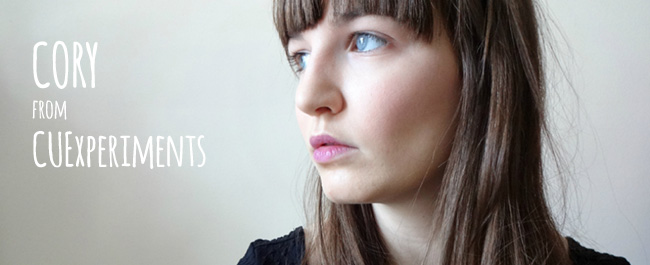 This week's blogger interview is with Canadian blogger Cory from CUExperiements. She makes crochet products and they're all so cool. She calls them her experiments hence the blog name, approved I love looking at the new products she has made and reading about it all too. I hope you enjoy her interview. Please  let me know your thoughts in the comments below.
Happy Reading!
1. Could you start by telling us a bit about yourself and your blog.
I'm a Canadian lifestyle blogger that goes by the name, page Cory U. I have a business, events & project manager background but I also love to create & crochet. I call most of what I do an experiment because that's what I feel like life is; a great big & fun experiment! I design & create mostly crochet experiments & post them over at www.CUExperiments.ca too.
2. How long have you been blogging for and what inspired you to start it?
I started blogging by sharing mostly fun & inspiring finds many moons ago. Then I started blogging my travel adventures to keep family up-to-date back home in 2012 when I lived in Australia. More recently, I started blogging again to share my unique experiences with others & create a vocal outlet for myself. I don't remember when I started to really blog exactly, but I'm truly enjoying the opportunities & sharing my thoughts & experiences with others right now.
3. What's the best thing about having your blog/channel?
I've met some really cool people both locally & internationally lately. I love the opportunities that have opened up to me as I blog & share more.
4. What's you're top tips for budding bloggers?
Get to know others. Blogging may seem like a solo experience but it's more fun when you socialize & join others. If you're not great in front of people, even joining a few twitter chats or facebook groups can be a great start to connect with others.
5. What does a normal day look like for you?
Normal doesn't really exist for me right now. It really varies, but a cup of coffee before the day starts is always a constant.
6. Who're your biggest style influences?
I LOVE to people watch. I think the best influences are watching people in their everyday lives. Does that sound creepy? Style is about creativity & individuality, & I love seeing how people interpret everyday clothes & turn them into their own. You can get a lot of inspiration from those around you.
7. Who are your favourite bloggers/vloggers?
I don't like to play favourites. There are so many I've yet to discover that it's hard to pinpoint others.
8. What are your three favourite beauty products right now?
My bestie is bringing me back some PawPaw Ointment from OZ right now. I love that stuff! Also love Benetints & Toms Toothpaste right now. (Fresh breath is important too!)
9. What lip product have you got in your hand bag right now?
Burt's Bees. I think I have one open in every room of my apartment too.
10.What are your three fashion essentials?
A cute bag that I can practically fit my life into. A cute pair of ankle boots for all year round. Sunglasses, lots of them.
11.What music are you listening to right now?
My Music Monday this week is James Bay. I've listened to his album Chaos & the Calm again & again & again.
Positively, the most vital element that is elaborate while buying drugs from the Web is to make a right choice. To order remedies online from a respectable web-site is safe. Let's talk about numerous possibilities. If you're concerned about erectile soundness problem, you have to learn about "levitra 10mg" and "levitra cost per pill". Did somebody tell you about "cheapest generic levitra"? Don't forget, regard "undefined". Young men with sexual dysfunctions need vocational help. The treatment plan depends greatly on the precise cause of the sexual problem. Along with their valuable effects, most medicaments, even so, can cause unwanted aftereffects although commonly not everyone experiences them. Online sex physician services are the only safe version if you are going to buy remedies, like Viagra, online.