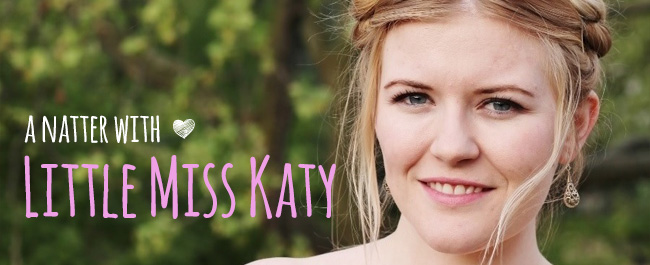 1. Could you start by telling us a bit about yourself and your blog.
Hi! I'm Katy, this site I'm 23 and I live in London. Little Miss Katy is Life, viagra Style & Food blog, where I mainly write about fun life experiences, things to do in London, restaurant reviews, personal style posts and a few other bits and pieces mixed in!
2. How long have you been blogging for and what inspired you to start it? 
I launched LMK in April last year. I actually had my one year anniversary a few days ago! I was working really long hours as a corporate receptionist, where I basically spend most of my time sat behind a computer with not much to do. I started reading blogs to keep myself entertained and it was a short jump from there to starting my own.
3. What's the best thing about having your blog channel?
The community! I've made some brilliant friends, both on and off-line. I think what I love most is the support you get from everyone. There's always someone around to have a chat with, and everyone is SO friendly and ready to help if I'm stuck with anything!
4. What's you're top tips for budding bloggers?
Just jump in! There's no point tip-toeing around, talking about how one day you'd like to start a blog. Just start one! You'll learn as you go along, and don't forget, everyone started in the exact same place as you. Also get involved with the community! Tweet, comment, read and don't be afraid to ask for help.
5. What does a normal day look like for you?
I start work at 8am so I usually spend the first hour sorting post and doing my morning receptionist duties. At about 9am I sit down with a coffee to read my emails and check in on social media. I'll usually read and comment on several blogs at that time as well. Then I edit my photos for that day's post before going off on my lunch break at midday where I disconnect completely and read my book for an hour. Afternoon time is my writing time. I write, edit and then usually publish the post at around 4pm, depending how focused I am! I spend the rest of my shift promoting the post on social media, having a chat with people on Twitter and commenting on more blogs, before finishing work at 6pm. Then it's home to eat dinner, chill out with my boyfriend and maybe join in a Twitter chat! Other nights I might be at a blog event too, which are always fun.
6. Who're your biggest style influences?
I heart Emma Watson's style. It's classic and simple, but she can totally ramp up the glam factor with the best of them! She always looks classy as well, which I love. Blog-wise I'm also a massive fan of Josie from Josie's Journal and Helen  from The Lovecats Inc's monochromatic styles!
7. Who are your favourite bloggers/vloggers?
Oh God. SO MANY. Ones I read every day are Hannah Gale, Being Erica, The Londoner, Forever Amber and Life Outside London.
8. What are your three favourite beauty products right now?
I'm obsessed with my MeMeMe liquid highlighter at the moment. I mix a big dab of it into my foundation and honestly, I've had so many people people commenting on how glowy my skin looks lately! I'm also a massive fan of the No.7 Exceptional Definition mascara (I'm on my 4th tube!) and Pond's Cold Cream Cleanser, which I've re-bought about 6 times since I got sent a PR sample of it last year. It's the only product I've found that removes eye makeup without stinging!
9. What lip product have you got in your hand bag right now?
HA. This is a bit of a running joke, cos I have about 8 in there! My faves at the moment are the Revlon lip butter in Sweet Tart, Maybelline's Colour Sensation in Pink Punch and a Dr Organic lip balm in Cherry.
10.What are your three fashion essentials?
Skinny jeans, ballet flats and swing dresses. They're my wardrobe staples at the moment!
11.What music are you listening to right now?
At work I tend to listen to either classical piano or laid-back jazz, but for myself, I tend to go for Taylor Swift, Ed Sheeran or the soundtrack from the movie Begin Again. I adore Adam Levine's voice!
Thank you Katy for your wonderful answers and for taking the time out to take part in the Blogger Interview Series.
Let me know what you think in the comments below.
Happy Thursday!
Positively, the most vital element that is elaborate while buying drugs from the Web is to make a right choice. To order remedies online from a respectable web-site is safe. Let's talk about numerous possibilities. If you're concerned about erectile soundness problem, you have to learn about "levitra 10mg" and "levitra cost per pill". Did somebody tell you about "cheapest generic levitra"? Don't forget, view "undefined". Young men with sexual dysfunctions need vocational help. The treatment plan depends greatly on the precise cause of the sexual problem. Along with their beneficial effects, most medicaments, even so, can cause unwanted aftereffects although commonly not everyone experiences them. Online sex physician services are the only safe version if you are going to buy remedies, like Viagra, online.