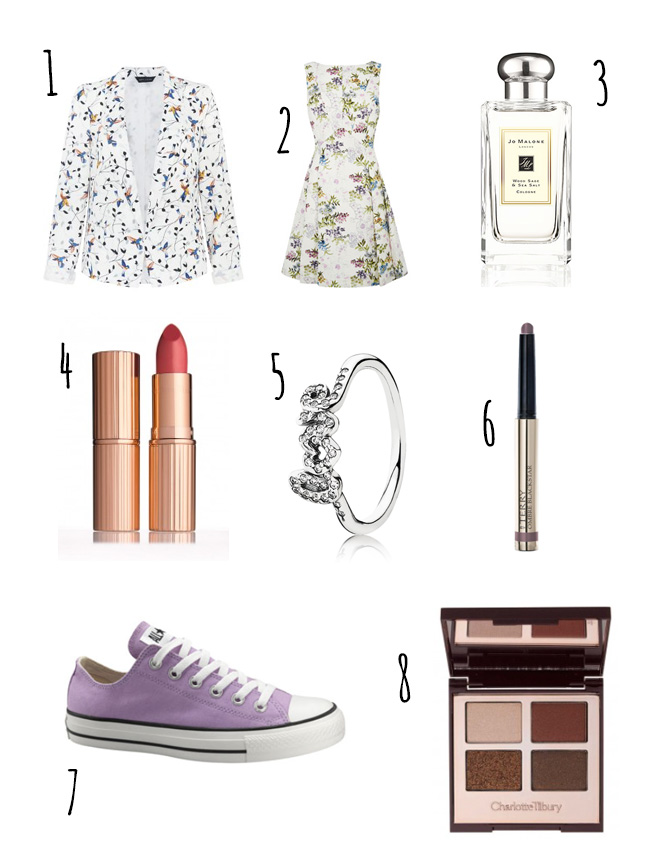 Another year has passed and it's almost my birthday again so I've been asked to pop up a birthday wish list by my loved ones. Here it is, doctor there're some corkers so lets get started.
This white bird print blazer is £27.99 and is so pretty.  The contrasting colours and those birds are so gorgeous and I've really have been loving pairing thin jackets with a pair of converse at the moments. This look is ultra cool  and great for this season.
This V and A Jubilee Jacquard dress from Oasis is the epitome of summer and the star of the new V and A collection. The beautiful re-worked 18th century floral print is so beautiful with touches of lilac, pink and blue.  The material of the dress is quite thick but the style of dress with the pleats at the front makes it universally flattering for everyone. It's £65 and worth every penny.
When I was in Birmingham recently I came across Jo Malone. Now I've never really understood the fuss about this store especially as the prices are quite steep, until now. I sprayed this Wood Sage and Sea Salt scent and it was like I was back living near the beach with the salty sea air, mingling with the woody earthiness of sage. It's an utterly gorgeous scent and one everyone should try.
While I was in Birmingham I also had a make over done by the girls at the stand and this is what I liked the most. Coachella Coral from the Fallen from the Lipstick Tree collection. It's a beautiful shade of coral and one that will suit absolutely everyone. At £23 it's a must have.
This beauty of a ring is from Pandora, and I would love to wear this because it's really special. Hand finished and sparkling from gorgeous shimmering stones, it's really something different yet on trend. Also I've noticed the vegan food blogger and vlogger from Deliciously Ella wears one of these too and it looks really pretty.
This By Terry Ombre Black stars are beautiful especially this one in Misty Rock. It's a great day to night colour that you can pop on as a base or as the main colour.  It's so easy to blend and looks really stunning with little effort. That's a winner in my eyes.
Recently I'd been into town and I happened to come across these awesome Converse Allstar in Lilac. So girlie and pretty. They're sure to go with everything.
The Dolce Vita eye shadow palette from Charlotte Tilbury is the ultimate in eye shadow palettes. The colours blend beautifully, and look amazing. Once you have this palette in your life you will be obsessed and you won't be able to live without it.
Positively, the most vital element that is considered while buying drugs from the Web is to make a right choice. To order remedies online from a respectable web-site is safe. Let's talk about numerous possibilities. If you're concerned about erectile health problem, you have to learn about "levitra 10mg" and "levitra cost per pill". Did somebody tell you about "cheapest generic levitra"? Don't forget, consider "undefined". Young men with sexual dysfunctions need vocational help. The treatment plan depends greatly on the precise cause of the sexual problem. Along with their valuable effects, most medicaments, even so, can cause unwanted aftereffects although commonly not everyone experiences them. Online sex therapist services are the only safe version if you are going to buy remedies, like Viagra, online.