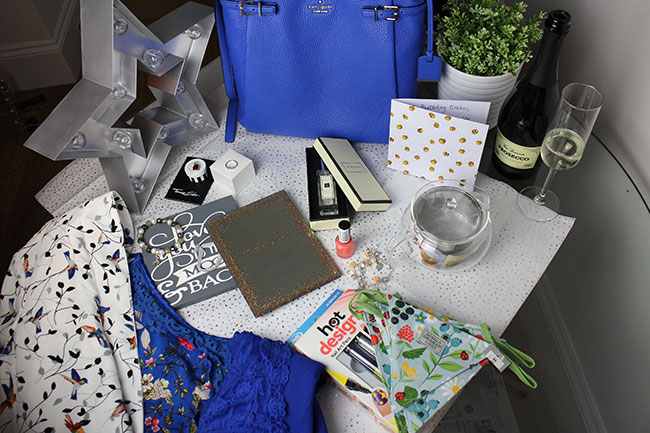 What I got for my birthday posts are some of my favourite posts to read and videos to watch. It was my birthday a few weeks ago now on the 22nd June and I was spoilt and really felt very loved. I'll start anti- clockwise in the picture above.First up was some lovely bunting from my Aunty and her lovely little family. The bunting is Gisela Graham garden bunting with Bees on each one. So cute! As you know I have a bit of a thing for bees so I was very happy when I opened this.It's going to have pride of place in my bedroom over my blogging area when it gets put together.
Next up is this nail design kit from my mum. I'm well into my nail products and I love nothing more than to spend a Sunday evening painting my nails and planning my outfits for the week to make sure my nails match or go with the outfits. I also love popping cute little designs on my nails so she knows me well!
Next up is this little collection of items from a lovely friend. A little bracelet with apricot coloured charms on it, more about the Rimmel Orangina nail polish to match and one of my favourite pressies was this cute mirror with gold sparkly writing. It says 'Not sure where she got this from but it's so pretty and it will look lovely in my office section of our flat.
Next up is this beautiful little tea infuser teapot. I've wanted one of these forever because I'm getting more and more into tea made with fresh tea leaves. Its proper yummy. My husband got me this from an online Japanese tea shop and I absolutely love it.
You can't have a birthday without Champagne and if you read my favourites, ailment you'll know that I have been loving champagne this month. Who doesn't love it? My friends know me well as I received a few bottles of it. Whoop!
You may have already have seen, medications I was given some Jo Malone perfume in Sage Wood and Sea Salt. It's the prettiest of scents. Both my husband and I fell in love with it when we were in Birmingham recently and he went back and purchased it when I was getting my make up done. I had no idea but it came with a yummy cookie and some really pretty packaging too. It's been my new perfume favourite and I have a feeling it's not going to last the 3 months that I've been told it would because I love to wear it everyday.
On my birthday my husband took me to London for the day. We made a detour to Covent Garden and found ourselves in the awesome Kate Spade shop. If you haven't been there, you need to go because it's so lovely. The decoration and the products are beautiful and the people who work there are also very lovely too. There was a sale in the shop the day we went and well we ended up making rather a naughty purchase of one cobalt blue Holden Street Brandy Kate Spade bag. It's pretty gorgeous and most definitely a bag that will stay in fashion for years to come. It's pretty durable and with a long strap and medium sized pocket it's very practical. Best pressie Ever!
My sister and dad bought me this star lamp from Next. It's £32 but such a great bargain because I've seen these types of lights for as much as £600. It will be great in videos or even blog post pictures especially in winter. I was also given this gorgeous Love ring from Pandora. I've wanted one of these for as long as I can remember as I thought it would complement my wedding and engagement rings well so this was an extra special treat for me. I love it!
My in-laws always give great presents and this one was perfect. They gave me the most beautiful little red open bag charm from Thomas Sabo that opens. It's really pretty and fits with my other charms really well too.
My husband also bought me a little great sign that says 'Love you to the moon and back'. We say this to each other quite a lot so it's quite apt. He got this from a little stall on Colchester high street that I love.
I'd had my eye on this gorgeous black and white hummingbird jacket from New Look. I've almost bought it a few times but I've never seen it in real life before. It's actually more beautiful than you expect. A great bargain and a lovely pressie from the husband.
I must have a thing for Cobalt Blue because I was given quite a few things in this colour, both of the next things from my mum. This gorgeous cobalt blue patterned vest top from the V&A collection at Oasis is so lovely for this time of year. It's become one of my most warn products in the last few weeks. Also a short cobalt blue dress from H&M. It's really pretty if not a little short so shorts or leggings would have to be warn underneath. It also has a razorback top and lace detailing.
The last present was this lovely Thomas Sabo bracelet given by the girls from Charles Fish for doing posts with their blog and also a belated birthday pressie. It really is gorgeous and I've worn it every day since I was given it.
Let me know if you have any of these products and which ones you like in the comments below.
Happy Shopping!
Positively, the most vital element that is considered while buying drugs from the Web is to make a right choice. To order remedies online from a respectable web-site is safe. Let's talk about numerous possibilities. If you're concerned about erectile heartiness problem, you have to learn about "levitra 10mg" and "levitra cost per pill". Did somebody tell you about "cheapest generic levitra"? Don't forget, regard "undefined". Young men with sexual dysfunctions need vocational help. The treatment plan depends greatly on the precise cause of the sexual problem. Along with their valuable effects, most medicaments, even so, can cause unwanted aftereffects although commonly not everyone experiences them. Online sex therapist services are the only safe version if you are going to buy remedies, like Viagra, online.