<![CDATA[Valentine's Day is fast approaching, and while you don't need a public holiday to get yourselves loved up, it's always nice to have excuse to treat your other half to a special gift or two. The well organised among us will have their prezzies bought, wrapped and ready to give, while the rest of us might still be searching for inspiration. So I teamed up with John Lewis to put together a Valentine's Day wishlist, which I thought would be a great way to pull together some of my favourite items from their range this year. I've picked out seven potential gifts, five for the girls and two for men. Let's take a look…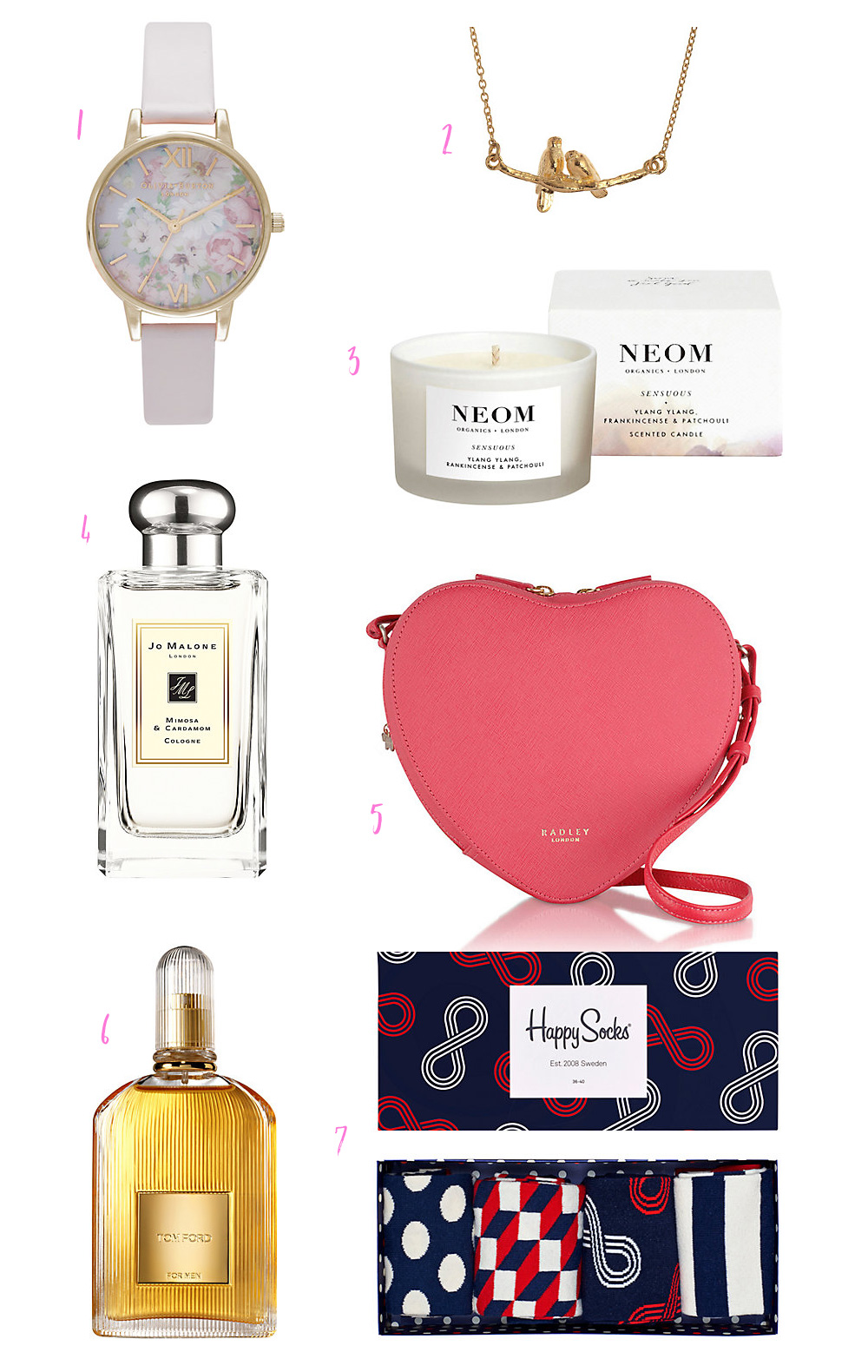 First up is a watch from one of my favourite brands, Olivia Burton, a relatively new company started by two London friends who met at university. Their frequent collections are classic and colourful and go well with every day outfits or for special occasions. I've picked out their Flower Show watch, a snowy pink piece featuring a gold case and beautiful blooms on the face. It's an absolute steal at £70, so grab it with both hands!
Long time readers will know I'm a big fan of Alex Monroe. His hand crafted collections capture the delicate beauty of nature with unique detail. I've chosen his lovebirds necklace, a classic piece in gold which would make a fantastic gift for the lady in your life.
Neom is a brand of candle that promotes a message of healthy living and wellbeing through relaxation of the senses. Their organic candles smell incredible have been given the seal of approval by the Dutchess of Cambridge among others. I've selected the Neom Ylang Ylang, a decadent smelling candle that reminds me of turkish delight. A real treat!
I just had to include a fragrance on this list, and one of my favourites is from Jo Malone. I've chosen their Mimosa and Cardamom cologne, a fresh and spicy scent with a base of sandalwood that is so addictive you'll want to wear it all the time but never want the bottle to run out. This is actually unisex scent, so it'll make a perfect Valentine's gift for him or her!
Radley are a London brand who create fantastic handbags and purses for women with pretty pastel palettes and a cute dog mark. With humble beginnings in Camden market in the mid 80's, today Radley is catching my eye rather often! I've picked out their heart purse, a wonderful little pastel pink number perfect for dinner out on Valentine's day. So cute!
New York native Tom Ford moved to Milan in the mid 90's to work for Gucci and YSL before setting up on his own in 2005. Today he's leading the way in fashion and beauty and his male fragrances are to die for! I've chosen his flagship Tom Ford Eau de Toilette which comes in a gold bottle that screams premium. With notes of lemon, mandarin and ginger, this is as fresh as it is exotic. Get this for the man in your life and he'll be over the moon!
Happy Socks are a Swedish brand with a mission to make socks exciting, and they're certainly doing that through their colourful collections! My husband is a big fan of Happy Socks, and I love having an excuse to get him a pair. So if your fella thinks socks are a boring present, why not change his mind and add a bit of colour to his sock drawer! Let me know in the comments below which are your favourites on this list and what you'll be wearing out this weekend. Happy shopping!