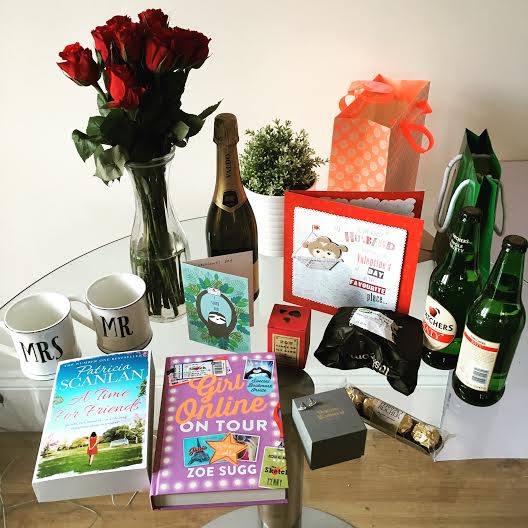 Valentine's day was on Sunday and I thought that I would share with you the goodies I was treated to.
I love flowers as they always cheer you up and make you feel like you have a little part of nature inside so these beautiful long stemmed roses where a real treat.I'm a champagne lover but I tend not to drink it too often so this bottle was shared and very much enjoyed.
I'm a real book worm too so I really loved that my husband gave me these two books as I've been going on about wanting to read them for quite some time. Girl Online On Tour is the second book from Zoe Sugg, approved and after the first which was well written and put together I'm really looking forward to reading this one. I've actually already read the first two chapters so I'll prob have it glued to me for a few days yet.
The second book is called  A Time for Friends by Patricia Scanlan. It's not one that I know much about but the blurb sounds really interesting and it's a best seller so I'm sure it'll enjoy the read.
My big present from my husband were these special Vivienne Westwood earrings. I've been going on about VW jewellery for about 5 years but never really settled for anything, patient then these beauties came into our local VW retailers and I couldn't resist. I was actually going to get them myself as a treat but he beat me to it. He knows me too well.
The rest of the pressies on the table are my husbands. He loves a good candle, doctor chocolate, bath bomb (Lush, sex bomb)and Thatchers cider. I also bought him this cute mug from a really cool shop in town, and later we went past it and my husband saw the Mrs to go with it and bought it as an extra pressie. Too cute!
We had a lovely day, and even made our way to a Bowie event that was happening at the Arts Centre. A fab afternoon listening to Bowie records with loads of other fans, sharing their memories of the man himself and how he had touched their lives. Then back home for a fab meal with champagne.
Happy shopping!
Positively, the most vital element that is considered while buying drugs from the Web is to make a right choice. To order remedies online from a respectable web-site is safe. Let's talk about numerous possibilities. If you're concerned about erectile soundness problem, you have to learn about "levitra 10mg" and "levitra cost per pill". Did somebody tell you about "cheapest generic levitra"? Don't forget, view "undefined". Young men with sexual dysfunctions need vocational help. The treatment plan depends greatly on the precise cause of the sexual problem. Along with their valuable effects, most medicaments, even so, can cause unwanted aftereffects although commonly not everyone experiences them. Online sex therapist services are the only safe edition if you are going to buy remedies, like Viagra, online.