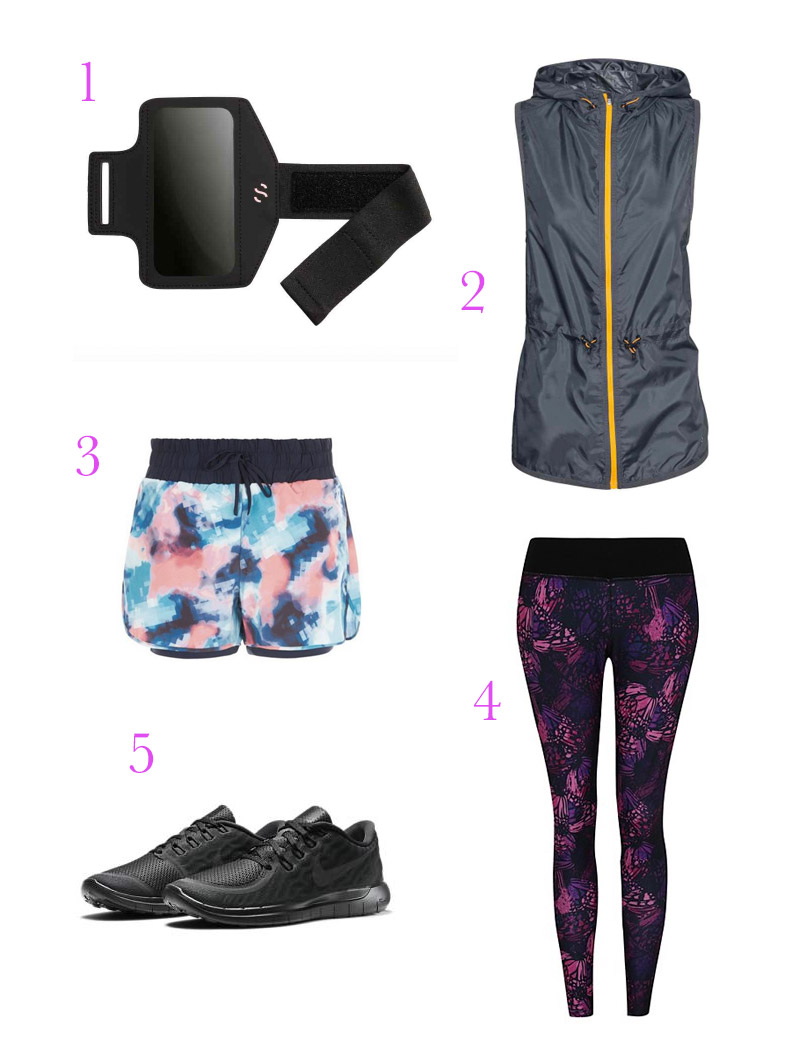 I'm loving running at the moment and as the weather is warming up, there even if it is a little rainy I've been looking for lighter, more summery training clothing. I thought I would put a few bits together in a wish list.
1. First up is this phone holder that fits around your arm.  Now I use my phone for both Strava and Spotify but I currently just hold my phone in my hand and have the cable wrapped lightly around my hand incase I was to drop it. This doesn't feel or look very safe and I've been meaning to get one of these bands and I'm loving this one that I've recently seen in H&M.
2. Next on the wish list is this fab hooded running gilet again from H&M. It's water-repellant and also has this fab pocket where you can store keys or a phone if you need it and haven't got an arm band holder. It is also really thin but will keep the wind away. A great thing to wear when running.
3. Next up in my wish list are these fab Only Blue Abstract Print Shorts from New Look. I just love this fuzzy print. It's such a pretty yet funky print and spot on for running gear. I can't wait to get these.
4. These fab colourful Athletic Works Butterfly Leggings  come with DRI technology. They're fab for working up a sweat running but you could also wear them while in the gym, or in a class whether that's Zumba or you're local bootcamp class. You'll look super stylish too.
5. Last but not least are these really fab black Nike trainers as they just go with everything. I've had a pair of Nike's before and I would never go back to anything else now. They give me great support but make me feel like I'm super trendy. Just remember to get measured up properly, and someone looks at your stride and gait when you buy trainers for fitness. This will help prevent injury in your coming months wearing them. You'll be so much happier.
Let me know what you think of my Fitness Wish List in the comments below or tweet me.
Happy running!
Positively, the most vital element that is elaborate while buying drugs from the Web is to make a right choice. To order remedies online from a respectable web-site is safe. Let's talk about numerous possibilities. If you're concerned about erectile health problem, you have to learn about "levitra 10mg" and "levitra cost per pill". Did somebody tell you about "cheapest generic levitra"? Don't forget, view "undefined". Young men with sexual dysfunctions need vocational help. The treatment plan depends greatly on the precise cause of the sexual problem. Along with their valuable effects, most medicaments, even so, can cause unwanted aftereffects although commonly not everyone experiences them. Online sex therapist services are the only safe option if you are going to buy remedies, like Viagra, online.