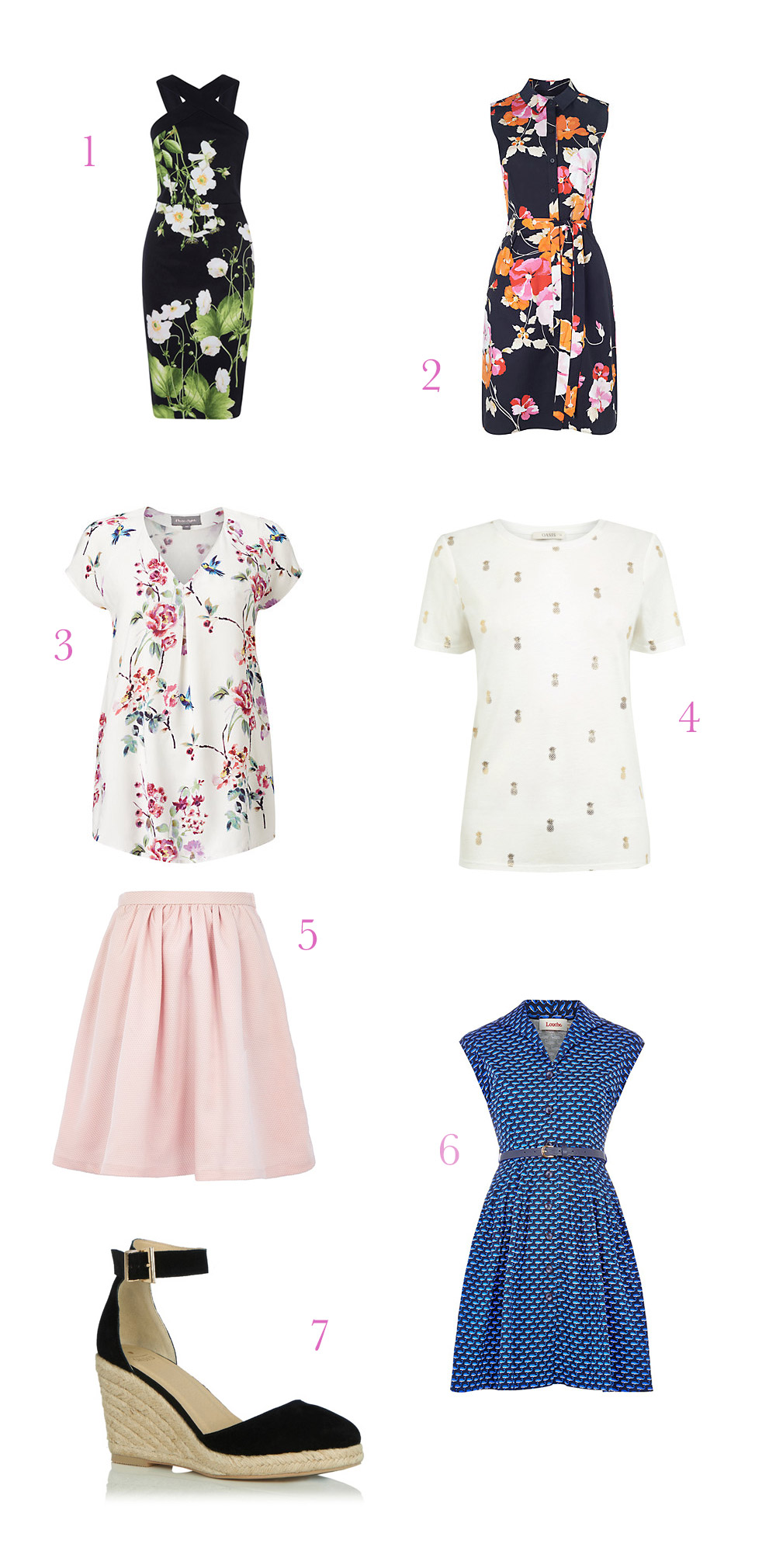 I love a good wish list so when I had spotted a few pieces that I've been loving this month then I just knew that I had to pop one up.
1.I'm really loving dresses at the moment and I'm looking for a good one for a wedding in September. I know that black isn't usually a colour that you should go for when you go to a wedding but I'm loving this gorgeous Chelsea Floral Pencil Dress. It's a great price at £65 and the flowers are so pretty.
2. I love this Naomi Floral Shirt Dress  . It's a sophisticated dress from Phase Eight and is a more expensive price at £99 but it's worth every penny as it fits in all the right places and and is stylish and made well. This dress also comes in a white lace look too.
3. The Paradise Print Blouse is a very intricately detailed but well fitting top. I just love the summery combination of colours, discount they just remind me of holidays. It's so easy to wear and will go with a gorgeous little skirt like that of number 5 or denim jeans.
4. I love to go for a top with a metallic print and this Pineapple Foil T-Shirt is a cute option. You can't beat a crisp white t-shirt in the summer and this one is perfect.
5. In the Spring and Summer skirts feature greatly in my wardrobe, I love skirts that are a little different especially for work. This Angeleye Irene Textured skirt in pale pink  and is ultra gorgeous. It's a great length and would go well with a white lace shirt.
6. A great print will often make an outfit and this Louche Rajaa Whale Print Shirt Dress is perfect. It's quirky and so likable. It has a simple cut with a belt of the same deep blue of  the print and you can dress it up with a pair of classic heels or down with a plimsol.
7. I'm not one for sandles or flip flops in summer, I love an enclosed toe strangely so my shoe of choice is the classic Emilia 2 part Espadrille wedge. I love a heel that is easy to walk in yet still classy so the wedge is a great choice.
What's on your Spring/Summer wish list. Tweet me or let me know in the comments below.
Happy Shopping!
Positively, the most vital element that is considered while buying drugs from the Web is to make a right choice. To order remedies online from a respectable web-site is safe. Let's talk about numerous possibilities. If you're concerned about erectile soundness problem, you have to learn about "levitra 10mg" and "levitra cost per pill". Did somebody tell you about "cheapest generic levitra"? Don't forget, view "undefined". Young men with sexual dysfunctions need vocational help. The treatment plan depends greatly on the precise cause of the sexual problem. Along with their valuable effects, most medicaments, even so, can cause unwanted aftereffects although commonly not everyone experiences them. Online sex therapist services are the only safe option if you are going to buy remedies, like Viagra, online.