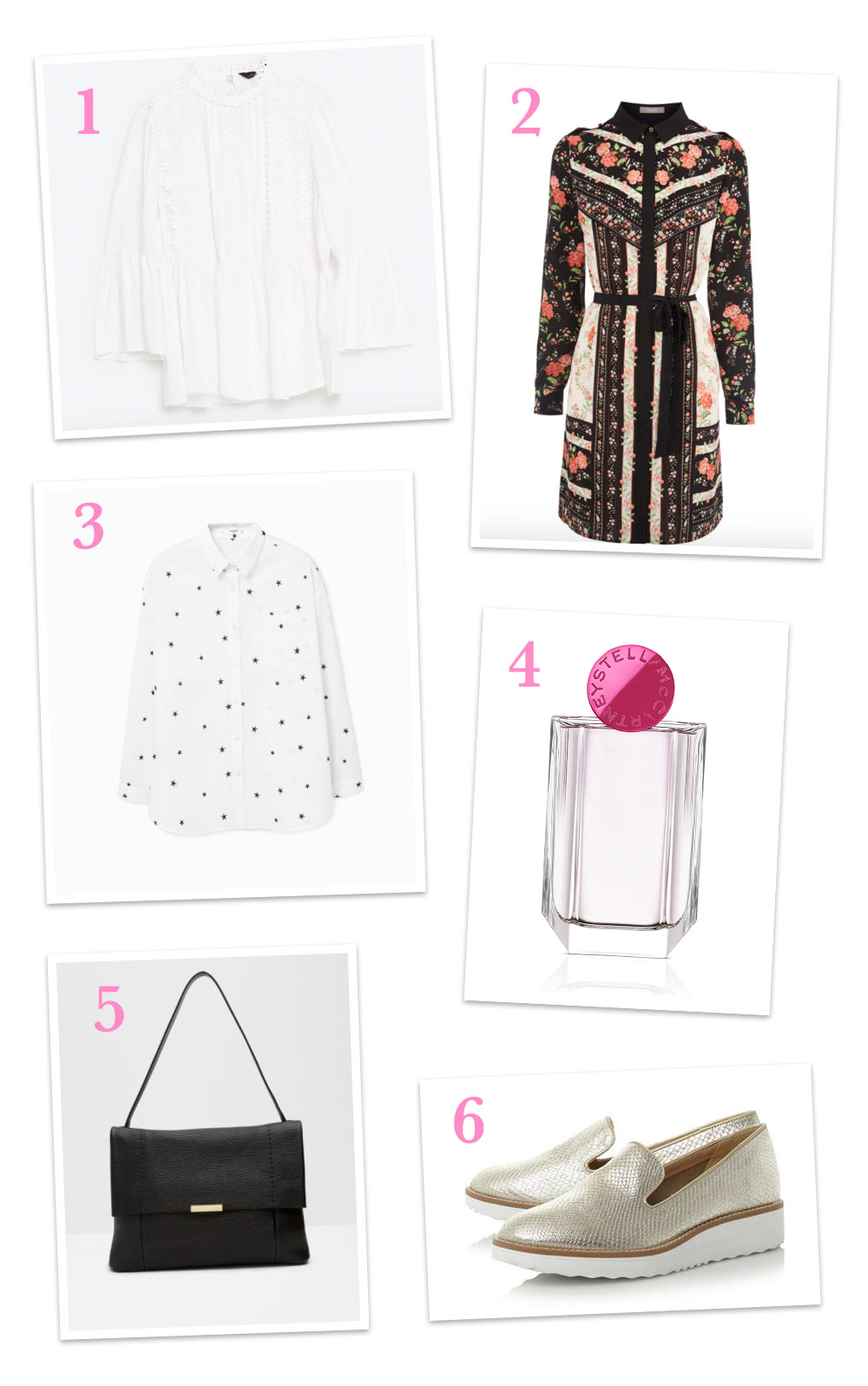 Autumn is here and I feel like my wardrobe needs a little bit of a refresh so the season change is the perfect opportunity. I've been looking around the shops and these are that are on this months wish list.
1. Zara never fail to impress for me. The first on my Wish list is this beautiful Zara Guipure Bib Front Blouse. It's a gorgeous delicate white blouse with a high neck which will make every lady look sophisticated. It's also a great price at £29.99.
2. I love wearing long sleeved dresses in Autumn/Winter so when I saw the New England Shirt Dress from Oasis I had to pop it on my Autumn Wish List. There are such pretty colours and the print itself is just gorgeous. I just had to pop it on my Wish List.
3. I love stars so when I saw this gorgeous Mango Embroidered Star Shirt, viagra 60mg I knew it would make it's way into my wardrobe. It's a box shaped shirt but if you tuck in the front into trousers or jeans it will be perfect for work or for just milling around town.
4. I'm constantly looking for new and amazing smiling fragrances and the new release on the Stella McCartney Pop is just that. It has a really interesting bottle with that bright pink pop of colour and the perfume itself is fresh yet citrus smelling. To top this Madonnas daughter Lola Leon is actually the face of the fragrance. Go have a smell!
5. I've recently been loving the products from Ted Baker, and as they're always so delicate and beautiful. Their bags specifically are so pretty and I'm loving this Textured Leather Shoulder Bag in black. It comes in many colours but this on it my favourite. It's a fold over style and seems like it could fit in a lot of items which would be per t for work.
6. I'm still loving metallics so when I saw these Dune Slipper Cut Flatform Shoe I just knew these were for me. They're a fab price at just £75 and Kurt Geiger also have something very similar in grey and pink in the sale too.
What have you been loving this month and do you like any of my choices in my Wish List? Let me know in the comments below.
Happy Shopping!
Positively, the most vital element that is elaborate while buying drugs from the Web is to make a right choice. To order remedies online from a respectable web-site is safe. Let's talk about numerous possibilities. If you're concerned about erectile soundness problem, you have to learn about "levitra 10mg" and "levitra cost per pill". Did somebody tell you about "cheapest generic levitra"? Don't forget, consider "undefined". Young men with sexual dysfunctions need vocational help. The treatment plan depends greatly on the precise cause of the sexual problem. Along with their valuable effects, most medicaments, even so, can cause unwanted aftereffects although commonly not everyone experiences them. Online sex physician services are the only safe variant if you are going to buy remedies, like Viagra, online.