I've had a fab week this week , look some of which has been on Instagram so keep on reading if you want to read what I've been up to in the weeks Sunday Instagram round up.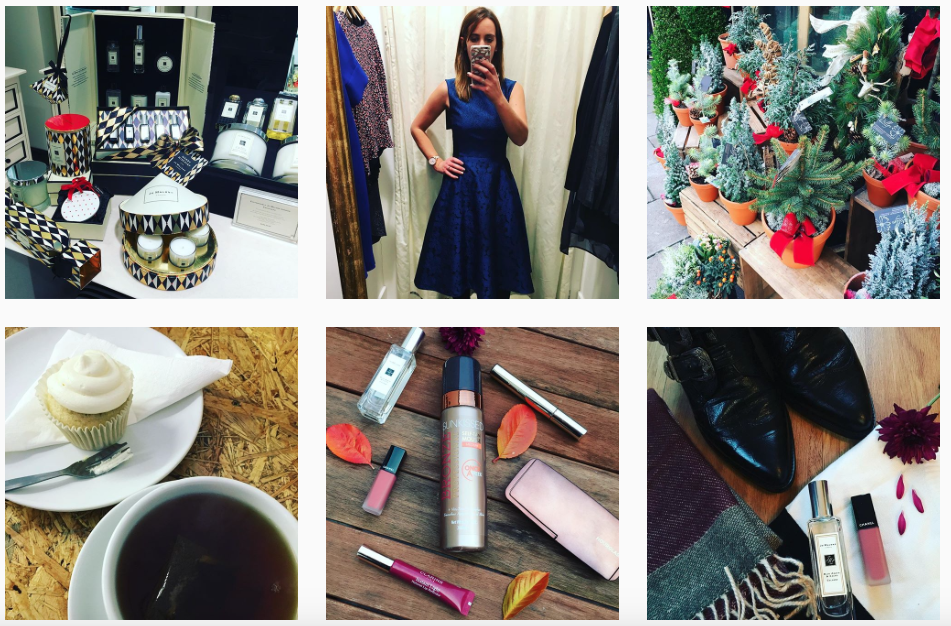 Starting from the bottom right hand corner, I've been loving the new Stabucks Gingerbread Latte's with Soya Milk. They're super yummy although I can't be drink many of them, they are nice to warm you up in this cold weather.
Mac recently brought out their Nutcracker collection. It's one of my favourite ballets along with Romeo and Juliet so I love the music which they always have on.  The make up is beautiful and the nutcrackers themselves and packaging are is this awesome pink and plum colours. The actually products are pretty cool too and there are quite a few gems in this collection.
You know I always love a good quote so this one seemed a positive vibe to think about.
The weather has finally started to get colder and so some of the products that have been keeping me cozy are this fab Phase Eight scarf, the fab ankle boots are from Office, the Jo Malone perfume is the the Blue Agave and Cacao. The black top underneath is from New Look and the lippie is from Chanel. Perfect. I'm sure I'll be writing a post about this soon enough.
My October favourites post is up on the Emily Hearts so go and check it out.
You all know how much I love The Den in Colchester andI'm always here at least once throughout the weekend. They had lemon cupcakes today and it's all vegan. Super cool!
Just over the road is the cutest of flower shops called Dily's and they had a lot of Christmas plants and trees out. Just so cute.
I went along to my favourite shops Fenwicks to try on a few dresses for a wedding that I'm going to this week. Left it a little late but I found this fab bright blue Phase Eight dress and it looks amazing on. It might have to find it's way into my wardrobe for the winter months.
Finally I had to take a pic of the Christmas Collection from Jo Malone. It's beautiful especially with the masquerade pattern. Perfect.
What have you been loving this week and what's been on your Instagram this week?
Happy Sunday!
Positively, the most vital element that is considered while buying drugs from the Web is to make a right choice. To order remedies online from a respectable web-site is safe. Let's talk about numerous possibilities. If you're concerned about erectile heartiness problem, you have to learn about "levitra 10mg" and "levitra cost per pill". Did somebody tell you about "cheapest generic levitra"? Don't forget, view "undefined". Young men with sexual dysfunctions need occupational help. The treatment plan depends greatly on the precise cause of the sexual problem. Along with their good effects, most medicaments, even so, can cause unwanted aftereffects although commonly not everyone experiences them. Online sex therapist services are the only safe option if you are going to buy remedies, like Viagra, online.