I love a good wish lists and there are so many products, beauty and fashion so I thought I ould put together some of the things that I've been loving so far.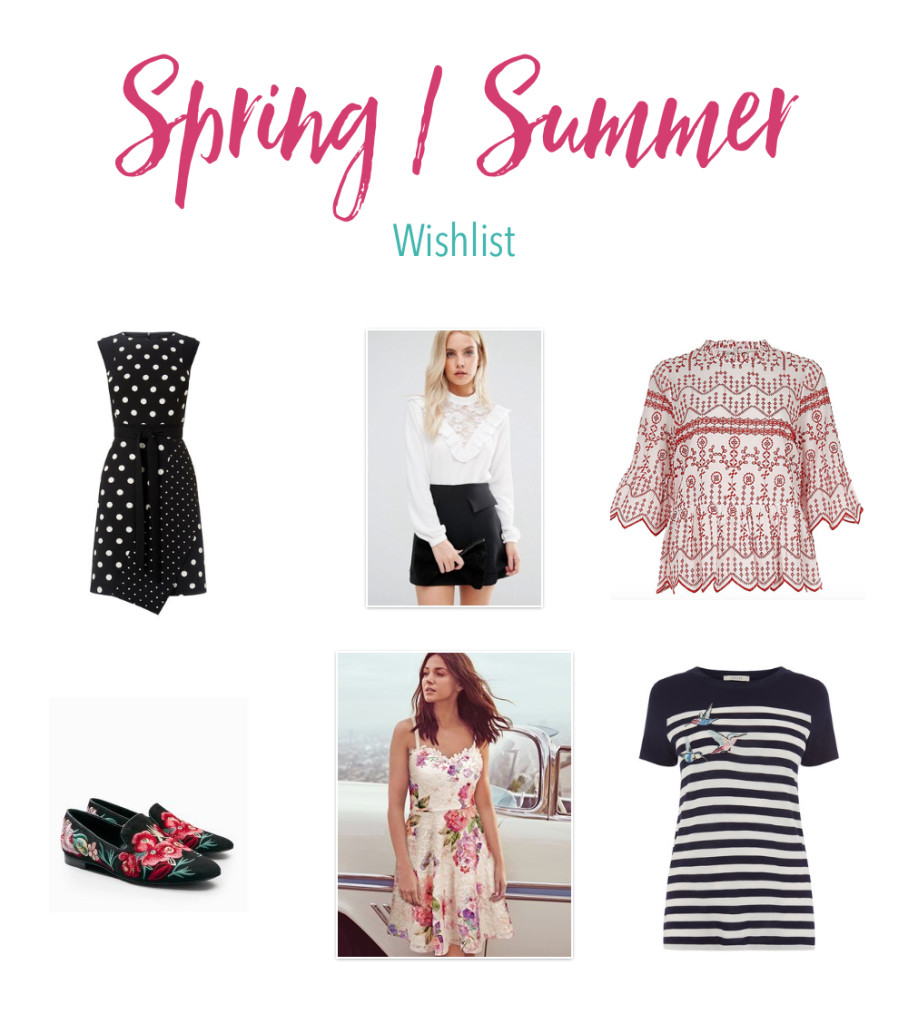 1. First up is this Spot and Stripe Oasis dress . It's such a pretty dress and the combination of stripe and spot really flatter everyone that wears it. I especially like the belt.
2. I love this Vila White High Neck Ruffle Detailed Blouse, It's a plain white top but the ruffles give a gorgeous twist. It really is a beautiful top that would really go with anything whether thats a pair of denim jeans or a little mini skirt.
3. I love this cute little red and white top from River Island, Such a lovely shape and style. There are so many similar tops in the shop at the moment too. A pop of colour at this time of year is perfect, and is such a different tone from those soft pastels.
4. I'm seriously in love with the embroidered trend at the moment. These Next Slipper shoes are a perfect example of the trend, they're easy to wear and so comfy too. They also have these in subtle dusky pink.
5. This floral Michelle Keegan Lipsy dress is perfect any occasion whether that be a wedding reception or a date night. It's so flattering and so easy just throw on to look effortlessly chic. Michelle's designs are always a winner for me.
6. Lastly I've chosen this pretty Embroidered bird stripe t-shirt. The stripe is always in fashion and the embellishment is an instant winner too. It will go with a pair of jeans or skirt and you can also dress it up with a white blazer. Perfect!
What have you been loving this Spring Summer and will you be buying any of these lovely pieces? Let me know in the comments below.
Happy Shopping!