I'm off to Barcelona in a few weeks and so I've been searching the shops and there are some amazing clothes at the moment. I've gathered together some of my favourites though and some that I might even end up having in my wardrobe soon.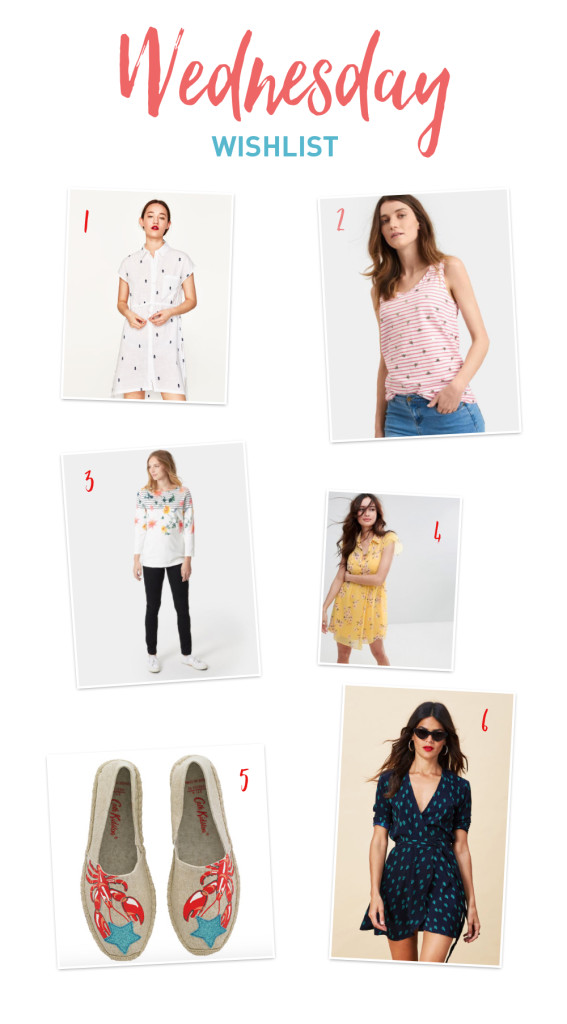 1. First up is this Zara Pineapple shirt dress £25.99 , it's so cute with the contrasting white material and blue fruit. It's a fab style and is perfect for the warmer days. The waist tie pulls this dress in and makes it more flattering too.
2. Joules is brand that I like a lot as the prints are really cool and flattering too. I love this Bo Print vest, with is it's red stripes and a bee print. It would go fab paired with a pair of denim jeans. There's actually an offer at the moment too – 2 for £29, Bargain!
3. The second Joules piece that I've chosen is the harbour print jersey top with the small section of stripes and the floral print, it contrasts so nicely. It would be perfect for work with a skirt for the weekend with a denim skirt.
4. This Asos / Abercrombie and fitch floral print tea dress is so pretty. Yellow is such an awesome colour and is super flattering especially in the warmer months. The print really settles the colour down a little too. It would go perfectly with candles and a denim jacket.
5. These Cath Kidston Lob-star embroidered espadrilles are my favourites from this Wishlist and they're at the top of my things to buy next month. The lobsters print from this season is perfect for the summer and for holidays. Just so cute and would go with everything too.
6. Cactus and flamingo prints are going to be huge this season. The shops are full of them so when I saw this Zeina wrap in Navy Cactus dress from Dancing Leopard/Silk Fred, I did a little dance. It's fab. The style with the mini skirt and short sleeves are perfect for Spring/Summer.
Have you got your eye on any of these pieces or have you already purchased some of them? Let me know in the comments below.
Happy Shopping!