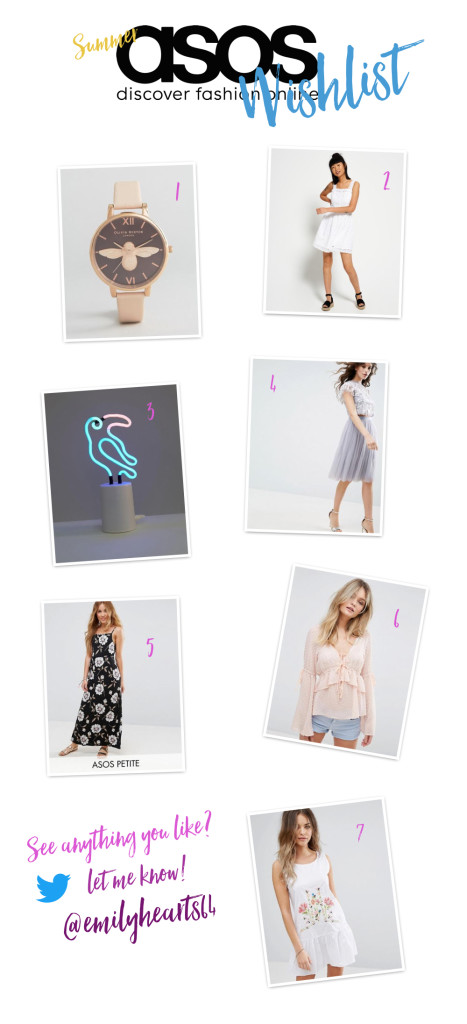 It's June, information pills and that means awesome clothes and products for the holidays or just for making you feel summery. There are some really beautiful things in the shop at the moment so I thought that I would put some of my favourite items together.
1. I've always been a big fan of Olivia Burton. Her watches are all beautiful and this bee motif nude leather watch is no exception. It's perfect for anyone that wants a stand out piece of jewellery that gets many compliments.
2. Next up is this beautiful white dress from Superdry. They have them in several different colours including plain red, viagra 60mg blue and white striped and plain black. This dress will be perfect for a summers day with a denim jacket and a cool pair of wedges. I like it so much I've already ordered it.
3. I've been looking for a cool neon light to go in my flat for a while and when I saw this cute Sunnylife Neon Toucan I knew it would be perfect. You can attach it to your computer via a usb or you can pop a few batteries in. This Toucan will be the star of any room you have it in and you'll get so many comments on it too.
4. It's always good to have a special outfit and this Carrie style Needle and Thread Tulle Midi Skirt has the makings of an amazing one. The colour of the tulle material is so pretty. It would be perfect with a little Needle and Thread embellished crop top with heels or if you want to go a little retro try a vest top, little pastel coloured leather jacket and sandals.
5. I love a good maxi dress for the summer and this ASOS Floral V-back maxi dress will see you through from day to night. Wear it with beige sandals and a denim jacket or pop on a statement necklace and heels you'll be dancing all night.
6. Floaty clothing are beautiful for summer. This Miss Selfridge Ruffle Tie blouse is so cool and ultra feminine with delicate details and colour. It's going to look fab with some denim shorts and sandals or jeans and heels. I love this blouse so much I might have to get this too.
7. Embroidery has been big this year and it's showing no sign of disappearing. This white embroidered Boohoo dress is super cute with the dropped hem and floral design. It's perfect for a day on the beach!
What summer products have you been enjoying, and do you love anything in my wish list? Let me know in the comments below.
Happy Shopping!