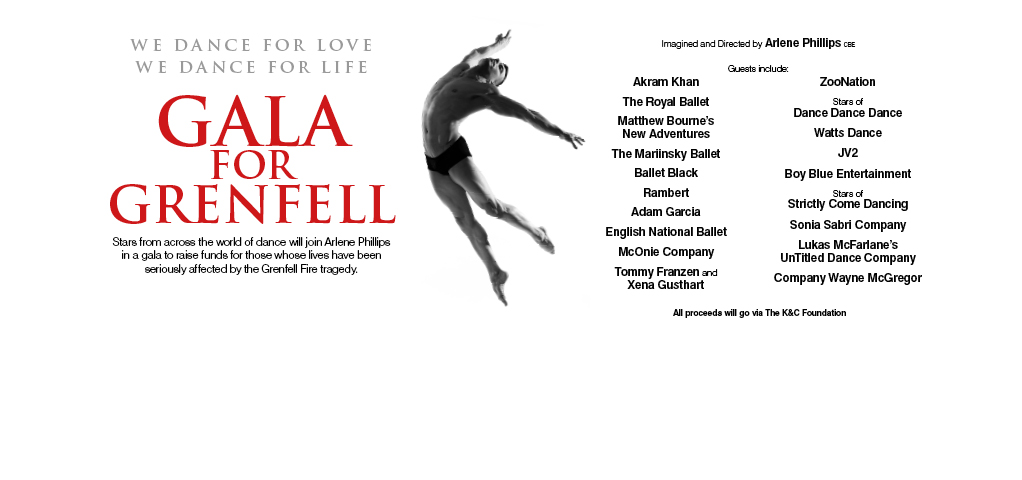 A few weeks ago Arlene Phillips announced that she would be bringing together some of the best and well known dance stars together at the Adelphi Theatre in London to raise emergency aid for all those affected by the Grenfell Tower tragedy. The tickets sold out really quickly but I was lucky enough to get hold of just one for this incredible night filled with dance of all kinds.
Dressed in their rehearsal gear, just over 100 dancers took part. The Strictly residents and a few former contestants were out in force with Anton Du Beke, Adam Garcier, Rob Rinder and Harriett Thorpe presenting, dancing and joking their way through the show with Arlene Phillips reminding us why we were there.
The whole gala was filled with talented dances and unmissable performances making it hard to choose just one that I loved so I've picked out some of my favourites points of the evening.



The first was Adam Garcia, as he effortlessly tapped his way through an impressive and light hearted comical solo. He had the audience in fits of giggles straight away.
Rather excitingly the recently promoted Mariinsky Ballet principle Xander Parish and Ekaterina Chebykina took time out of their busy schedules to dance Swan Lake's White Swan Adagio. The performance was beautiful and ended with ballet enthusiasts shouting 'Bravo' and 'more', wishing they could have stayed on the stage a little longer.
Akram Khan also made a rare performance with a beautiful piece called Nameless that closed the first half and was a definite treat for dancers and audience members alike.
Royal Ballet Principles Ed Watson and Olivia Cowley danced the Wayne Mcgregor's Quailia Pas de Deux and provided one of the most stunning performances of the night.
All in all, a wonderful evening full of so many amazing memories, and for an amazing cause. Bravo!