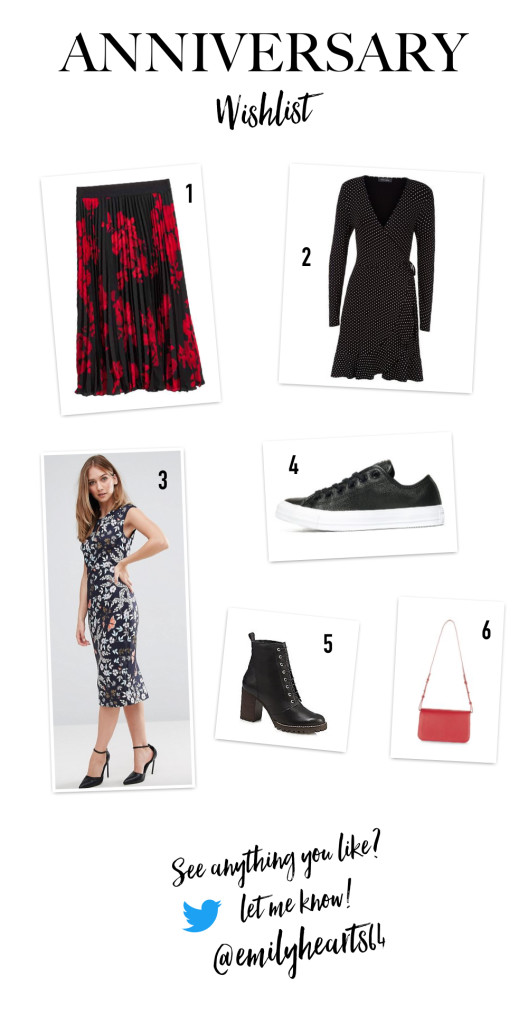 I'm off to Berlin next week with my husband as it's our wedding anniversary – three years, how did that even happen. The weather is getting colder so I've put together a few things that might be nice to wear for this special trip away.
1. First up is this gorgeous red and black skirt from H and M, it's the star style of skirt for the season and the print of this one is so pretty. It will go perfectly with a black t-shirt or an all in one and a leather jacket.
2. Next up is this gorgeous long sleeve black and white spot dress from New Look. In the Autumn I live in these dresses with heels and a cute cardigan or jacket. This one is perfect for walking around the city, and exploring, teamed with some trainers.
3. Next up is this gorgeous Ted Baker dress. I love the Kyoto Gardens pattern and the style, it's so effortless to wear. Teamed with a pair of heels and a pale jacket it's perfect for a wedding but teamed with cardi or a leather jacket and some heels. This outfit is perfect for an anniversary meal.
4. I saw someone wearing a beautiful and unique pair of Converse on the train the other day. I spend most of my time running errands, and walking a lot of miles especially when exploring a new city like Berlin so this black leather pair of Converse with white soles seemed perfect. They'll go with everything.
5. Debenhams shoe hall is full of amazing designer dupes. I love these Faith lace up boots particularly as they're really fab dupes for the Gucci heels that are everywhere right now. They'll go with skirts and jeans and see you right through Winter too. Bonus!
6. Finally I've been looking for a red bag for the last few months that would go with my wardrobe and I think this might be the one. As I've said before red is going to be big this season, so this Belsize bag from Hobbs with it's cross strap and its smaller size will be great for travelling as well as every day use.
Have you been loving any of the items in this weeks wish list? Let me know in the comments below or over on my Twitter.
Happy shopping!