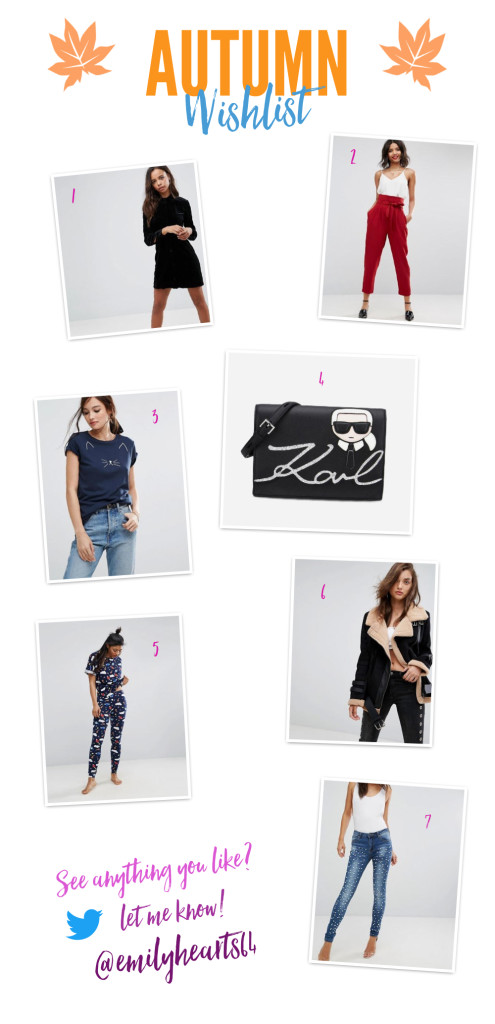 I love a good wish list and I've put together one with lots of products for Autumn. Fresh colours, lots of textures but also fun stylish pieces. Keep reading if you want to know more.
1. First up is this gorgeous black dress bodycon with polo neck, it's a gorgeous yet simple number that would be equally stylish with a jacket and Converse, thigh high flat boots or heels. A perfect basic for Autumn!
2. Red is going to be really big this season and these bright red Asos tailored, high waisted balloon tapered trousers are perfect for showing off this trend. Such a beautiful colour. Keep it simple with a plain camisole and jacket.
3. Everyone needs something cute in their wardrobe and this Asos cat t-shirt is super cute! A t-shirt is perfect for lounging around the house but will look amazing teamed with a mini skirt, leather jacket and heels.
4. I've been on the hunt for a quirky yet classic little bag and this Karl Lagerfeld Ikonic shoulder bag  seems right up my street. Karl Lagerfeld bags are bold, different but somehow they always stay classic and on trend to the end. I love the size, and shape. It will really make every outfit pop.
5. You can never beat a fab pair of pjs to cheer you up when you're down and to make you feel ultra pampered. These ASOS Space Tee and leggings combo are perfect!
6. The shearling jacket has been huge this past year and the trend shows no signs of disappearing. I found this Boohoo contrast aviator style jacket . It's super cool and will keep you toasty warm too. I might be jumping to buy this one before it sells out.
7. Last but by no means least are these swish Pretty Little Thing pearl embellished jeans. I love this trend as it's so delicate and bold. It's a statement design that only a few people can get away with. Have you tried them?
Have you been loving any of these products, or maybe you recently purchased some of these. Let me know in the comments below or on my Twitter!
Happy Shopping!