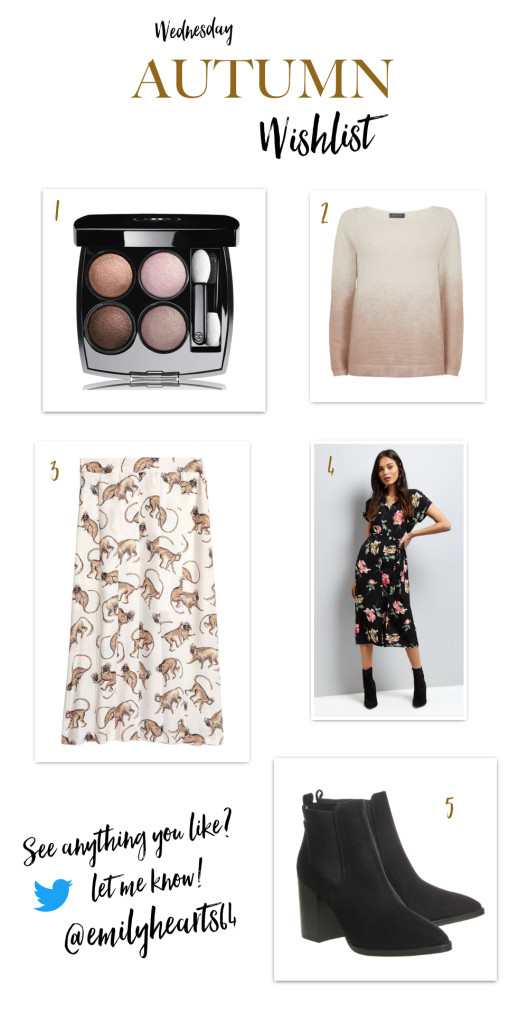 Wednesday Autumnal Wishlist!
Autumn is that transitional time of year when the lighter layers and the boots come out and it's one of my favourite times of year. I mean who doesn't love Halloween and Fireworks night. I thought I would gather together a few of my favourite bits in the shops right now to show you.
Chanel – City Lights Palette
First up is this beautiful Limited Edition Chanel City Lights Palette . Four pretty Autumnal colours, there's a natural pink to illuminate, an auburn toned brown, a grey toned brown both to blend over the eye and a deep brown to add depth. They're all different textures matte, satin, iridescent and metallic. They make for a really gorgeous look and it's one that everyone should go and test out.
Mint Velvet – Rose Gold Metallic Ombre Knit
I must really be really loving this metallic trend because this is the second item in this Wishlist. This Rose Gold Metallic Ombre Knit from Mint Velvet is a really pretty colour with a fab warm knit. I'm loving the ribbed effect as the style really reminds me of a Victoria Beckham jumper that has been all over Instagram. It's also in the sale so I might just rush out and buy it now.
H and M – Monkey Patterned Skirt
I love my basics but occasionally I love a beautiful item to change up my wardrobe a little and this gorgeous monkey patterned skirt from H and M is that item. It's super neutral and would be fab with a neutral jumper and heels or boots. I love it!
New Look – Black Floral Print Pocket Front Midi Shirt Dress
At this time of year I love wearing tea dresses and shirt dresses with a little warm jacket or a jumper. This gorgeous black floral print pocket front midi shirt dress from New Look is a perfect dress to do that with. It would be so pretty with a high sock boot, which is so on trend right now.
Office – Logan Point Chelsea Boots
Lastly I've chosen these Logan Point Chelsea Boots from Office . I live in a heeled chelsea boot in the Autumn. They're so flattering on the legs, and they really do go with everything. You could wear these with a dress and tights or with a pair of jeans and the wide heel is also great if it gets a little frosty too. This particular pair are also currently in the sale. Bargain!
What items have you been picking up now the weather has got a little colder, and will you be picking up any of these items? Let me know in the comments below or on twitter.
Happy Shopping!