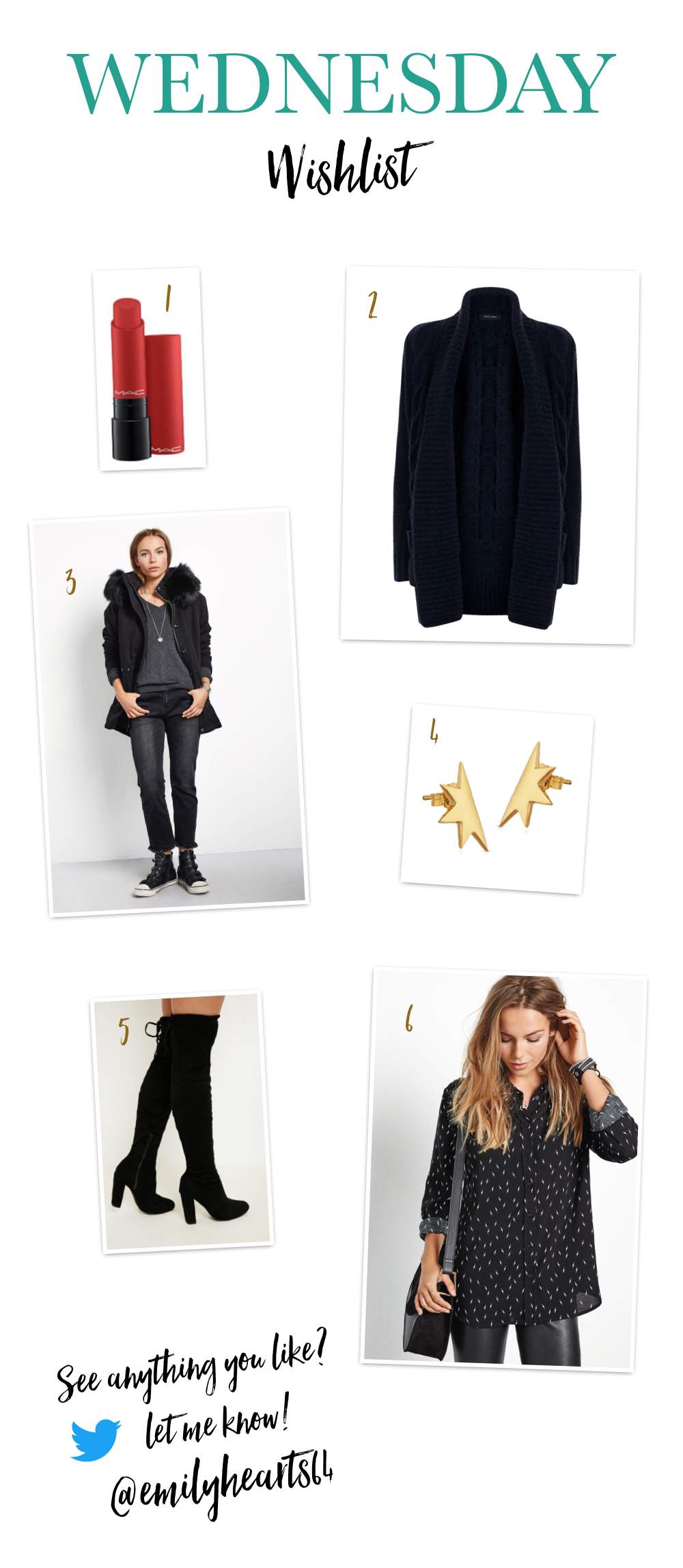 Wishlist Wednesday is a little late this week but I have so many lovely things to show you, lets get straight into it.
1. Mac liptensity lipstick – Mulling Spices
First up is this fab Liptensity Lipsticks from Mac. It's a beautiful deep red from the new range that came out at the end of last year. Mulling Spices is great for this time of the year. The lips itself has a fab colour pay off but melts to the lips like a lip balm so it will keep your lips nourished in this colder weather.
2. New Look – Navy Cable Knit Cardigain
I really love a good cardigan to layer over t-shirts and short sleeves dresses. It's a great way to give some longevity to your Autumn wardrobe. This thick Cable knit from New Look is perfect and will look amazing with a multitude of outfits. It also comes in a number of different colours too.
3. Hush – Short Parka
I'm loving this gorgeous little black Parka from Hush. I seriously want everything from this shop. It's an expensive one but the quality is amazing and you know it will last. This jacket looks seriously warm with the faux fur lining the full jacket which is just what you need in this weather. It will go with everything and the style is up to date and so in season right now too.
4. Missoma – Starlight half star studs
I'm in love with these Starlight half star studs from Missoma Jewellery from this company at the moment is well sort after and I can see why.  These earrings are such a statement but one that you could get away with wearing every day. You are sure to get everyone talking about them!
5. Silk Fred – Black Faux Suede Over the Knee Boots
Over the knee boots are a trend that comes back every year. I never thought I would ever suit something like this but personal styles changes and allows for new things all the time. Over the knee boots can be tacky but I've found that the heel shape is key to this and these boots from Silkfred are lovely and actually a really great dupe for the Weitzman boots too.
6. Hush – Sintra Shirt
Like I said earlier I really do love everything from Hush so my second choice for this wish list is this ultra cool mini lightning bolt print Sintra shirt. It's great quality so it's going to look great for a long time both tucked in or left untucked, and also is great for layering too. It's that investment piece you can rely on. I'm also a huge Bowie fan so it has a double meaning for his fans too.
Are you loving the products in this wish list? Do you have any of these products or do you have your eye on one or two of them ? Let me know in the comments below or over on my Twitter.
Happy Shopping!