While I'm going to try not to sound like a weather girl, it seems the country is just starting to get over all the snow that has hit the UK in the last few weeks with some areas up in the North still having lots of fun in the snow. It's still super fresh where we are and that's meant that we've still had every excuse to wrap up warm, drink lots of hot chocolate and eat hearty vegan food. If you've not guessed, although I love to layer up and get cozy in big jumpers, the cold is not something that I enjoy much although a good snow ball fight and a toboggan down the hill is always fun.
One thing that the cold weather often brings for me at least thats not wanted so much is dry and sore, cracked and chapped hands. I spend hours drinking water, and constantly applying hand cream to alleviate Jack Frost's bite. When I received a parcel from L'occitane recently to try out their new hand products I breathed a sigh of relief.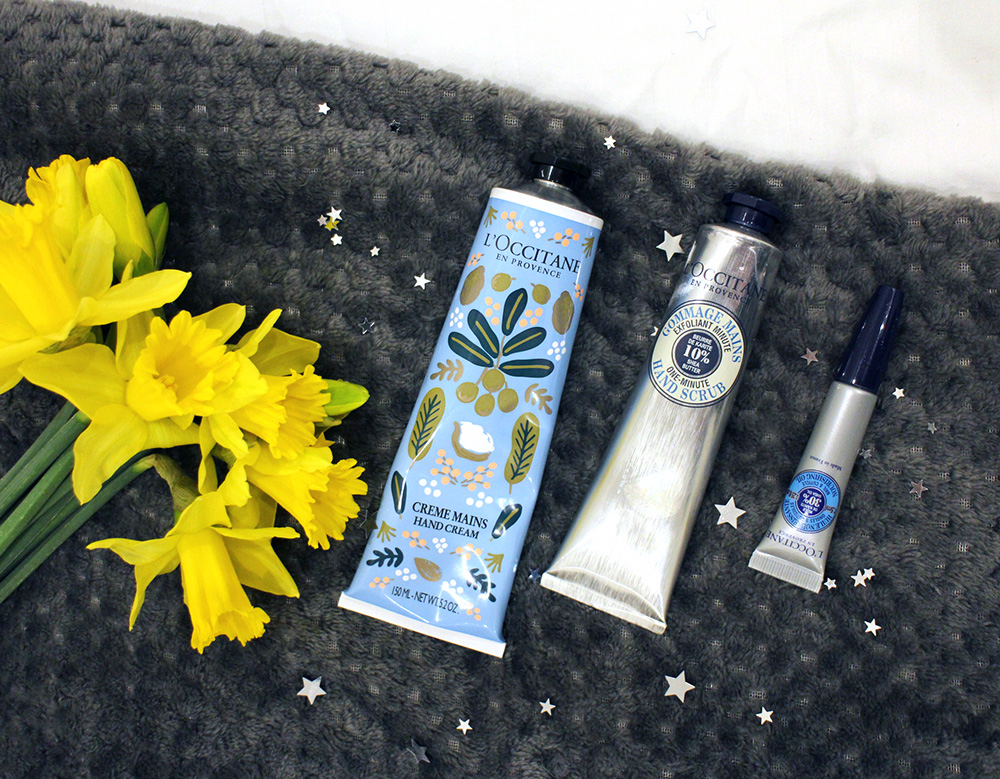 The 1 minute hand scrub was top of my list to try, although not that new of a product it is great for the hands.  The rich blend of luxurious apricot oil and soothing allantoin with an interesting infusion of crushed Shea nut husks really helps alleviate the dryness. The product is rich and creamy which means that you don't need a lot of it and it really does the job of removing those horrid dried and dead skin cells. It's heavy duty so if your hands are super sore, chapped and very dry this will do the trick. You'll soon be left with silky velvety hands.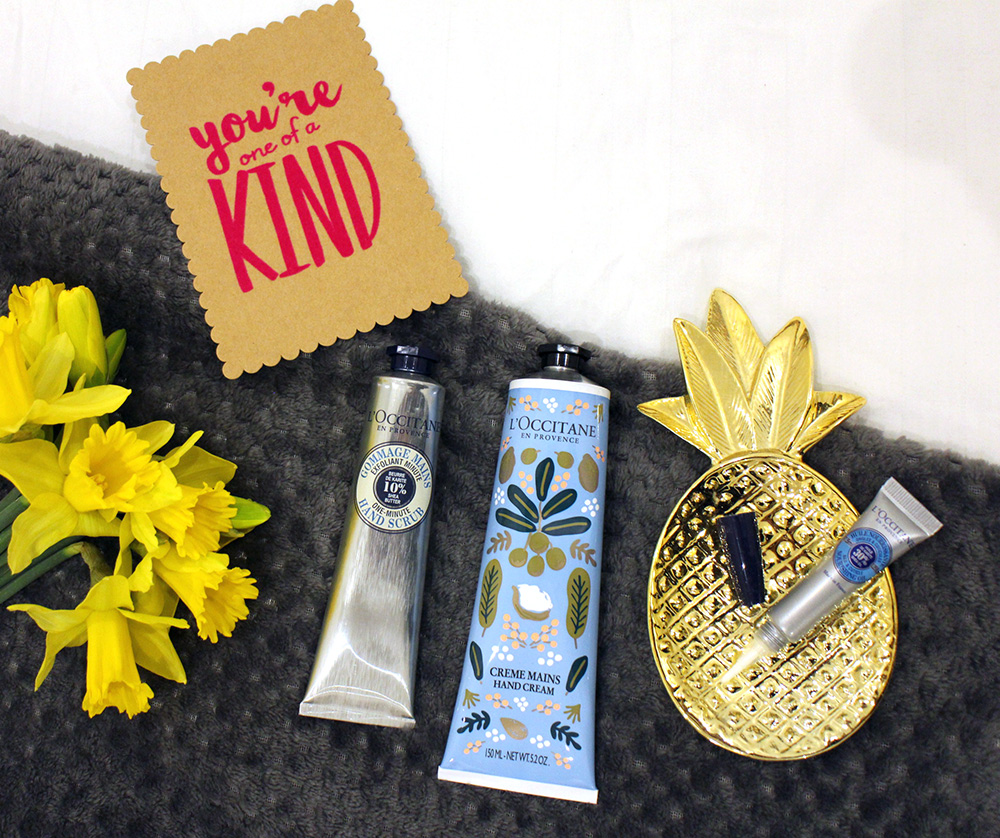 The next product I was interested to try was this beautiful Shea Nail and Cuticle nourishing oil. I've tried lots of nail oils and none have been wonder products, however lots of people call this product the miracle nail oil and I have to agree. Nail oils can help nail bed look healthier, stronger with less pealing if that's something you suffer from and I've found this has really helped my nails in the way.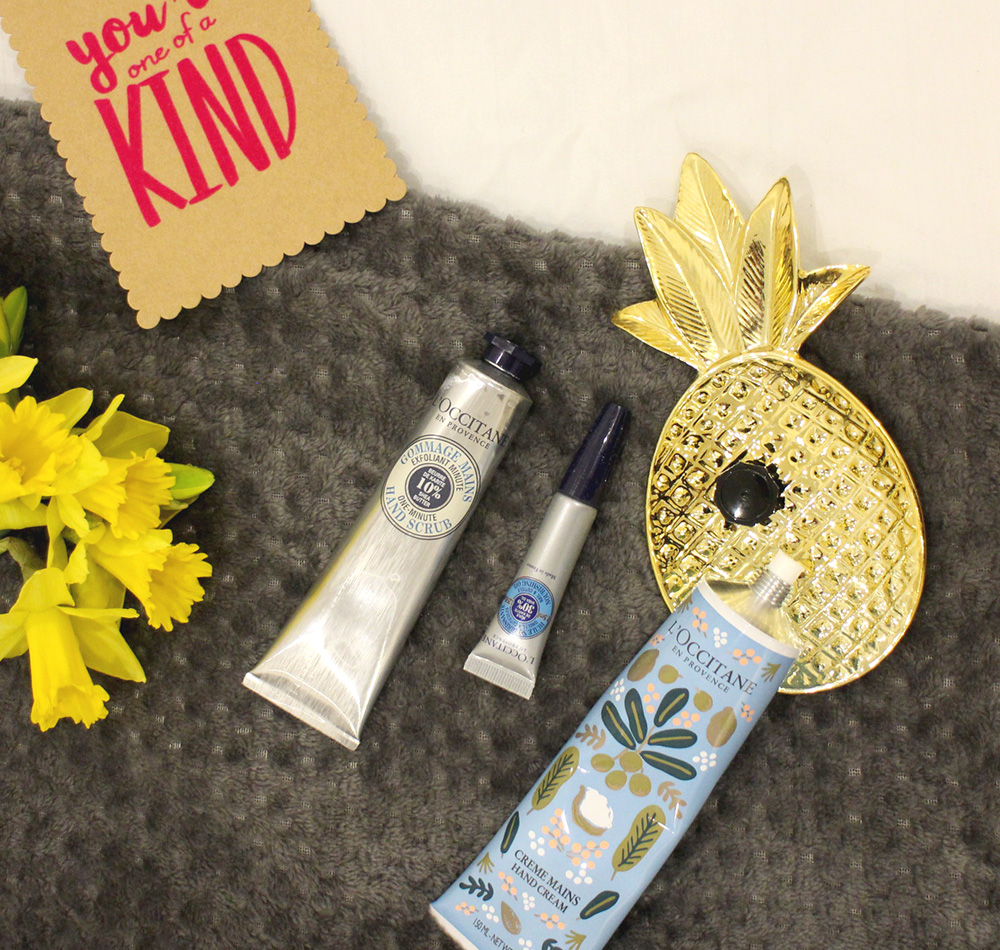 Lastly I have to mention this beautiful hand cream – it's in the Limited Edition Rifle Paper Co. packaging with is stunning in both the pink and blue design. The hand cream is the Shea butter hand cream. It's a lovely combination of honey, almond extract and coconut oil with Shea Butter. It's thick, not greasy and it really does the trick when you have chapped hands or if you're like me split hands. eek! It helps them heal quicker and soothes them as well as put back some of that all important moisture too. I've been carrying it around with me everywhere and reaching for it when ever my hands get ultra sore. I really don't know what I would do without this stuff.
Overall if you want to be kind to you hands and get results, I've found that L'Occitane hand products are definitely some products to try and you really won't be disappointed.
Let me know if you've been using these products and what you think of them in the comments below.
Happy Shopping!