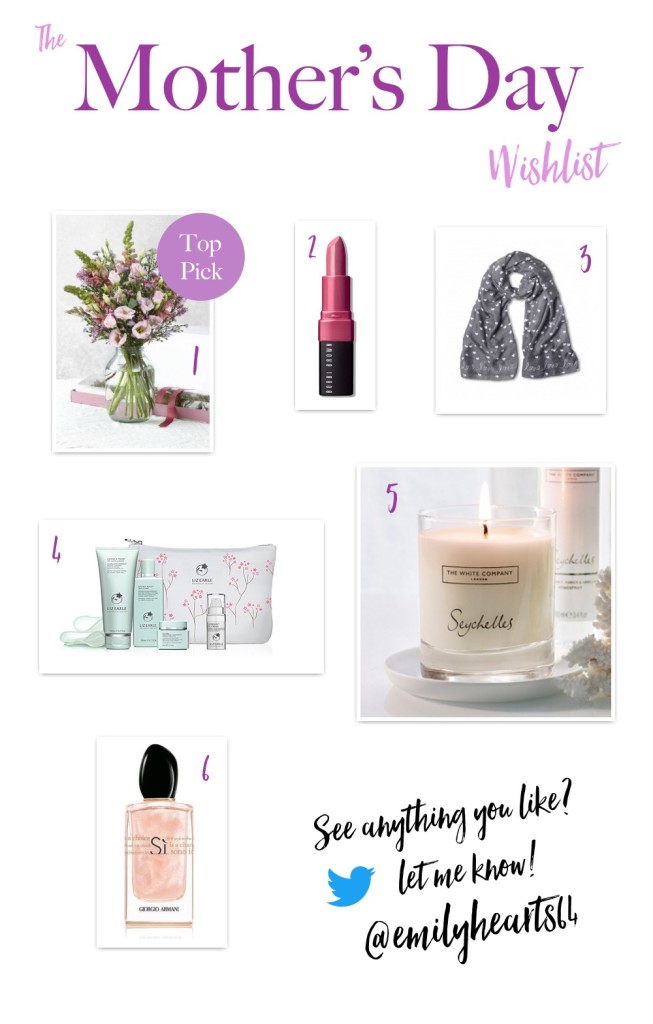 Mother's Day is rapidly approaching with just a few days to go. While some people don't make a big deal of this day I remember as a kid, creeping downstairs to make my mum breakfast, normally orange juice and jammy toast with some treats to take up to her in bed. We show the lovely ladies in our lives that we care about them everyday in our own ways but Mothers day for me is a time to really spoil them. More importantly a day when we're actually aloud to spoil them too. I wanted to pull together some of my favourite items to gift to my mum.
1. Even if you get the ladies in your life nothing else, make sure you give them some flowers. Not everyone likes them because the beauty has to come to an end at some point but for the majority, you'll put a huge smile on their faces that won't disappear for a while. These gorgeous flowers – the Spring Meadow bouquet are from Bloom and Wild.
2. Make up is a personal yet perfect choice for Mother's day. Bobbi Brown have some beautiful products  and covers a range of colours and styles. These Crushed Lip Colour Lipsticks are stunning and there's a colour for everyone so they're perfect as a present. My favourite is Lilac as it's soft yet definitely a statement.
3. Katie Loxton London is well known for her purses and pouches but she also does amazing scarfs. I love this slate grey Love Love Love Scarf, it's so stylish and would be a fab addition to anyones wardrobe.
4. If you're feeling a little spendy, Liz Earle is a skin care brand that is well loved and this set includes some of the star products. The Cleanse and Polish with 2 cotton cloths, Instant Boost Skin Tonic, Skin Repair Moisturiser and the Superskin Eye Cream and it comes with a blossom design make up bag. It's luxurious and it really works. Your skin will feel silky smooth and look amazing too so what better pressie to get for your loved ones!
5. A great fresh smelling candle to make your room feel ultra cozy is something most ladies love. This White Company Seychelles collection candle is a combination of fresh bergamot, bright orange and rich amber topped off with notes of coconut, vanilla and almond. It oozes luxury and would be perfect for one of those extra special present. It's also a great price.
6. My final gift choice is this amazing fragrance from Armani – it's the Si Nacre Edition . It's one of my current favourite scents especially as it is ultra sparkly when you shake and activate the particles. It's amazing for those special events and it really does smell amazing. There are top notes of Sicilian Bergamot, Mandarin oil and Cassis. Mid notes of Rose, Neroli and Jasmine. And the base notes are Patchouli and Amber. It's such a light scent for the Spring/Summer seasons.
Let me know if you'll be buying any of these lovely products in the comments below or over on Twitter.
Happy shopping!